Welcome back to Western Illinois' chase for greatness in College Hoops 2K8. You can find a full explanation of this project + spoiler-free links to previous seasons at the About page of this website. Share it with a friend!
Here's a recap of everything that happened last season:
We returned three starters from the previous season's Elite Eight team to begin the new year rated as a 96 overall. Our regular season included a win over No. 1 Georgia Tech and a loss to North Dakota State (the second straight year we've dropped a game in conference) before winning the Summit League tournament. We entered the NCAA tournament as a No. 9 seed at 25-4 overall.

We beat No. 8 seed Pepperdine in the first round on a game-winning three-pointer from Kim Kone, then we upset No. 1 seed Ohio State in the round of 32 (recap here). We beat No. 4 seed Seton Hall in the Sweet 16, and then lost to No. 3 seed Alabama in the Elite Eight (recap here).

We recruited for one scholarship and landed three-star small forward Wilbur Ager (No. 110 overall, No. 21 at his position).
---
Here's a look at the roster heading into the season:
We return four starters from last season's Elite Eight team to begin the year ranked No. 18 in the preseason polls. It's the first time we've been ranked in the preseason polls since Year 11, when we lost our undefeated season in the Final Four.
Let's run through the starters:
PG Angel Keita, redshirt junior (86 overall): Keita is our lone new starter after being a key piece off the bench his first two seasons. Fastest player on the team with a 96 rating in speed and third-best three-point shooter with a 79 rating. Has a B+ grade in passing and an A- grade in shooting off the dribble, but only a C grade in ball handling. Former No. 58 overall recruit with C- potential.

SG Brandin Price, redshirt senior (92 overall): A starter for the third straight season, Price moves from point guard to shooting guard for his senior year, where he goes up two points overall. The 6'5 guard is rated 93 in three-point shooting and passing, a 94 in speed, and a 92 in quickness. One of the most polarizing players in program history, Price has been nicknamed "The Musket" by the Twitch chat for the slow release on his jump shot. Former No. 50 overall recruit with C- potential.

SF Cam Medina, redshirt senior (89 overall): A natural power forward, 'Funky Cam Medina' starts on the wing for the second straight year. Tremendous size at 6'9, 265 pounds. Great interior scorer and defender who also hits the glass hard. Surprisingly competent in ball handing (75 rating) and passing (B grade) with a passable 69-rating in three-point shooting. High IQ player with A- awareness on both ends of the court. Former No. 123 overall recruit with C potential.

PF Vernard Fulton, redshirt junior (92 overall): Another three-year starter, Fulton has A or A- grades in close range finishing, three-point shooting, free throws, speed, defensive rebounding, passing, quickness, and stamina. Has A grades in defensive awareness and vertical leaping. Known for an odd release on his jump shot reminiscent of Shawn Marion. Projected lottery pick. Former No. 30 overall recruit with B+ potential.

C Sidney Dupre, redshirt senior (93 overall): Reigning Summit League Player of the Year after averaging 18.5 points per game last season. Elite shot-blocker and A+ offensive rebounder. I believe he has more A grades than any player in program history. Former No. 144 overall recruit with C potential.
The hardest call on the lineup was Keita vs. Renardo 'Vino' Verdejo. Ultimately, Keita is rated one point better than Verdejo is at shooting guard, and Price is two points better at shooting guard than point guard.
We're going with a 10-man rotation. 'Vino' and junior center Timon Suotamo (a projected first round pick with A- potential and affectionately nicknamed 'Chewy' by the Twitch stream) will each get 13 minutes per game. 'Silky' Wilky Henry gets nine minutes per game on the wing, freshman Allan Cunningham gets seven minutes per game at power forward, and freshman Tron Whaley gets six minutes per game at point guard.
Two players didn't make the rotation: freshman center Pat Giddens (80 overall, A- potential) and freshman shooting guard Vitor Andrisevic (70 overall, C- potential). Our lone freshman, small forward Wilbur Ager (77 overall, C+ potential), will redshirt. We also finally got our first somewhat decent walk-on in center Dodie Krywonis, a 51 overall with C- potential.
Recruiting
We also have four scholarships to recruit for this season. I'm thinking we need everything but small forward, since we landed Ager last year. I decide to use my two visits on:
Five-star point guard Robin Clayton, No. 20 overall and No. 9 at his position

Three-star center Kevin Brazzle, No. 127 overall and No. 6 at his position
Clayton, a Memphis native, would be our first All-American, which is one of the few realistic coaching points still out there for me. Brazzle — out of Houston — is already massive at 7'1 and averaged a double-double in AAU. I offer both on the first day of recruiting, along with four-star shooting guard Ajou Ramsdell (No. 29 overall, No. 6 at his position) and four-star power forward St. Paul Forth (No. 90 overall, No. 16 at his position) out of Chicago.
We also have two characters to create this season as the winners for last year's bracket pool. Ben Remis won the pool by nailing three Final Four teams, the title game matchup, and the national champion (UCLA). We're creating him as a five-star recruit. Here's what he wrote me:
I guess for my player I'll be kind of a Devin Booker-CJ McCollum type. Lots and lots of threes. Ok at defense, but definitely more of an offensive playmaker at shooting guard. We'll make him like 6'2" and really, really fast. And if the game allows it give him a headband and some sort of unusual hair cut.
Our second created character this year is Steve Frye. Steve actually came in second in the bracket contest, but I mistakenly announced him as the winner on the stream, so we decided we'll make him a three-star prospect. Here's what he hit me with:
6'6" 265 PF Right handed from Virginia.

Above average 3 and inside

Maybe like Detlef Schrempf? And yes I googled how to spell that.
Steve is a Finesse Power Forward. As always, we won't recruit created characters to Western Illinois to preserve the integrity of the game, but we will follow Ben and Steve's careers wherever they end up. Here's a look at Ben's character:
It's time to finally start this season. We're rated as a 99 overall entering the season. You can watch me play through the full season on Twitch here.
First game: @ Illinois
Our long-time in-state rivals from Champaign again host us to open the season. Why did we ever stop this tradition? The Illini are rated as an 89 overall coming into the game. Let's go!
Win, 78-37. LOL thirty seven!! THIS IS OUR STATE. In addition to the incredible defensive performance (five dudes with multiple steals!), look at the front court do work. I thought this could be the greatest collection of bigs we've ever had. Fulton (17 points, 11 rebounds, four blocks) and Dupre (23 points, 10 rebounds, four blocks, three steals) did not let me down.
Our next game is against Oregon. The Ducks are unranked, but rated as a 92 overall.
Win, 69-67. Only Dupre (12 points) in double-figures, but a lot of different guys knocked down a few shots and that was good enough. This was no doubt an ugly game — we only shot 39 percent from the field — but I'll take any win I can get against a program like Oregon that's a consistent contender.
We're 2-0 and so far none of our recruits have gotten offers from other schools. Still a long way to go, but it feels like we'll have a shot at Clayton and Brazzle in the early signing period.
Next we face Dayton. The Flyers are led by the winner of our first ever bracket contest, freshman power forward Matt Boswell. Boswell enters as a 75 overall with A- potential. We streamed this game on Twitch. It should start when you press play:
***
***
***
***
***
Win, 96-82. Boswell was awesome — finishing with a game-high 25 and nine rebounds on 11-of-13 shooting from the foul line — but we were simply too talented and too deep for a young Dayton squad. We had five players finish in double-figures, led by 18 points from Dupre and 15 points from Medina. The bench is what impressed me the most in our first look at this team. Vino and Chewy would be good enough to start at almost any other program, and I have a feeling like Henry is going to be a big part of this season before it's over. I like what I saw out of the freshmen Tron and Cunningham, too.
We move up to No. 14 in the polls with the win. As the early signing period starts, we have two games on the schedule, starting with a rematch vs. Alabama. The Tide knocked us out of the NCAA tournament in the Elite Eight last year and return several familiar names.
I want this dub. I need this dub.
Win, 73-69. Roll that. Nice games out of Price and Dupre, and the bench again gives us extra scoring punch. We also win our next game against Little Rock, 95-47, behind 17 points from Cam Medina and 15 points from Angel Keita.
We now have our two early conference games on the final week of the early signing period. The good news is that none of the four players I've offered have been offered by another school. The bad news is we're just outside of where I'd be confident getting a commitment from both Clayton and Brazzle. Each player is at about 93 percent interest, and I've already exhausted all of my visits and invites to campus. We're going to need a miracle.
We don't get it. Even worse, Clayton ends up committing to Clemson and St. Paul Forth commits to Iowa State. Alas, the dream of landing an All-American will be put off for another year. Brazzle is at 98 percent interest but doesn't commit, which is just a killer because now I have to waste valuable recruiting points calling him the rest of the season. He also gets an offer from Southern, who we'll have to fend off to land him.
I have two scholarships available to offer. We extend one to Majak Barrett, a four-star power forward from Madison ranked No. 52 overall and No. 7 at his position. Madison is of course the hometown of our first ever recruit Bud Richards, so let's keep the power forward pipeline going. Spotted Cow on me if it happens. I also decide to extend a scholarship to Jamie Burke, a six-foot point guard ranked No. 71 overall and No. 24 at his position.
Our created guys have also made their college decisions: Ben Remis is going to Charlotte and Steve Frye is going to George Washington. We'll follow their careers and maybe one day schedule a game against those teams. Our created characters love the A-10!
We're 7-0 on the season and No. 8 in the polls with only three non-conference games left. Let's the run the damn table. First up: Wisconsin.
Win, 87-71. Five players finish in double-figures, led by Fulton's 19 points. As we sim to next week, I see that the shooting guard we've been recruiting, Ajou Ramsdell, gets an offer from Miami (FL). Fortunately, there's a great backup plan still available: four-star shooting guard Mathew Alloway, who is ranked No. 31 overall and No. 10 at his position. Kansas leads for Alloway, but they're only at about 60 percent interest and he doesn't have an offer yet. This would be a huge pick-up if we can swoop in and land him in the spring period.
Two more non-con games left. First one: @ No. 5 Stanford. The Cardinal lineup is absolutely loaded. This could be the only game standing between us and an unbeaten record entering the tournament. One time, Leathernecks?
Loss, 82-78. Damn. Proud of my guys for keeping it close, just wish we could have pulled it out. Our bigs were excellent again, but we need more from our guards. That's going to be the story when we face top competition in the tournament. As the undefeated season ends, we drop to No. 15 in the polls. Next, we face Saint Louis to wrap up the non-conference portion of the schedule.
Win, 74-60. Chewy and Dupre combine to score 34 points in the win. When you add in Giddens (already an 82 overall as a freshman), we have to have the best collection of centers in the country, right?
Now it's time for conference play. After our six-year winning streak in the Summit League, we've lost a game in conference each of the last two years. Can we get back to our roots and run the table again?
Yes we can. We win all 18 games in conference to enter the Summit League tournament at 25-1 on the year. Here's a look at the end of season stats: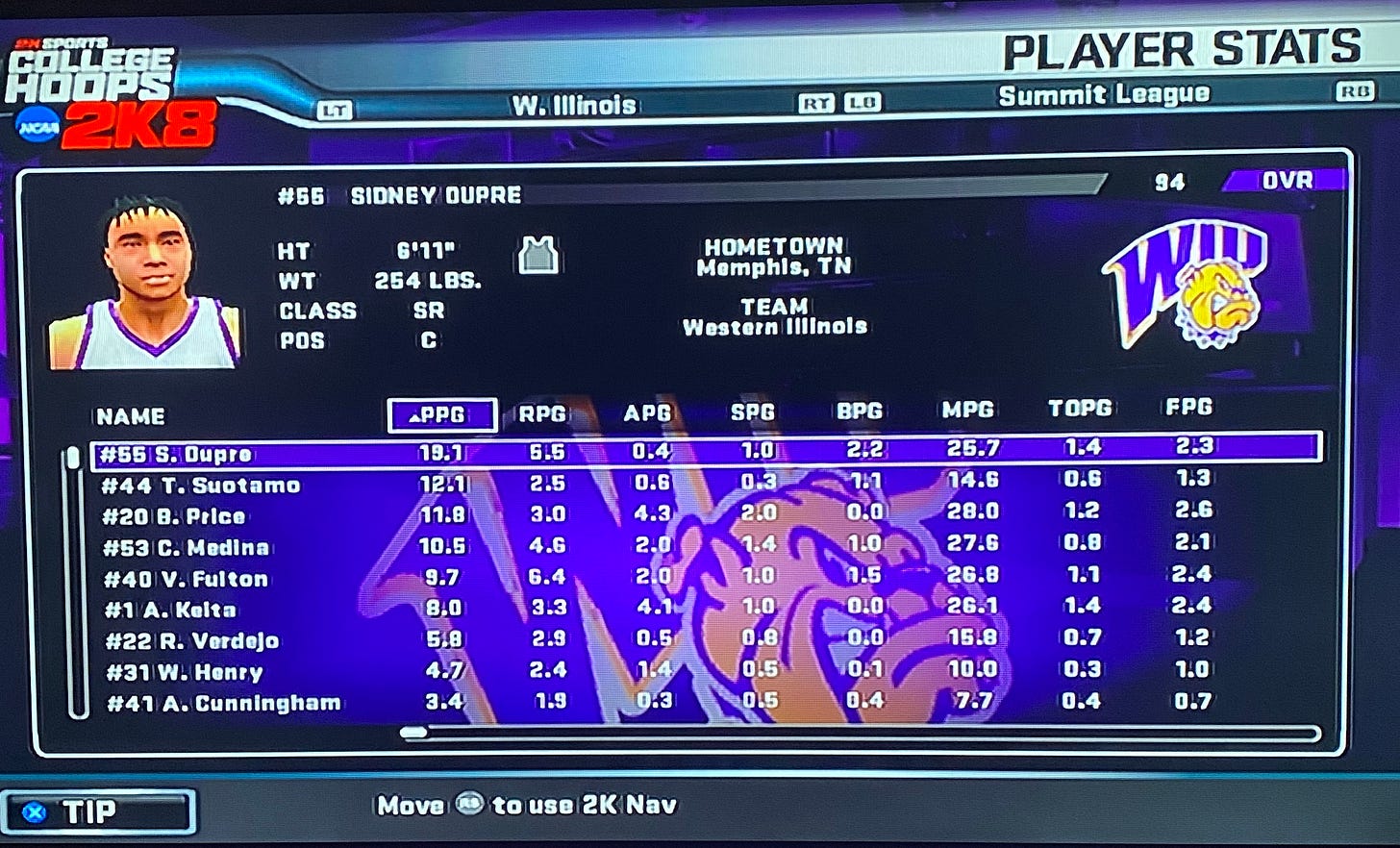 Dupre with a monster season again — I'm most impressed by 2.2 blocks per game — which should put him in position to win his second straight Summit League Player of the Year award. What a stud. Suotamo, the former five-star JUCO recruit, ends up being our second leading scorer off the bench. I'm shocked to see that his draft status has been downgraded from first round pick to 'dark horse', which is great news for us. Fulton has also slipped from lottery pick to first rounder.
On the recruiting front, we lead for Brazzle with 100 percent interest, so he should commit on the first day of spring recruiting.
Summit League tournament
Our first game is against Oakland.
Win, 73-38. Dupre with 14 points, Price with 13 points, Chewy with 11 points. Next up: North Dakota State.
Win, 84-51. Chewy with 19 points and three blocks to lead us off the bench. Medina adds 15 points in the win. Now we face UL-Calcutta in the title game.
WIN, 85-59. Dupre killing it with 27 points in the win. Summit League champs! We're No. 13 in the polls heading into Selection Sunday. Can we get a top-four seed? You can watch the full studio show here.
2025 NCAA tournament
We're a No. 4 seed with a first round matchup against No. 13 seed Florida Atlantic. We enter the tournament rated as a 100 overall.
Here's a look at our roster:
This team is really good, but honestly? The lack of internal development is kind of a bummer. I was hoping Fulton, Dupre, and Price would each be a 95 overall, and that Keita could be an 89 or 90. Maybe it will happen if we can advance to the second weekend. Either way, this is one of our best rosters ever. Bringing two players rated as a 91 off the bench? That gets a hell yeah from me, brother.
We'll be streaming this game on Twitch on Thursday at 8:30 p.m. ET. But first, we have another bracket contest to announce.
Bracket contest
Yes, we're doing the bracket contest again. Here's a look at the full bracket.
Check out the rosters for every team in the tournament field. The rosters for the left side of the bracket — the East and West regionals — can be found here. The rosters for the right side of the bracket — the South and Midwest regionals — can be found here. I couldn't get the rosters in order this time, but you can just arrow through them to see what teams you like.
Here's how to enter:
The bracket entry sheet can be found here: Blog Team Bracket Entry 2025.

In the top left, click on File > Make a copy

Make your picks

In the top left, click on File and either "Share" and share with sean@hoopsinsight.com or "Email as attachment" and email as an Excel spreadsheet (not a PDF!) to sean@hoopsinsight.com
The prize is the same as always: the winner will get to create a five-star recruit who enters the Leathernecks Cinematic Universe. We'll let you pick an opponent to schedule for next season if you're on the stream, too.
The start of our NCAA tournament run is out now!
Here's the rest of the original post.
Game: No. 4 seed Western Illinoi vs. No. 13 seed Florida Atlantic, first round, 2025 NCAA tournament
How to watch: My Twitch channel
Date: Thursday, July 30
Tip-off time: 8:30 p.m. ET // 7:30 p.m. CT.
If we win: We'll face the winner of No. 5 seed San Diego State vs. No. 12 seed UNC Wilmington in the round of 32 immediately following the first round game.
A few other notes
My friends Mike Prada and Matt Ellentuck have been doing excellent newsletters on the NBA and WNBA, respectively. I'm giving out two paid subscriptions to both. Prada did a great piece on Tracy McGrady today and Ellentuck has been crushing it with season-opening WNBA coverage. Shoot me an email if you want a paid subscription for either. For Prada's, tell me your favorite random NBA player and why. For Ellentuck's, give me your favorite WNBA player or team and why you like them.

Reader Luke has started his own spin-off series in NCAA Football 14 inspired by our Leathernecks. He's playing with Akron over at Rubber City Dynasty. Give it a follow.

Reader Jonathan has been emailing me some sick Leathernecks NCAA tournament stats. A sampling:
Top 10 in scoring:

B. Draughan-244

L. Hatten-181

G. Nelke-159

D. Van-157

I. Terrell-146

P. Powell-145

R. Djordjevic-140

K. Kone-133

J. Bowens-130

I. Willis-124

Top 10 in 3-pointers:

L. Hatten-37

B. Draughan-34

G. Nelke-30

P. Powell-29

I. Terrell-26

K. Kone-24

B. Assel-18

D. Hendriks-15

I. Willis, A. Amous, B. Grimes-14

Top 10 in rebounds:

D. Van-123

N. Goode-116

S. Dupre-98

B. Ballinger-87

R. Djordjevic-77

V. Fulton-75

T. Hoyer-71

J. Bowens-68

B. Draughan-62

J. Holden-59

Top 10 in assists:

A. Amous-77

D. Hendriks-76

B. Assel-68

B. Price-55

D. Haynes-48

D. Van-34

I. Willis-30

N. Goode-29

L. Copeland-28

L. Hatten-28

Top 10 in steals:

B. Draughan-14

K. Kone-14

S. Dupre-13

A. Amous-12

I. Terrell-12

C. Medina-12

V. Fulton-12

W. Messy-11

Hendriks, Copeland, Bowens, Assel, Djordjevic, Frye, Price-10

Top 10 in blocks:

R. Djordjevic-17

D. Van-15

T. Hoyer-14

B. Ballinger-11

J. Bowens-9

J. Holden-9

V. Fulton-9

D. Byfield-6

S. Dupre-6

B. Draughan-5
I'll include some more next time we do a Hall of Fame post.
Leathernecks vs. FAU this Thursday on Twitch. I'll see you there.