Western Illinois, Year 11, 2017-2018
Welcome back to Western Illinois' quest to become the greatest college basketball program of all-time in 'College Hoops 2K8'. For an introduction to this project + results from previous seasons, check out the About page of this website.
Here's a recap of everything that happened last season:
Finished the year 30-4 overall and as Summit League tournament champions. Earned a No. 5 seed to the big dance — our highest seed ever — and blew out Illinois State in our first game. We faced No. 4 seed Georgetown (100 overall) in the round of 32, and lost by six.

We hit the AP Poll for the first time in program history, ranking as high as No. 17.

Junior small forward Phil Powell became the first player in program history to leave school early for the NBA.

We signed one recruit, five-star JUCO power forward Raymond Harper.
Year 11
Here's a first look at the roster: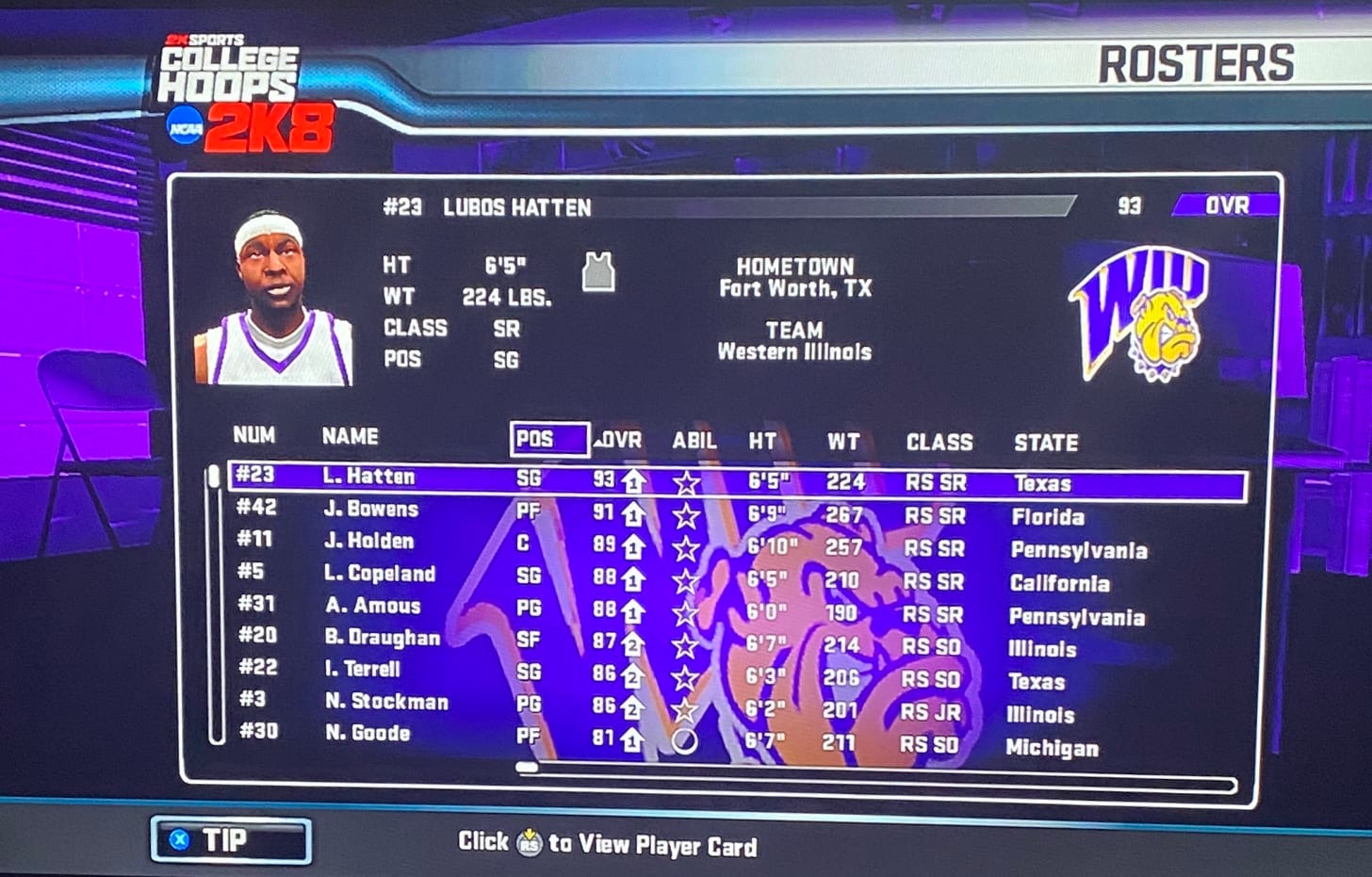 We're ranked No. 11 in the preseason polls and will begin the season rated as a 98 overall. This has to be the year we make another deep tournament run.
My first big coaching decision is who to start at small forward: senior Ljubisa Copeland or sophomore Bert Draughan. Both players are rated an 87 overall at the position. Copeland would give me five fifth-year seniors in the starting lineup, likely resulting in a higher 'team unity' rating. Still, I'm going with Draughan. He has the better potential rating, so he should be superior player by the end of the year. He'll also likely be the best player on team next year, so I might as well get him reps now. I also have to admit part of this is just wanting to see what one of my best recruits ever can do in a bigger role.
Let's go through the rest of the starting lineup:
Armein Amous, redshirt senior: Three-year starter. Traditional point guard who lacks size/explosiveness but is the top-rated passer and ball handler on the team, as well as one of our best shooters. Former No. 155 recruit with C+ potential.

Lubos Hatten, redshirt senior: Straight-bucket getter. Has averaged at least 15 points per game the last two seasons. Could he make a run at being an All-American this season? Former No. 66 recruit with B- potential.

Bert Draughan, redshirt sophomore: Second best recruit in program history as the former No. 29 overall prospect in his class. Chicago native. Scored 15 points off the bench in win over Illinois State in the opening round of the NCAA tournament last season.

Joseph Bowens, redshirt senior: Huge forward (6'9, 267 pounds) with impressive speed and shooting touch. Relentless on the glass. Reminds me a bit of a young Zach Randolph. Has the highest potential rating on the team at B+.

Jordi Geli Holden, redshirt senior: Sixth man on last season's team behind long-time starter Burton Ballinger. Elite interior scorer with a 96 rating in close-range finishing. Also has A- defensive awareness rating.
My bench is also really, really good this year. I decide to do something new with the rotation, giving all my starters 31 minutes per game and five bench players nine minutes per game. The second unit is going to have junior Nikola Stockman at point guard (best three-point shooter on the team at 94 overall), sophomore Ime Terrell at shooting guard, senior Copeland at small forward, sophomore Najeeb Goode at power forward, and sophomore Trevor Hoyer at center. That doesn't even include our former five-star point guard Billy Assel, who is already an 81 overall as a redshirt freshman. My lone new recruit, Raymond Harper, has already grown an inch to 6'8 and is rated as a 78 overall with B potential. He's redshirting and looks like exactly what we wanted with that open scholarship.
Recruiting
This is a huge recruiting year as well with six scholarships to fill. I'm thinking I ideally want two five-star JUCO players to eventually pair with Assel and Harper + four recruits out of the high school ranks to form the foundation for the future of the program.
Please remember: landing a class this big is not easy. You may recall when I went 2-for-5 on available scholarships in Year 5 before filling all six open scholarships (my current senior class + Phil Powell) the next season. The most important thing is to land at least one guy early and have a couple more ready to commit by the first day of spring recruiting. Also of note: I only get to visit two players per week through the end of early signing period (and one player per week after that). This is the challenge of recruiting at a small school like Western Illinois.
After looking at the current class, I decide on my first two visits:
Center Roberto Djordjevic out of San Antonio, No. 171 overall and No. 9 at his position

JUCO PG Diondre Haynes out of Tampa, five-star, rated as the best JUCO PG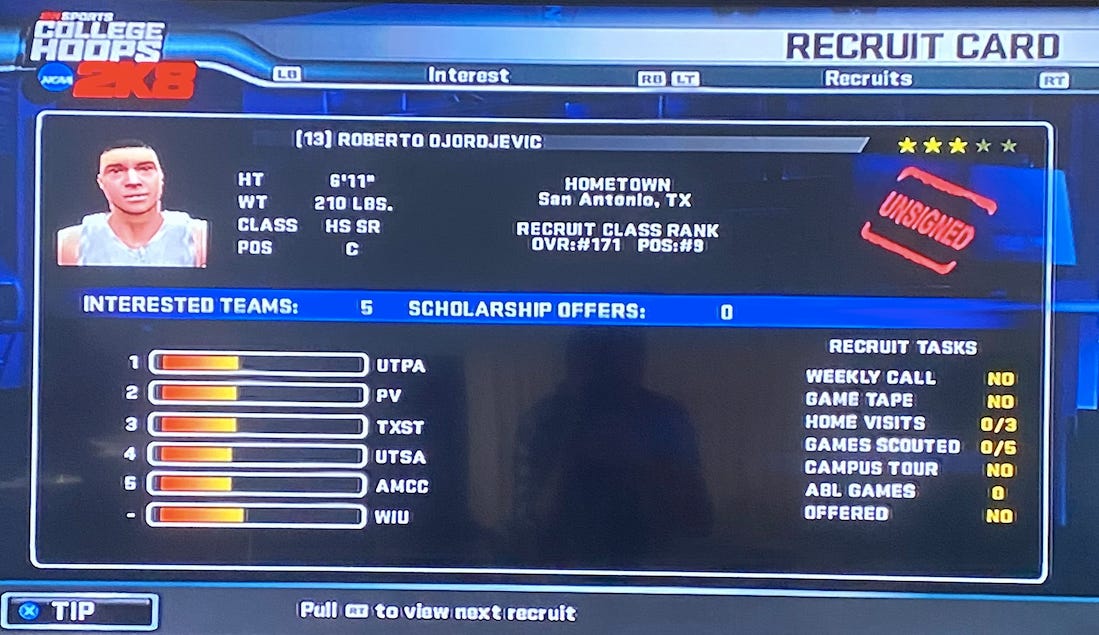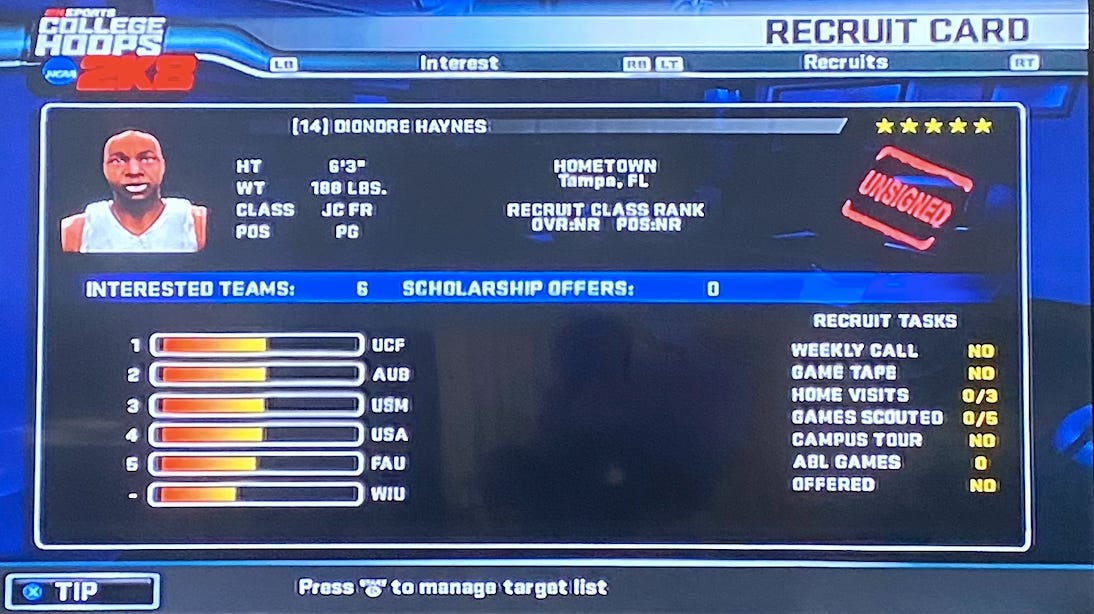 Haynes is a bit of a risky play, but he's also the best player on my 15-man target list. Consider this a swing for the fences, because I love the idea of pairing him with Assel as the backcourt of the future. I don't see a second viable JUCO player who should be in my first round of offers. I eventually decide to extend an offer to the following players in addition to Haynes and Djordjevic.
PG Brandin Bobik, No. 84 overall and No. 32 at his position

SG Keith Jenkins, No. 94 overall and No. 24 at his position

SF Garik Frye, No. 113 overall and No. 16 at his position

PF Ted Akins, No. 108 overall and No. 23 at his position
Two weeks later, Bobik has a Kentucky offer and Jenkins has a Georgia offer, so I ditch them. My replacements:
SF Issa Hughes, JUCO five-star

SG Borislav Grimes, No. 77 overall and No. 19 at his position
Grimes hails my hometown of Orland Park, IL, so this is really a no-brainer.
Time for our season opener @ No. 21 Wisconsin
I made our non-conference schedule hard as hell this year, as you'll remember. We'll get a steady diet of cupcakes in conference play, so I want to see where our guys are at against top competition before we get to the big dance.
First up: the Wisconsin Badgers — a 94-overall and only two years removed from a national title. Let's go!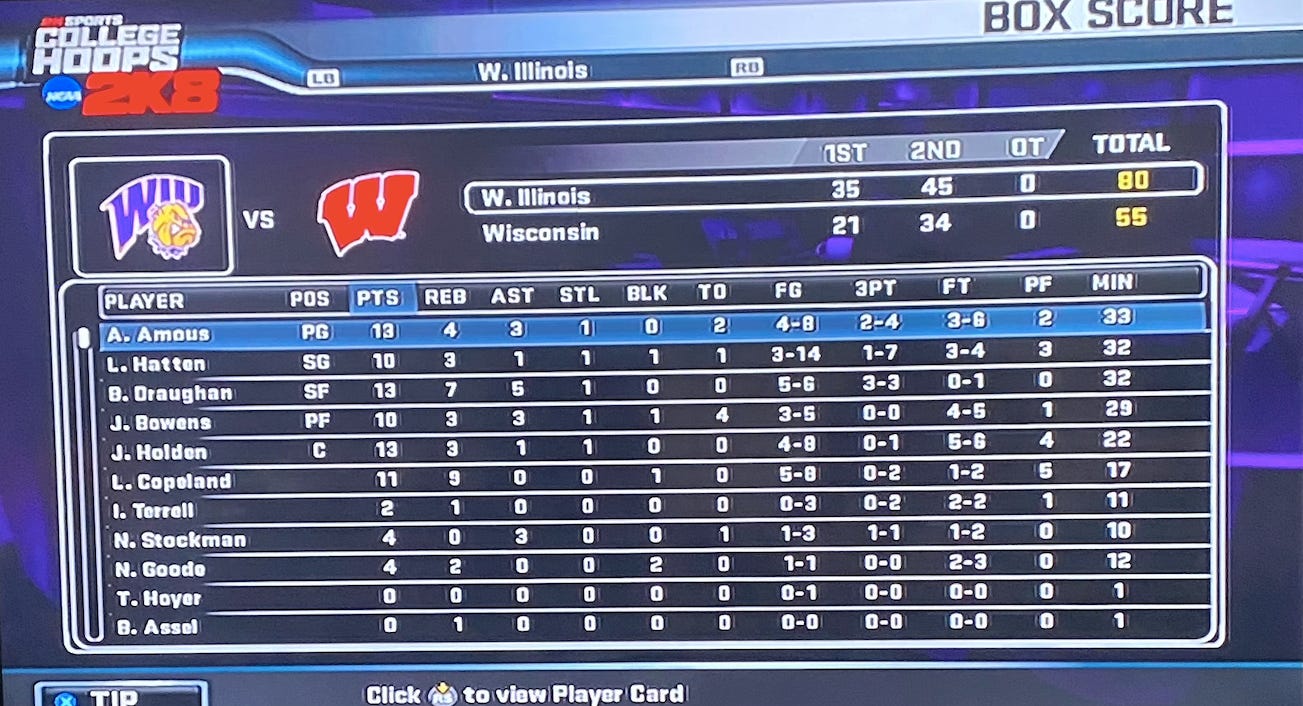 BLOWOUT, 80-55! A statement win on opening night, you love to see it. Look at that scoring balance — six players finishing with between 10 and 13 points.
As I sim to next week, we're now up to No. 9 in the polls.
Now we have Louisville, the preseason No. 1 who has already fallen to No. 4 after losing their first game. This is going to be a major test. Can we pass it?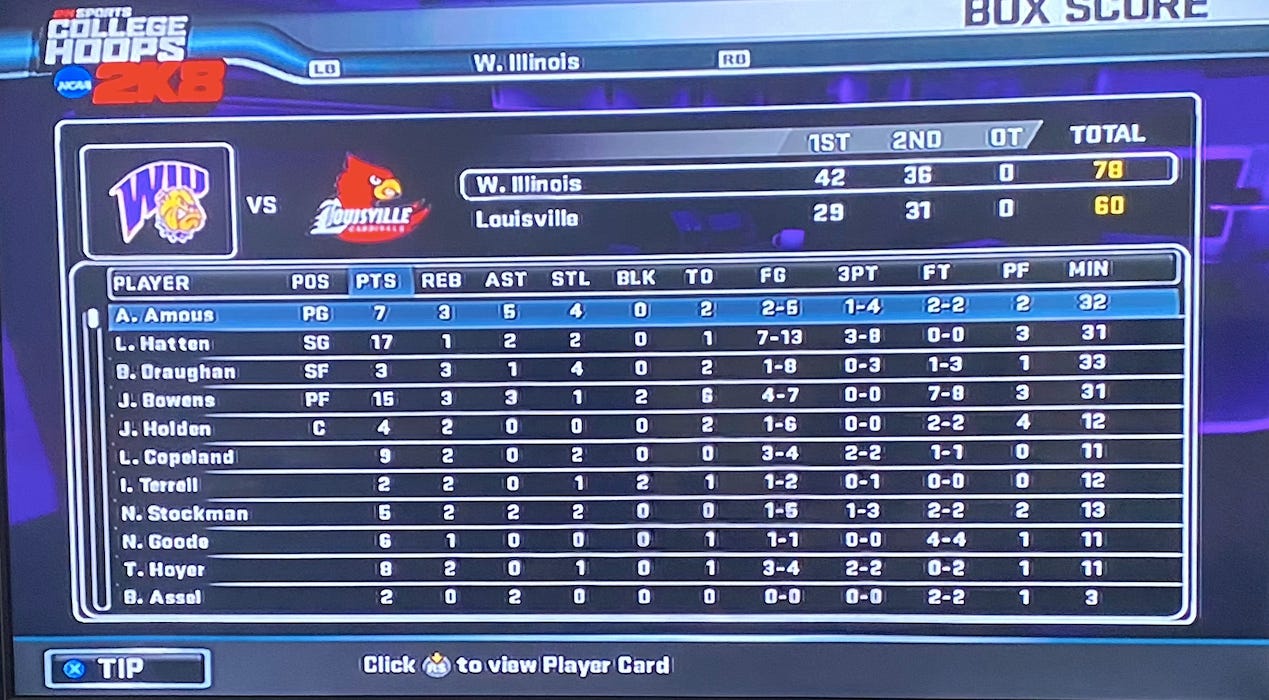 Wow, 78-60 win! Hatten and Bowens carry the scoring load, but look at the deep bench contributing. This is easily the best group of reserves I've ever had. I'm hoping that's going to be our secret weapon come tournament time.
Next up we have North Carolina, who are unranked and enter at 1-2. Could this be a trap game?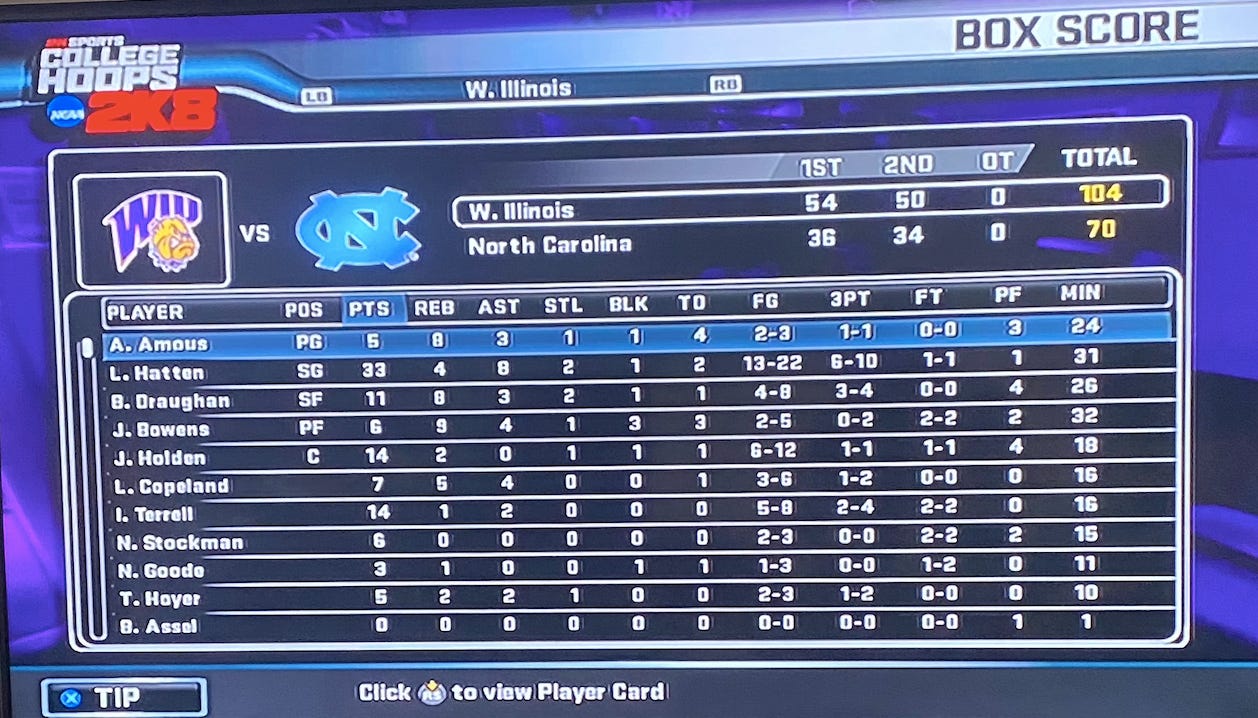 NOPE. 104-70 win, holy shit. My dude Hatten pops off for 33 points and eight assists. 14 off the bench for Terrell. Let's go!
The next week, we move up to No. 5 in the polls.
As signing week begins, we lead for both Djordevic and Haynes, who are at 91 and 89 percent interest respectively. Unfortunately, that isn't as high as I'd like. Can I land them before the early signing deadline? It's going to be close.
We have two games this week. The first is against No. 22 Michigan, who enter at 5-0.
WIN, 85-65. I love it. Holden leads the way with 25 points, while Hatten adds 21 points in the win.
Now we face No. 13 Kansas, who enter at 4-3 on the season, but are a 99 overall. This is a big hurdle.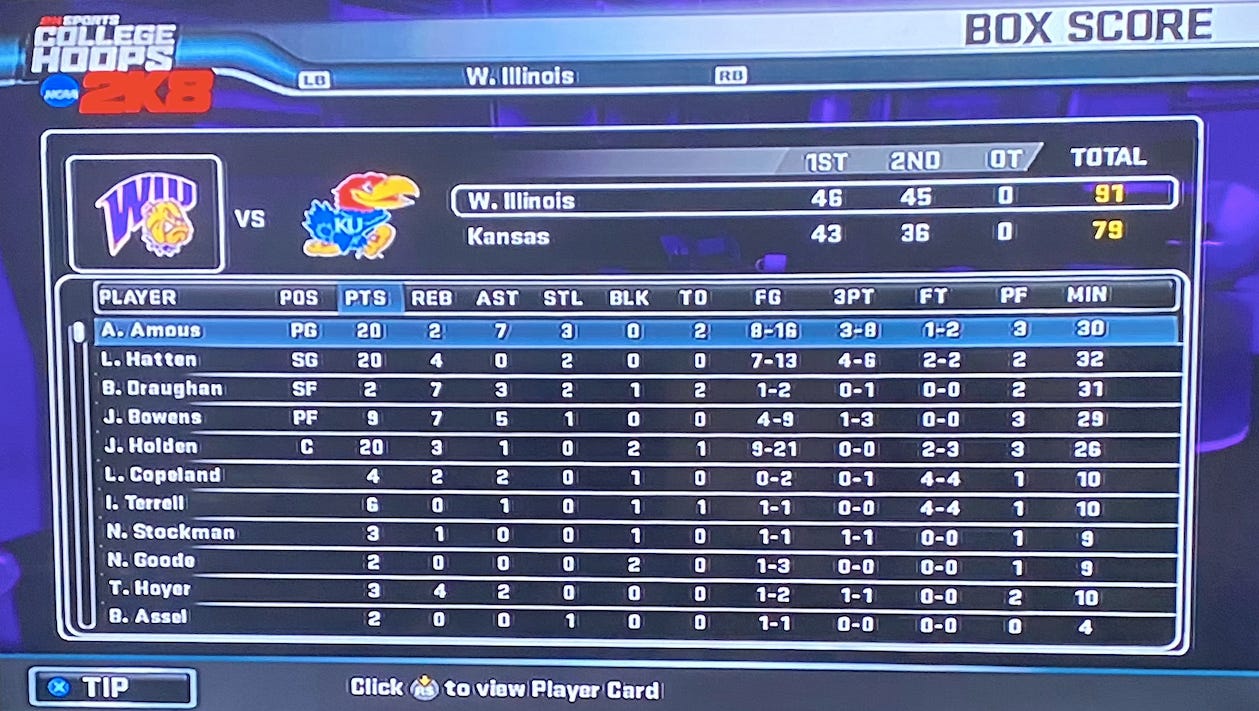 Let's gooo, 91-79 win. Wow. Hatten, Amous, and Holden all score 20. Hot damn. We're 5-0.
We're up to No. 4 in the polls as the final week of early signing period begins. We get wins over Oakland and South Dakota State in the early conference games, but we don't land either of our top targets in recruiting.
Shit. I'm going to need to sign six guys in the spring now, and I'll have to waste points calling Haynes and Djordevic that could have went to other players. This is a huge bummer. Hughes gets an offer from Baylor and Akins gets an offer from Citadel (?), so I drop them. I decide offer five-star JUCO PF Orien Newton and three-star PF Edwin Lyons (No. 105 overall, No. 21 PF) instead.
We have two games this week. The first one is against our Forever Rival, the Illinois Fighting Illini, who enter at 2-3 on the season.
WIN, 77-73. Eat it, Illinois. Holden leads the way with 21 points. We're 8-0 as we face St. John's, who are 6-3 on the year.
Win, 85-57. Call us the Chocolate Starfish because we're fucking rollin'.
We're now up to No. 3 in the polls, with Clemson and Duke as the only teams in front of us. Can we make a run to No. 1? That would be a coaching point if so.
Got Illinois State next.
We win, 118-75. We're 10-0 and move up to No. 2 in the country the following week.
We have two games left before conference play starts: Georgetown and Alabama, the teams that knocked us out of the last two tournaments. Why am I starting to have a panic attack right now?
Georgetown is No. 23 in the polls and 8-2 overall.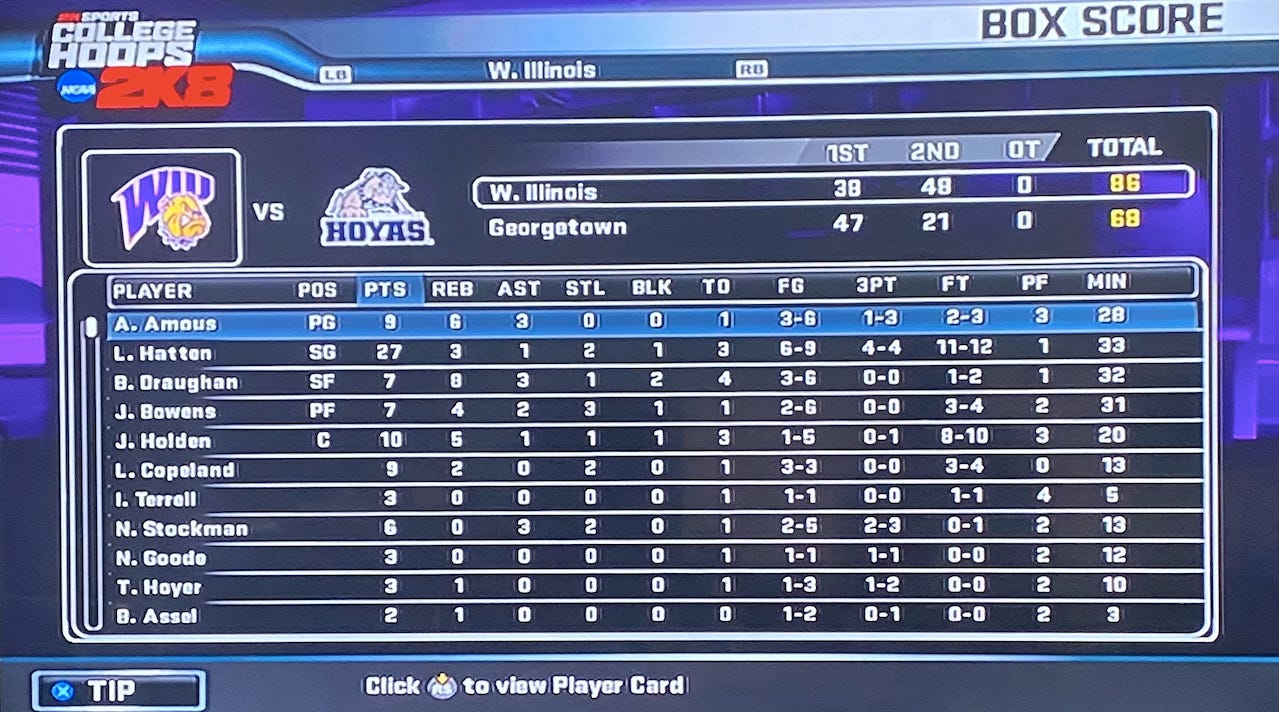 YES, win, 86-68. Hatten with 27. Get some!
Now we have 'Bama. Win! 67-49.
We hit No 1! Western Illinois!!!!! We're 12-0!!!!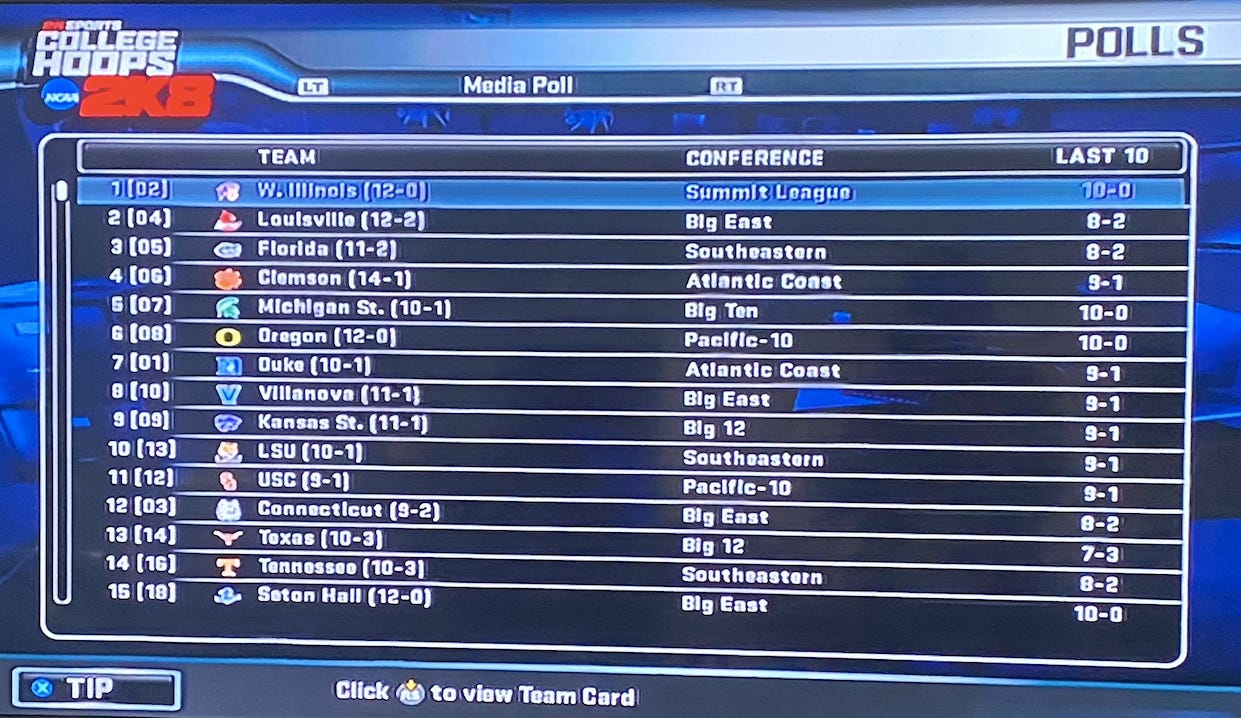 This is unreal. We get the bonus point. Conference play is about to start. I'm sweating.
Let's just cut to the chase: We run the table in the Summit to end the regular season 28-0 and maintain our status as the No. 1 team in the polls. In recruiting, Haynes, Djordjevic, and Frye are all at 100 percent interest and should commit on the first day of spring signing period. We have a lot more work to do on Grimes, Newton, and Lyons.
Hatten leads the team in scoring for the second time in the last three years. One of the best players in program history, for sure.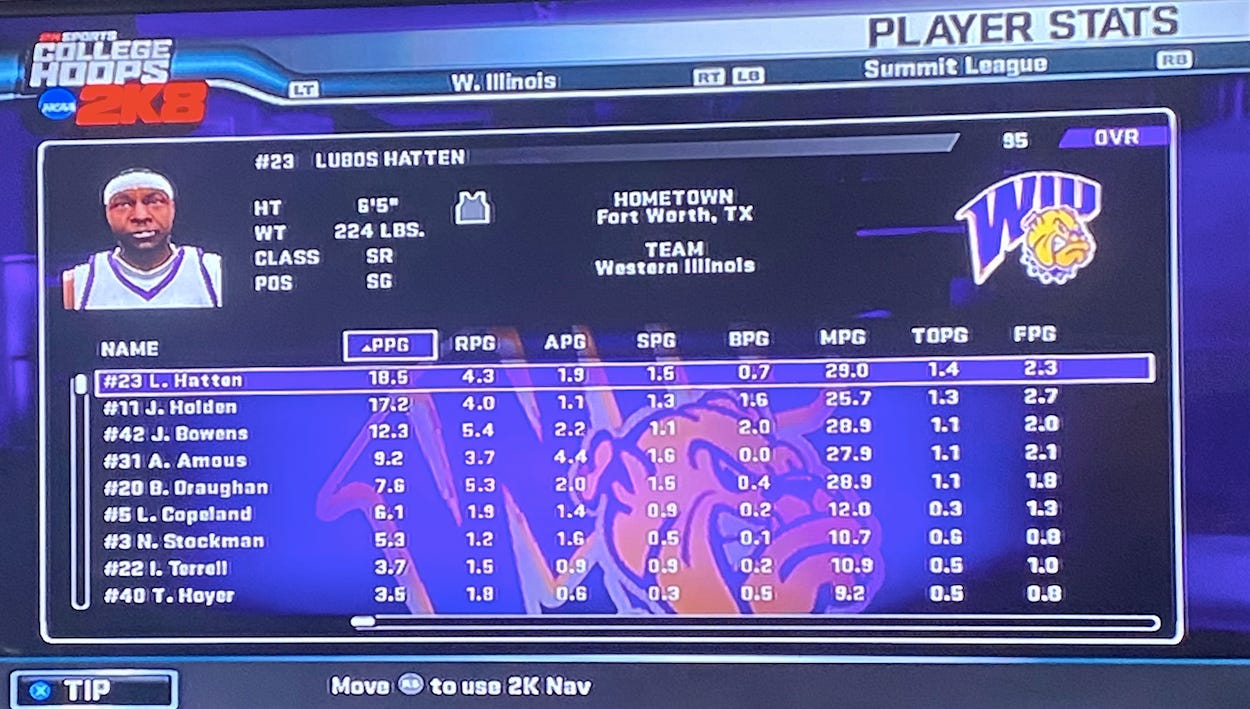 Summit League tournament
Fort Wayne is our first opponent.
Win, 93-50. Five scorers in double-figures, led by Hatten and Bowens with 18 points. Next: UL-Calcutta in the semis.
Win, 102-60. Holden with 34 points to lead the way.
Now we have Southern Utah in the title game.
Win! 73-61. Bowens with 25 and 16 to lead the way. We're 31-0 entering the NCAA tournament.
NCAA tournament
Oh my god, we get a No. 1 seed in the tournament. That's a coaching point. The other three No. 1 seeds are Michigan State, Louisville, and Syracuse.
Here's a look at our roster heading into the tournament: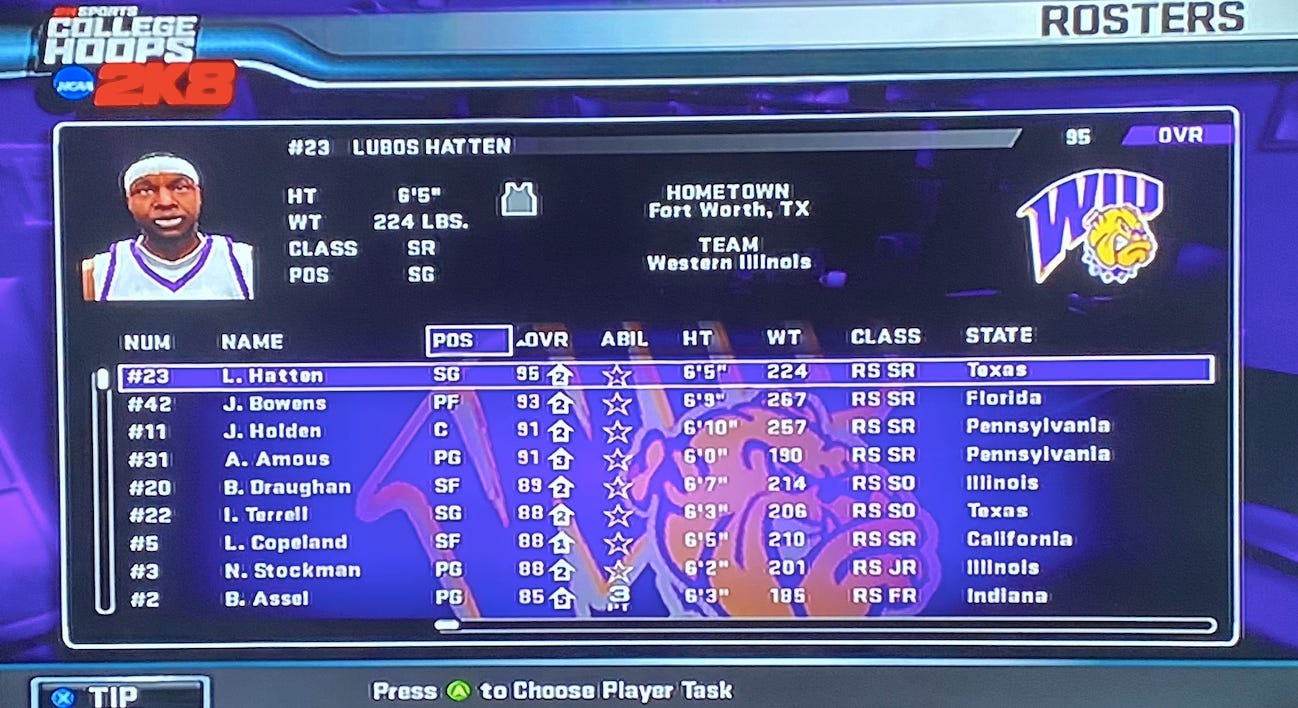 Portland State is my first round opponent. I'm a 100 overall, they're a 77.
I'm going to sim this game without watching.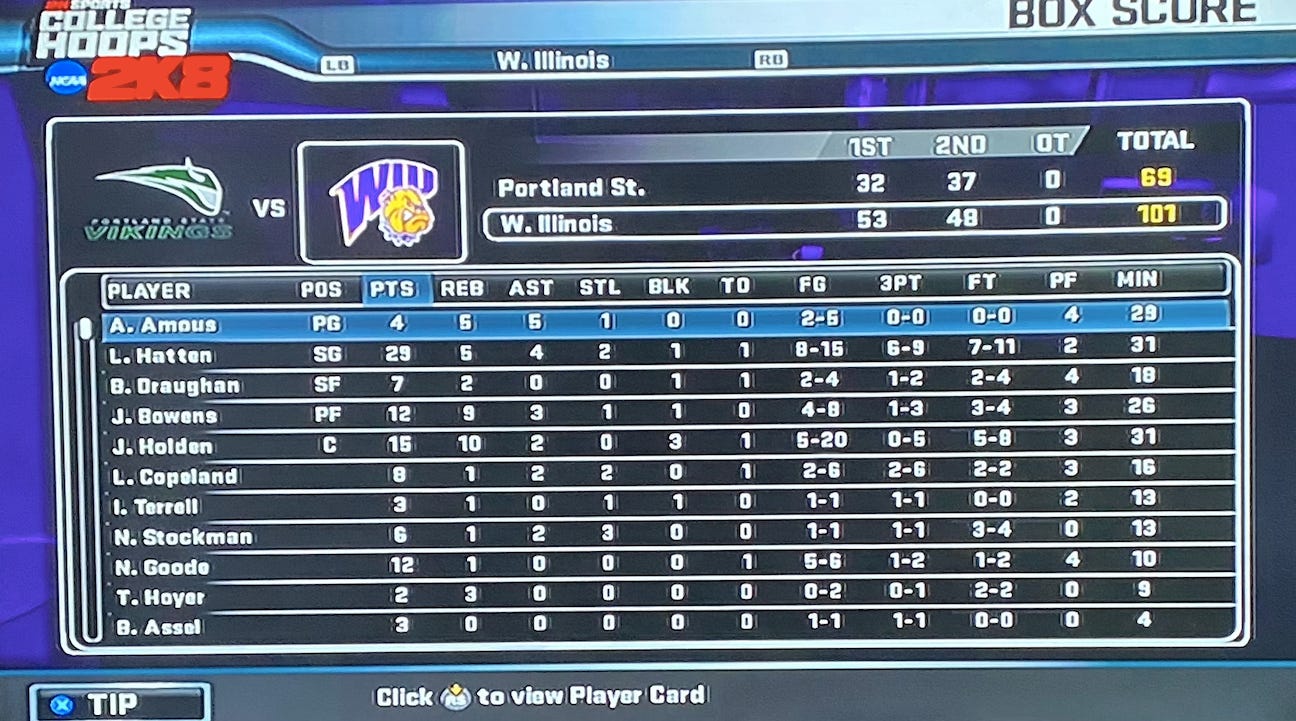 Win, 101-69. Hatten starting off hot with 29 points and a very nice 6-of-9 shooting from three-point point. That's what I want to see. Also shout-out to Holden for shooting 5-for-20 from the field and 0-for-5 from three but still getting that double-double. Hero shit.
Now we have Cal in the round of 32 — a rematch of the 2015 Final Four game.
No. 1 Western Illinois vs. No. 9 Cal, 2018 NCAA tournament round of 32
Man, Cal is a 97 overall. Look at this roster: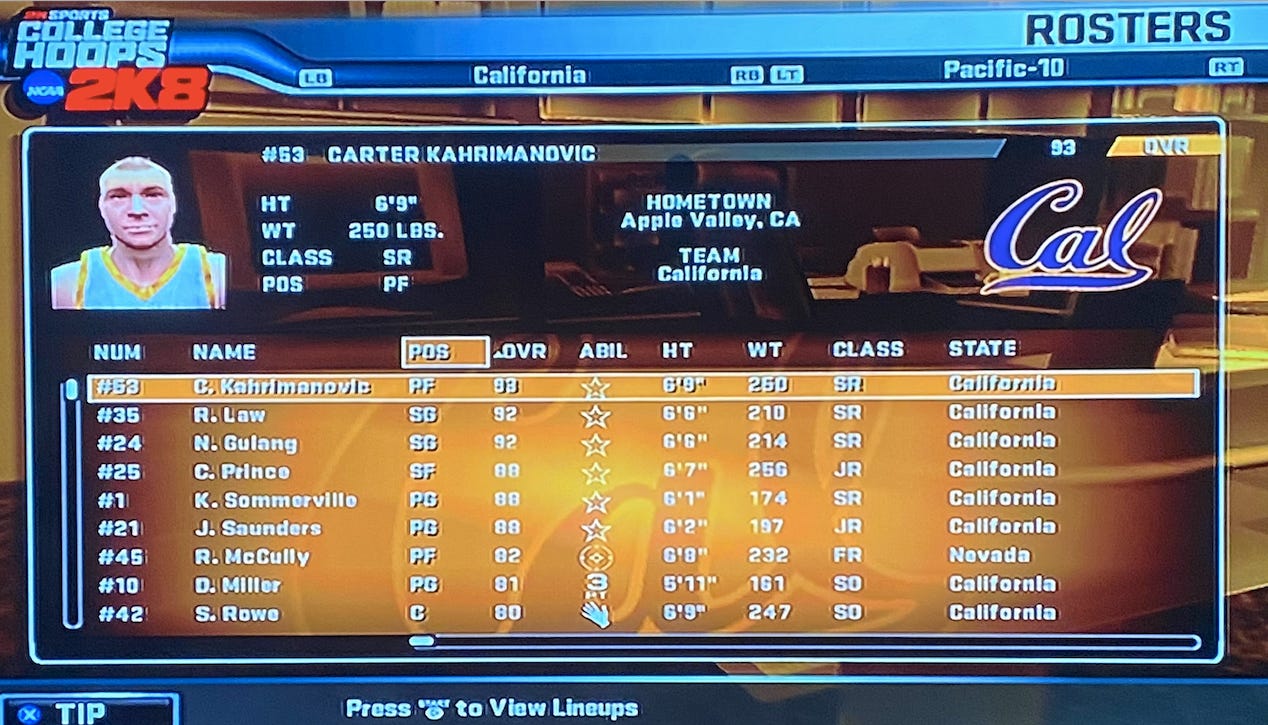 They certainly have more size than they did when we faced them a few years ago. I think both teams have more talented rosters.
After flaming out in the round of 32 the last two seasons after our title run, I am really nervous for this game. I don't want to think about losing an undefeated season in the second round.
Remember, we're going to start live streaming games on Twitch if we make the Sweet 16. There's a ton of pressure on this game.
One time, Leathernecks. Let's go!
***
***
***
***
***
***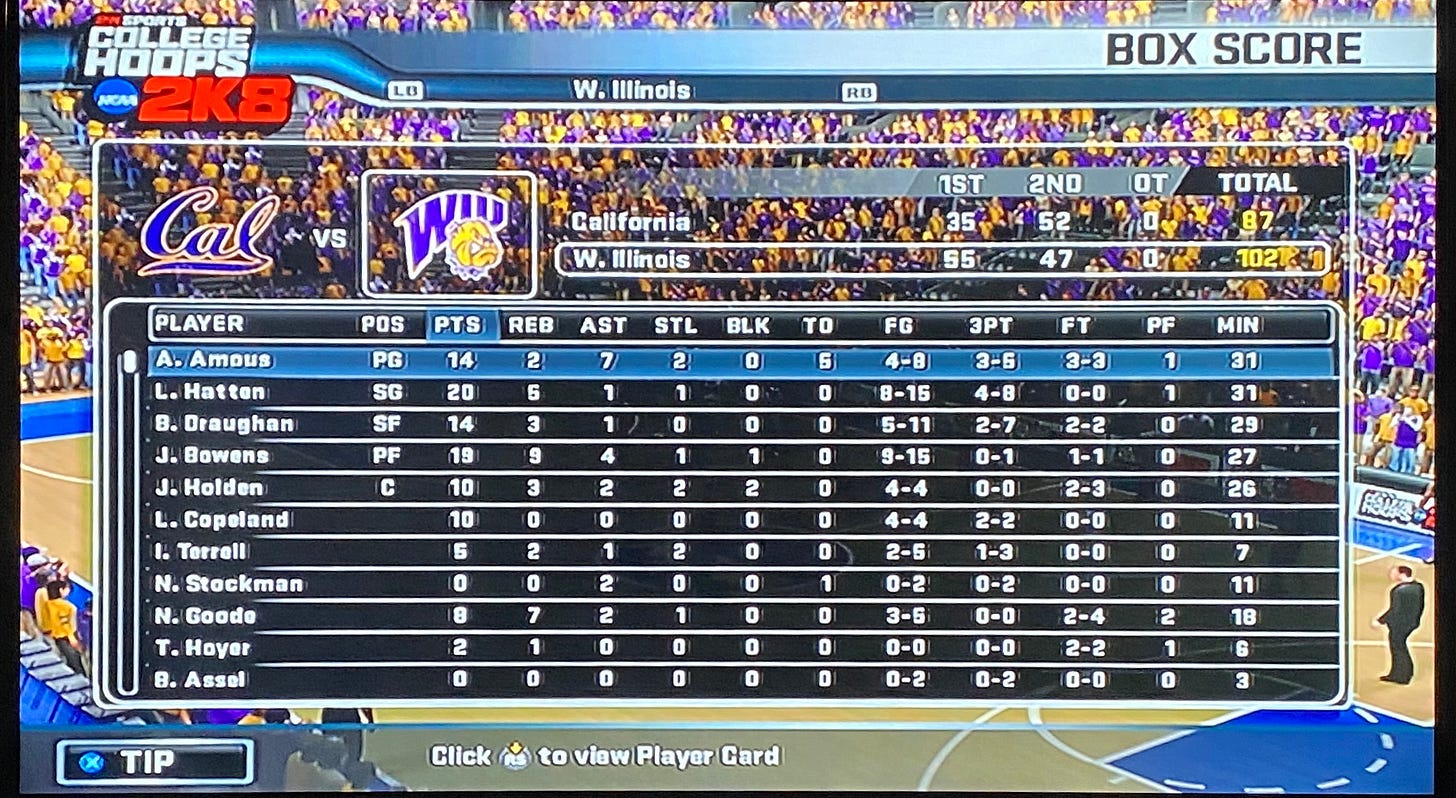 We're going to the Sweet 16, and we're having another live stream on Twitch once we get there. Hell yeah.
Can we talk about Bowens for a second? Oh my, what a game. That fucking dunk, man. Took every bit of willpower I had to stop myself from screaming. He was a monster on the offensive glass, finished everything inside, and forced turnovers on defense. It felt like he won that game single-handedly. And how about those two screens he set to free Hatten for a three and then for a dunk? Just a dominant game all-around.
This team just has so much offensive firepower. We shot 54 percent from the field and hit 40 percent of the 30 threes we attempted. We're dominant on the glass, too: we out-rebounded them 8-0 on the offensive boards, which helped us to a 15-0 advantage in second chance points. Only bummer: Cal shot 55 percent from the field. We can't give up so many open looks in the Sweet 16.
As I sim to the next week, I see that our next opponent will be … Kansas!
Both of our 2015 Final Four opponents in consecutive rounds. What are the chances?
The Jayhawks are No. 5 seed, but damn are they loaded. They actually look a little better than us by the ratings.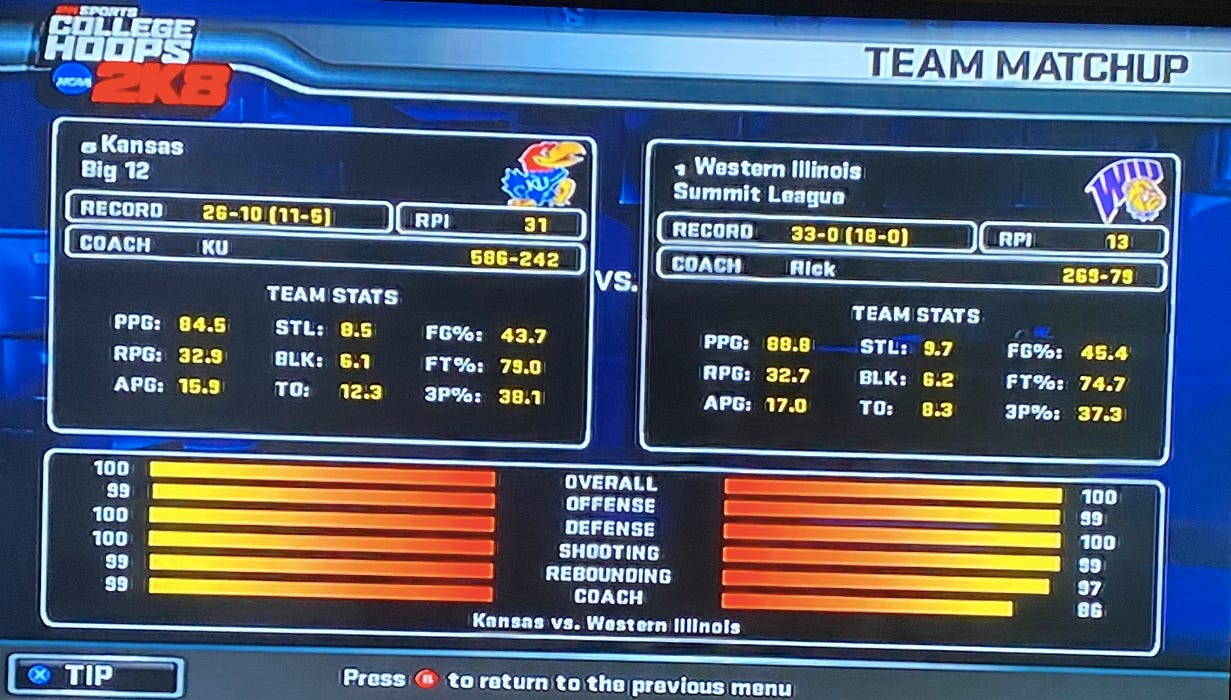 Here's a look at the Kansas roster + our roster back-to-back: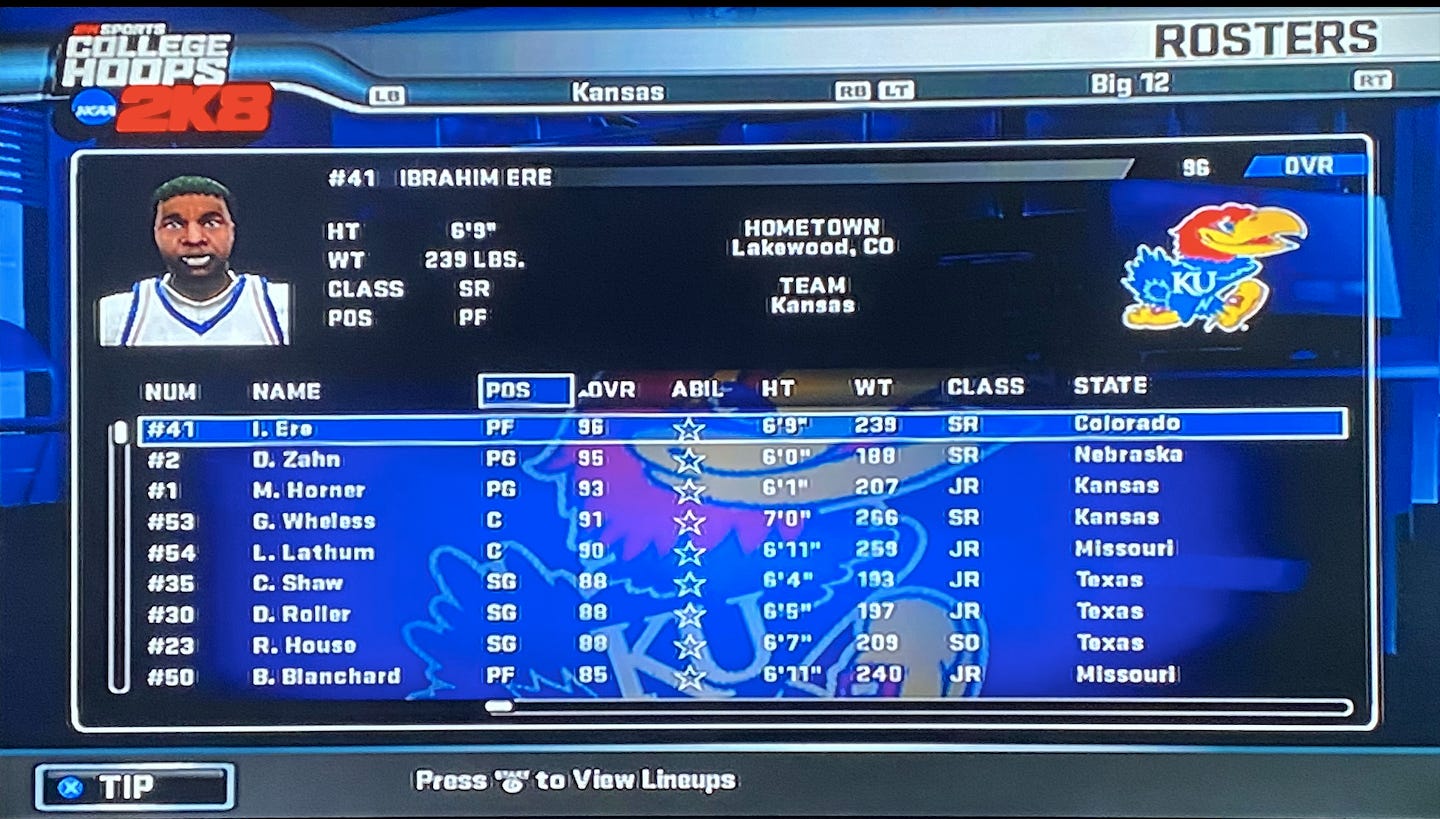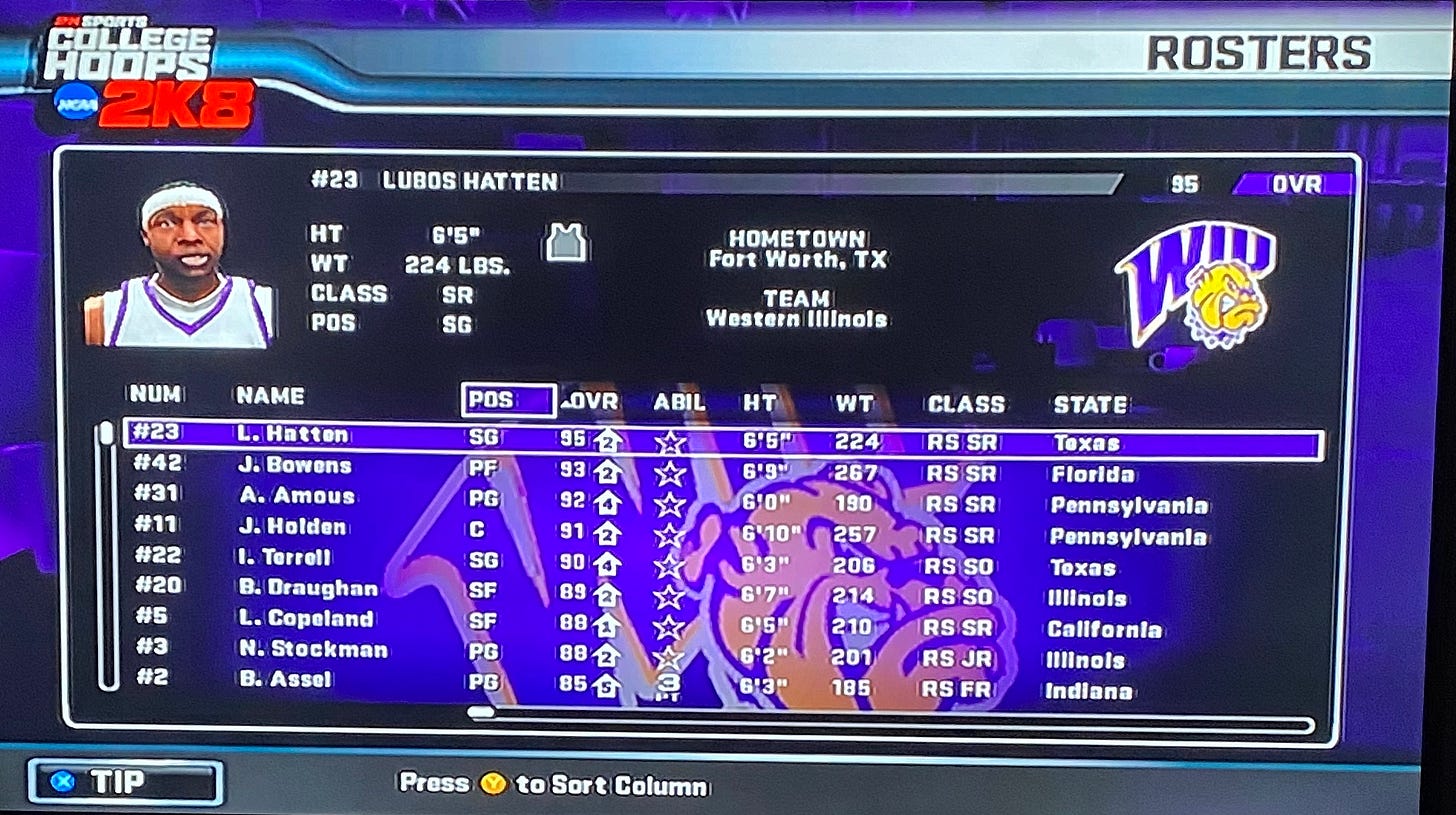 Uhh, Terrell? Up two since last week??? I love it.
Remember: we beat Kansas by 12 during the regular season. Immediately, my mind goes to the time Michigan State beat us in the regular season but we knocked them out of the tournament in the round of 32 before winning it all in 2015.
This is going to be an all-out brawl. I see that No. 2 seed Florida (96 overall) is waiting for the winner in the Elite Eight. Oh man.
Here's the rest of the original post:
We'll be live streaming the Sweet 16 on Wednesday, May 27, at 8:30 p.m. ET (7:30 p.m. CT) on Twitch. If we win, we'll stream the game against Florida immediately after the final buzzer. As a reminder, you don't need to sign up for a Twitch account to stream the game, but I think you do need to register for a free account to comment. It was so much fun when we did this during our 2015 title run. Let's run it back.
Game: Western Illinois vs. Kansas, 2018 Sweet 16
How to watch: My Twitch channel
Date: Wednesday, May 27
Time: 8:30 p.m. ET // 7:30 p.m. CT
If we win: Elite Eight vs. Florida will happen immediately after.
If we win two games on Wednesday night, the Final Four stream is tentatively scheduled for Saturday, May 30 at the same time. Remember: we will be watching a computer simulation — I'm not actually playing the games.
---
A few other notes:
See you Wednesday night on Twitch. 33-0. Let's get it.