Welcome back to Western Illinois' chase for greatness in College Hoops 2K8. For an introduction to this series and results from previous seasons, head to the About page of this website.
This is the continuation of Year 11 at Western Illinois for Coach Rick, more appropriately known as the 2017-2018 season. Here's a quick recap of what's happened during this season so far:
We were ranked No. 11 in the preseason polls, the first time in program history we'd been ranked at the start of the year. Despite scheduling a loaded non-conference slate, our Leathernecks were able to run the table, entering the NCAA tournament at 31-0.

We had six open scholarships to fill on the recruiting trail. While no one has committed yet, three players appear poised to sign on the first day of the fall recruiting period after the season: center Roberto Djordjevic out of San Antonio (No. 171 overall and No. 9 at his position), five-star JUCO point guard Diondre Haynes out of Tampa, and three-star small forward Garik Frye (No. 113 overall and No. 16 at his position).
We streamed the second weekend of the NCAA tournament on my Twitch channel on Wednesday night. This is a recap of what happened.
---
Here's a look at our roster heading into the Sweet 16:
Our opponent in the Sweet 16 is No. 5 seed Kansas. The Jayhawks were only 26-10 on the season, but their record belied their overall talent level. Kansas was rated a 100 overall, and actually had the advantage over our Leathernecks in several categories.
Here's how the two teams stacked up entering the game.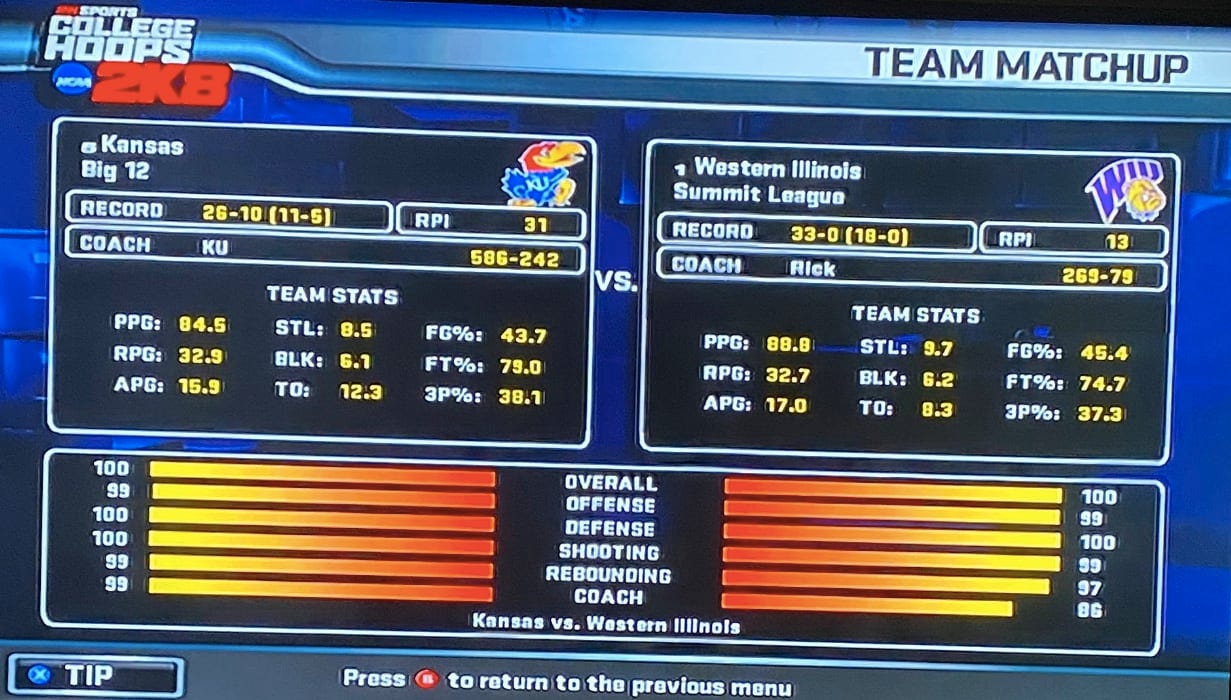 Here's a look at Kansas' roster.
David Fucillo of Draft Kings Nation installed Western Illinois as a 2.5 point favorite, with a total of 184.
Remember: Kansas was the team we beat in the national championship game in 2015. We also played Kansas earlier this season in Phog Allen Fieldhouse and won by 12. Even still, I said before the game I thought this would be our toughest matchup of the season. It's hard to beat a good team twice.
We streamed this game on Twitch. Thank you to reader @Mewyabby for showing me how to export the video onto Youtube. The game starts at 29:53 on this video.
***
***
***
***
***
***
***
WIN, 97-67.
We were really trailing at halftime of this one, and I was scared. What an effort out of the lads in the second half. Of note: this game was almost identical to the 2015 national title game. Both times, we trailed by two at half. Both times, we blew them out in the final 20 minutes to come away with the win.
The live streams are always a blur, but here are a few things I remember about this game:
The fans gave Armien Amous the nickname he deserves: "Moose"

The fans gave Nikola Stockman (our ace three-point shooter) the nickname he deserves: "Stonks"
This was the strangest game I've ever watched Lubos Hatten play — and I've watched him play a lot as a three-year starter.. He just wasn't getting the ball in position to attack early in the game and seemed content to settle into a facilitator role. Passing his not typically Hatten's strong suit, but he threw some nice dimes throughout the game and scored efficiently (5-of-8 from the field) when he did shoot.

Bert Draughan picked up the scoring load. The former Mr. Basketball out of Chicago is the lone non-senior in the starting lineup. He was only fifth on the team in scoring this year, but he stepped up when we needed him. Draughan's jumper just looks so smooth, and he has range out past the arc. He's also a strong finisher going to the basket, and flashed some dribble-crossover moves I hadn't seen out of him before. Dude is a star in the making and this was his coming out party.

Joseph Bowens: most underrated player in program history? Rated as the second best player on this team behind Hatten at 93 overall, Bowens consistently finds a way to score while also contributing in other aspects of the game. His line was majestic: 19 points, 10 rebounds, seven assists, three steals, and a block on 9-of-12 shooting from the field. He has a huge impact on winning.
Friend of the program @Akulawolf ran the tempo-free stats after the game. Just a hot shooting night by the Leathernecks thanks to that second half. We also did well to turn them over and to limit turnovers ourselves.
Onto the Elite Eight, where the matchup was No. 2 seed Florida.
No. 1 Western Illinois vs. No. 2 Florida, 2018 NCAA tournament, Elite Eight
The Gators had been crushing it all season. They were ranked No. 7 in the final media poll of the year and entered the game at 28-7 overall. Here's a look at Florida's roster:
Florida was rated as a 96.
Our Leathernecks' record now stood at 34-0 after the win over Kansas. Our second Final Four in three years was on the line. Our perfect season was on the line. Michigan State — the No. 1 seed in the Midwest — had already defeated Kentucky in the other regional final and would be waiting for the winner.
We also streamed this game on Twitch. The game starts at the 1:31:08
***
***
***
***
***
***
***
To quote myself for the final 30 seconds of this game: oh my god, oh my god.
A jumper by Bert Draughan put us up 96-83 with 3:09 left. The comment section started celebrating the Final Four berth. That is when the Gators began making their run. We wouldn't score again.
Florida would get within three with a baseline jumper with 39 seconds left. Bowens missed on the other end, Florida had a chance to tie the game with a heave in the final seconds that fell short, and we won.
To be honest, they could have gotten a better shot. I was having NC State flashbacks before my eyes. Still, we survive, and we advance.
35-0. Final Four.
A few takeaways:
Another game, another halftime deficit. Florida was absolutely unconscious in the first half, shooting 62 percent from the field. Our size advantage did not play out on the glass like I expected. Nothing but respect for the Gator bigs holding their own against our front line.

It was good to get Hattan going early after he never found his scoring rhythm in the Sweet 16. He had 11 of his 23 points in the first half.

Another money game for Draughan. Every time we needed a bucket, it felt like he was the one to deliver it. We played through him like he's been our star all along: 27 points on a team-high 20 field goal attempts, 4-for-10 from three-point range, seven boards. Can't say enough about him. This will be his team next year.

The bench and the rotations were a problem. As I've stated numerous times, I have the starters set to play 31 minutes each this season, with five bench guys getting nine minutes each. So, why didn't that happen? I thought our guys looked totally gassed at the end and I was worried it was going to cost us the game.

I did not expect a DNP for Copeland, a fifth-year senior who should be our sixth man. Looking back at the Sweet 16 box score, he really struggled against Kansas (1-for-7 from the field), so maybe that had something to do with it? Hilarious, if so.

A bear market for Stonks in this one.
Tempo-free stats from @akulawolf:
Survive and advance, baby. Survive and advance.
No. 1 seed Michigan State is the opponent in the Final Four.
No. 1 Western Illinois vs. No. 1 Michigan State, 2018 NCAA tournament, Final Four
These might be the two best teams in the country. Many people are saying it.
The final media poll of the year had the Leathernecks at No. 1 and the Spartans at No. 2.
Michigan State is rated as a 100 overall. Yes, Tom Izzo still has a 99 rating in coaching.
Here's a look at the Spartans roster:
We enter at 35-0. The dream continues.
We're live streaming the Final Four on Saturday
Western Illinois vs. Michigan State is going down at 8:30 p.m. ET and will be streamed on my Twitch channel. As always: I'm not playing the game, we're watching a computer simulation. If we win, we'll play the national championship game immediately after. It's Louisville vs. Villanova in the other national semifinal.
Game: Western Illinois vs. Michigan State, 2018 Final Four
How to watch: My Twitch channel
Date: Saturday, May 30
Time: 8:30 p.m. ET // 7:30 p.m. CT
If we win: National championship game vs. Louisville/Villanova will happen immediately after.
A few other notes:
We'll be back on Saturday night. Please come through and follow me on Twitch. Who wants to win a national championship?