The Western Illinois Leathernecks are national champions!
We really did it. The Western Illinois Leathernecks are national champions of the 2014-2015 season of 'College Hoops 2K8.'
It only took us eight years to bring a championship to Macomb while simulating every game + doing the recruiting. Go back and re-live our entire journey from the start of the season here and here. I never thought we'd be able to do this so quickly when we began this series a month ago.
Let's all enjoy this "One Shining Moment" together:
The Final Four live stream watch party was absolutely incredible. By the numbers: 7,229 people watched at least part of the stream, with a high of more than 2,400 concurrent viewers during the closing moments of the national title game victory over Kansas.
You can rewatch the entire stream on my Twitch page. Here's the start of the stream, and here's the end of the stream.
We've also partnered with Homefield Apparel to sell t-shirts commemorating our star center and tournament Most Outstanding Player Deke Van. Support the legend.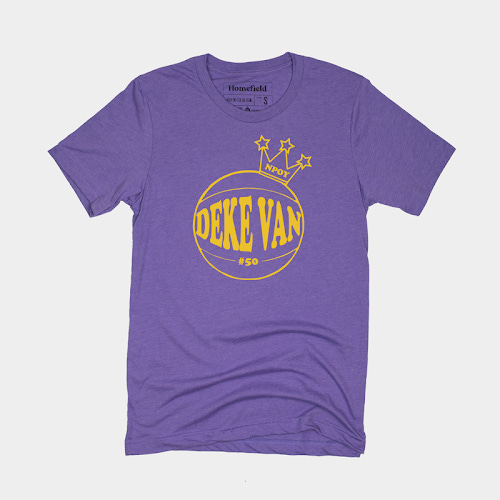 Now that I've finally gotten over this championship hangover sponsored by Malort, let's talk how it happened.
***
---
I was strangely confident entering the game against Cal in the Final Four.
David Fucillo of DraftKingsNation installed the Bears as a 5.5-point favorite coming into the night — and honestly, it made sense. Cal was rated as a 97 overall, two points better than us. They had four players on the roster rated in the 90s; we had two. They were the No. 5 seed from the mighty Pac-10, we were the No. 10 seed out of the lowly Summit League. Both teams had four seniors in the starting lineup.
Cal was good, but they certainly weren't invincible. They didn't have much size — their tallest player was their star small forward Ben Terry, who stood only 6'8. More importantly, we had a powerful energy on our side in the form of Leatherneck Nation. The live chat was HYPED during my pre-game press conference. We had almost 1K people on the stream by tip-off. We didn't come all the way to a tiny gym in Albany for the Final Four just to lose once we got here.
And credit to our dudes: they came out ready to play. Damon Hendriks was dropping dimes, Ira Willis had the mid-range game going, and Van and Burton Ballinger were owning the paint.
By the time the dust settled in the first half, the score read Western Illinois 56, Cal 38.
We never let up, and eventually came away with an 18-point victory.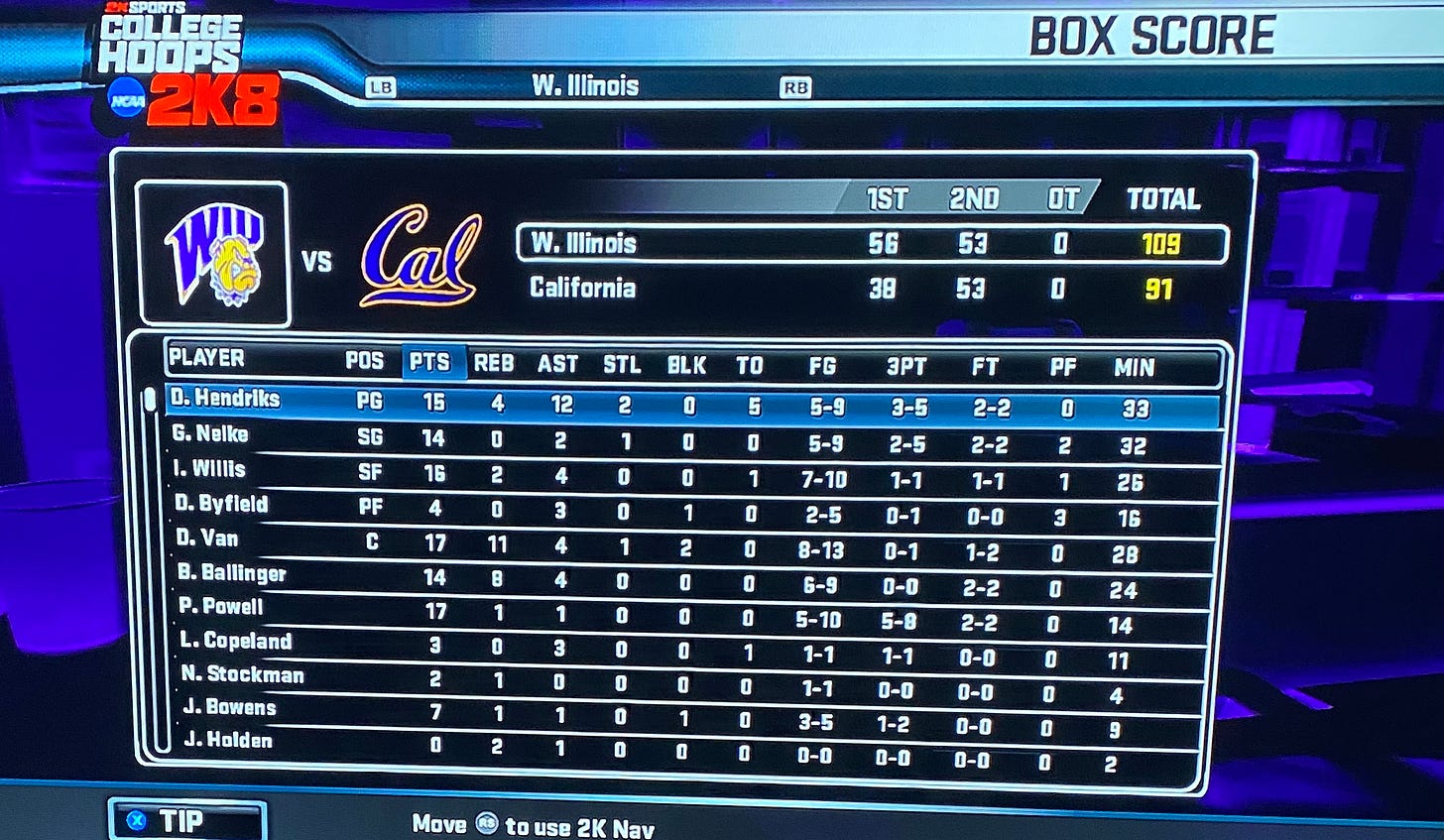 Two things that swung the game: our shooting and our ball movement.
We shot a blistering 59 percent from the field, which is just outstanding. We were unconscious from three-point range all night, knocking down 13-of-24 (54 percent) attempts from deep.
We also finished with 35 assists on the night — shoutout to Jim Boylen. Cal actually held its own on the glass. We only out-rebounded them by one.
The bench was huge for us, too. Phil Powell continued his storybook rise after badly struggling against Ole Miss in the first round of the tournament. He scored 17 points off the bench by hitting 5-of-8 shots from three-point range — damn impressive for a 6'9, 245-pound small forward. Ballinger was sick, too: 14 points, eight rebounds, and four assists in only 24 minutes. And how about Joseph Bowens, the 6'8, 259-pound power forward who isn't even in the rotation but scored seven points in his nine minutes of play.
Reminder that Ballinger (86 overall) is only rated two points lower than Van and has two years of eligibility left after this one. Powell and Bowens are only redshirt freshmen. Bonus reminder that those guys have the three highest potential ratings on the team.
The future is bright, but more on that later.
National title vs. Kansas
We always knew Kansas was waiting in the title game after they upset defending champion Maryland earlier in the Final Four. The Jayhawks were a No. 6 seed and entered as a 98 overall. They had some studs on the perimeter and more bodies they could throw at us on the inside.
I'll admit it: I was nervous. That shouldn't surprise anyone who was watching the live stream, because I felt like I was losing my mind from the opening minutes of the game.
Kansas kept hitting shots. Their star junior shooting guard Laurynas Maxiell — the bald guy I kept calling Steve Blake — is a total stud: he was once the No. 6 overall recruit in the country and was projected as a top-pick in the draft. We had trouble stopping him. Curry Didlake — the redhead with the undershirt— was a problem, too.
The Jayhawks hit a buzzer-beater to go into halftime with a 46-44 lead. I felt completely overwhelmed as it was happening: the stream had more than 2K people watching, the live chat was POPPING, and there was non-stop feedback on Twitter. Information overload in every way.
Fortunately, our Leathernecks found a way to stay composed. They absolutely blitzed Kansas in the second half to come away with a 20-point victory and a national championship.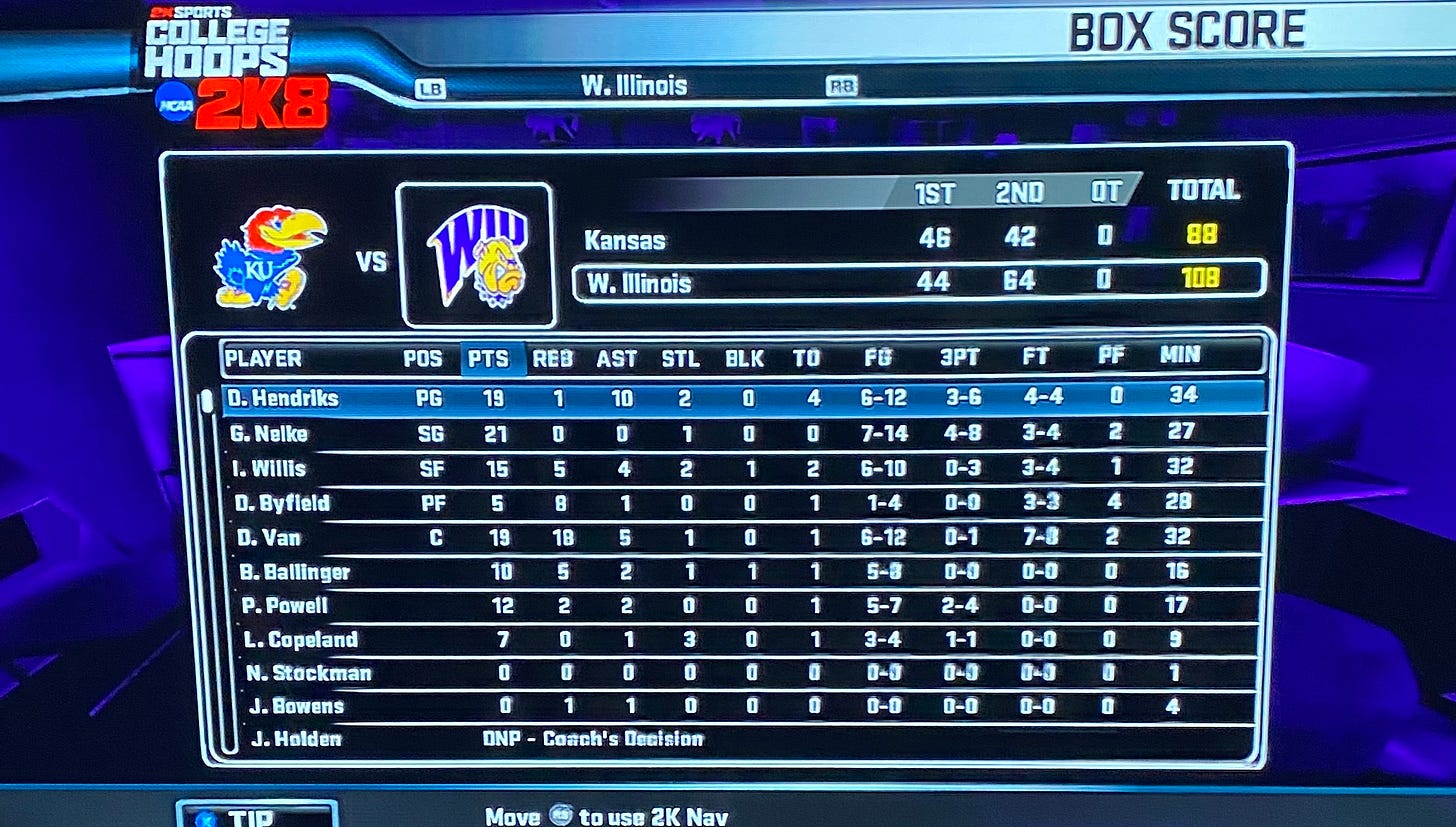 The second half of that game was honestly a blur, but here are a few things I remember:
Hendriks was really struggling in the first half. He was getting called out for it constantly both on the live chat and on Twitter:

Look at that final line, though: 19 points, 10 assists, 50 percent shooting both from the field and from three. He had some early turnover problems, sure, but he steadied the ship just like a senior point guard should. When he pulled up for a deep three midway through the second half that was straight cash, I knew we could win this.

It felt like Nelke had an answer every time the Jayhawks punched back. He didn't showcase his playmaking skills at all (0 assists) and never does much defensively, but the dude is just a shot-maker through and through. 21 points on the night on 50 percent shooting. I think he was my favorite player on this team all year.

Van is just so dependable, man. I don't think I've ever seen the guy dunk even in pregame warmups, but he still has a way of consistently finishing inside. He's also a very underrated passer who could run the offense out of the high post in the halfcourt. His final line was majestic: 19 points, 18 rebounds, five assists on 6-of-12 shooting. Even the king of PER himself John Hollinger jumped on the bandwagon:
The two big factors that swung the title game for us were rebounding and turnovers. We out-rebounded KU 40-28 mostly thanks to Van. Hero. Icon. Monster. Buy a t-shirt because I get a cut. We also forced the Jayhawks into 13 turnovers on the night.
When it was over, I did Malort pulls and downed High Life(s). It was only right.
***
---
I think my guy Mike Rutherford said it best in his amazing pre-game hype video: at a certain point, this started to feel like a team of destiny. That might be the best way to explain this Leathernecks run.
I started to feel confident we had a chance to win it all after we beat Michigan State in the round of 32. Remember, they were rated as a 100 overall in every category except coaching — where the game hilariously stuck Tommy Izzo with a 99 rating — and they had beat us soundly during the regular season. The first Sweet 16 trip in program history was hanging in the balance, and we fucking responded. We won that game by nine, but it never felt all that close.
From that point on, I believed we had what it takes to go all the way. After a heart-stopping win against Villanova in the next round (Nelke with those two daggers from the corner late, an absolute king), our Leathernecks were straight up dominant to close out the tournament run.
Look at how how we ended the tournament:
19-point win over Pepperdine in the Elite Eight

18-point win over Cal in the Four Four

20-point win over Kansas in the title game
That's some 2018 Villanova shit.
Still, there's some chatter that we got lucky. Certainly, there's a bit of truth to it. Ole Miss missed an open three that would have beat us in the first round. Pepperdine was super weak for a No. 1 seed. Cal and Kansas were No. 5 and No. 6 seeds respectively once we got to the Final Four. I don't know if we could have beaten Maryland, but now we'll never have to find out.
What set this team apart, I think, was our unity — that's not just dumb coach speak, but a metric the game evaluates teams on, where we were rated a 92 overall. With four redshirt senior starters in the lineup and three players who started three seasons for us, our guys had experience on their side. They remembered the heartbreak against NC State last season. They were out for vengeance all year.
To accomplish our goal in Year 8 is just wild. People keep asking me what's next for the program now that we won a national title. I say: let's win another.
---
Let's set up Year 9, which will likely run later this week. Some end of season notes real quick:
Nelke became the first player in program history to get drafted. The game doesn't tell us where he got taken, but he was projected as a second rounder.

We earned five coaching points for our success this season. I gave one point to both offense and defense to make Coach Rick a B overall in both categories. Then I boosted my teaching (which affects internal improvement) to an A- and gave two points to my scouting to move it up to a C+.

Georgia, Auburn, and South Carolina all offered me a job. I politely declined.

It feels like it happened a million years ago, but remember: we already locked down two recruits for next season. Bert Draughan is Mr. Basketball out of Illinois and the No. 29 overall prospect in the country, making him easily the best recruit in program history. We also signed Najeeb Goode, a 6'7 power forward ranked No. 116 overall and No. 16 at his position. Dude is a sniper from three-point range.
We still have two more scholarships left to offer. Let's get it.
We land our center target on the first week of recruiting — Trevor Hoyer out of Reno, Nevada. He's ranked No. 212 overall and the No. 12 center prospect.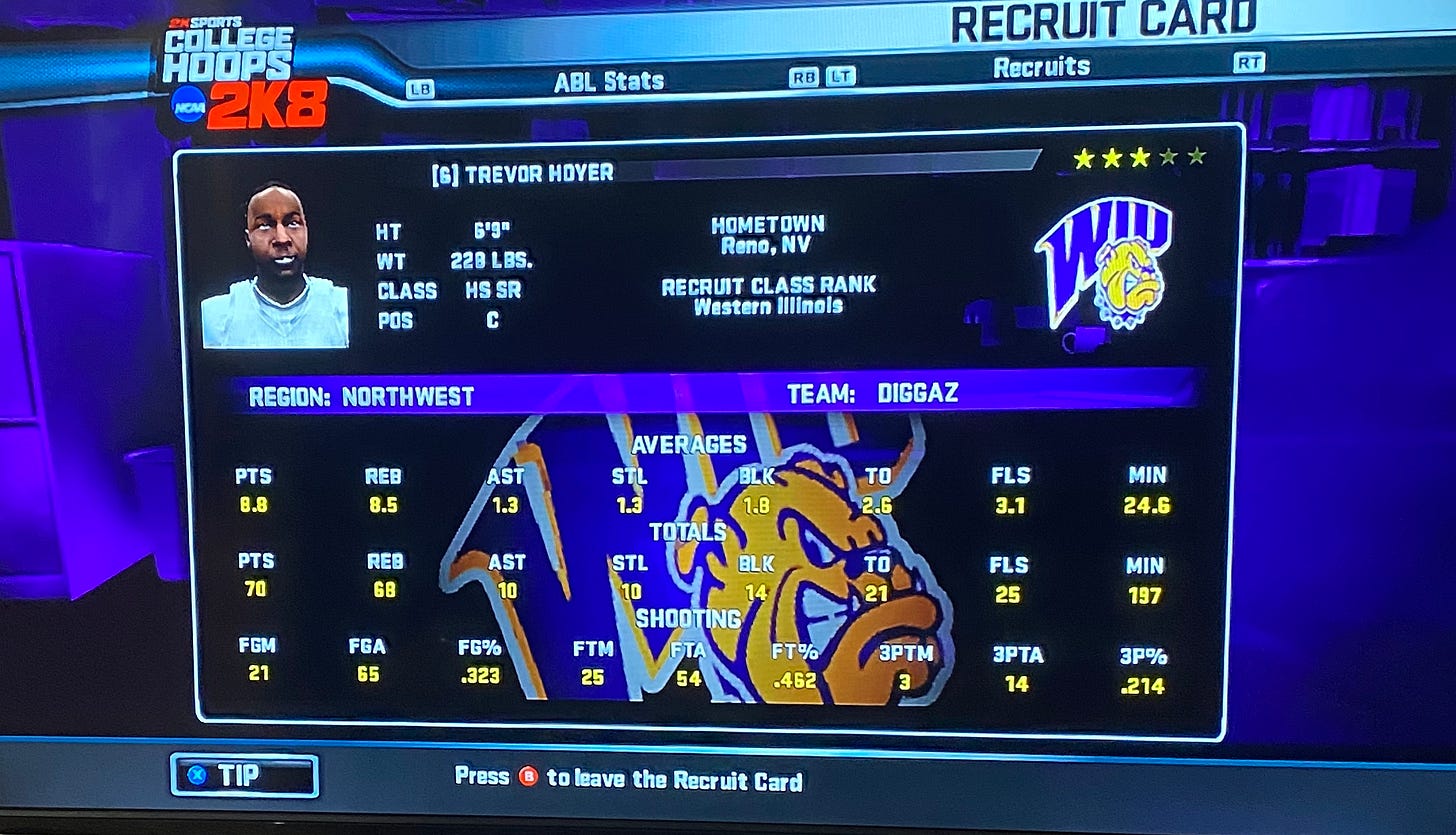 We need a guard with our last scholarship. We've been recruiting 6'2 shooting guard Ime Terrell out of Dallas, the No. 78 overall player in the class and the No. 23 player at his position. He's been waiting for an Oklahoma offer, but he hasn't gotten it yet.
Can we land him?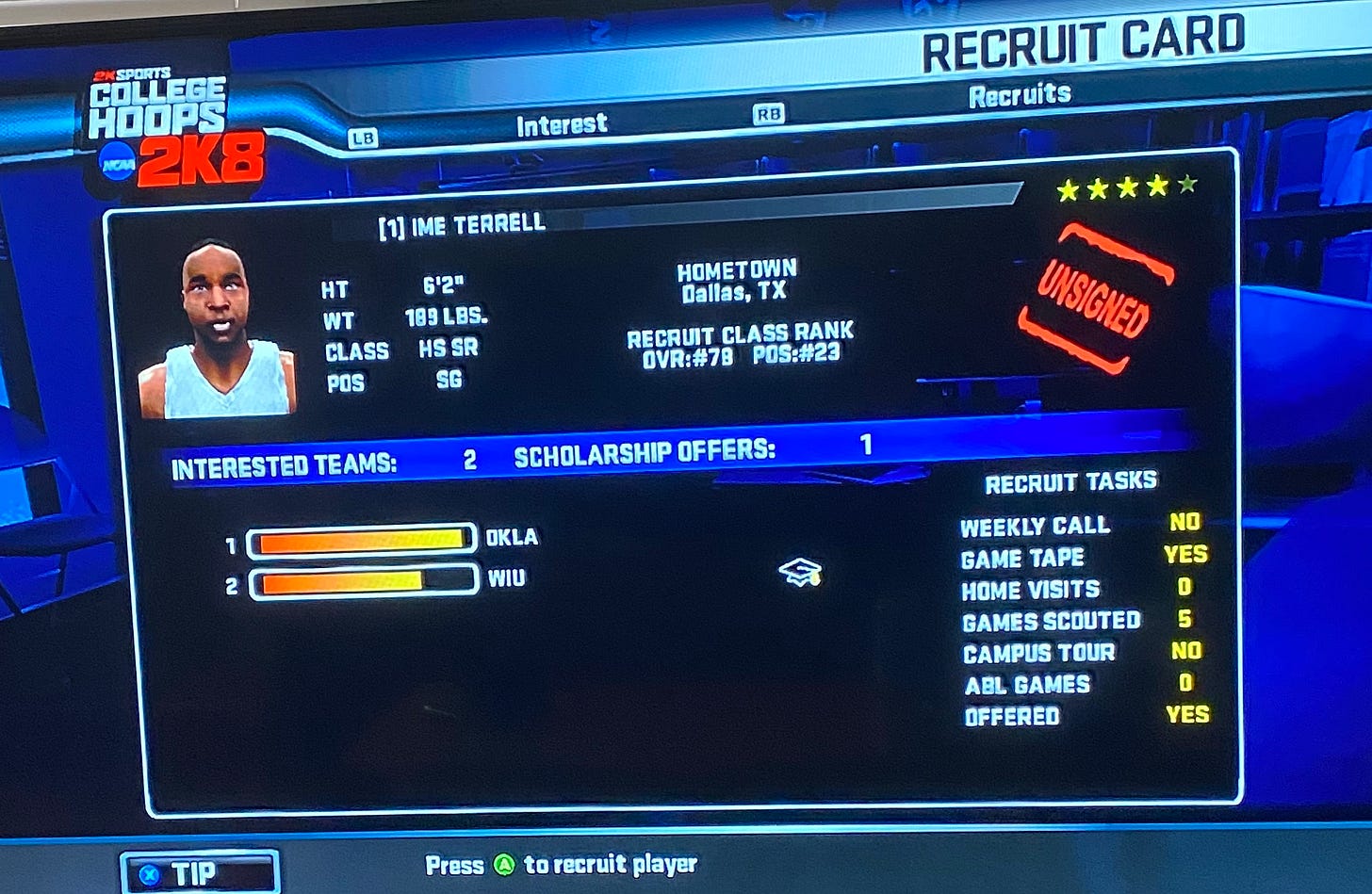 The Oklahoma offer never comes.
We lock down our guy two weeks later.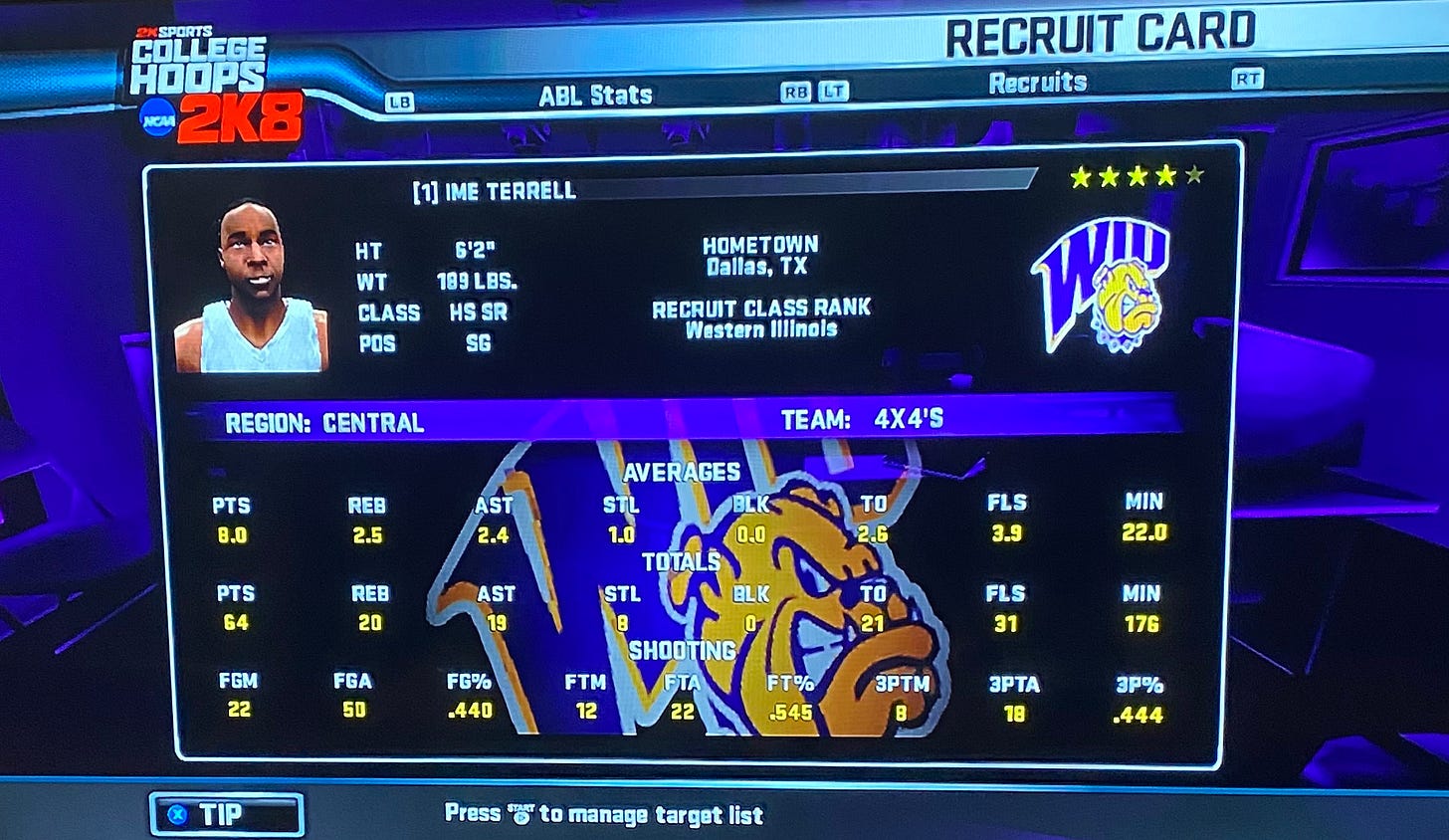 He looks like he was in a low usage role in AAU, but look at that three-point shooting: a sparkling 44.4 percent. I can't wait to see how this guy is rated.
We just crushed it in recruiting. We landed our best recruit ever in Draughan, a four-star wing and our first top-30 prospect. Goode looks tremendous as a stretch four. Hoyer is a bit undersized for a center at 6'9, 228 pounds but he's still No. 12 at his position. And Terrell feels like he would have been the headliner in any other class. If memory serves, Terrell is actually the third best recruit in program history by ranking behind Draughton and Lubos Hatten, the shooting guard we redshirted as a sophomore this past season.
Now that is how you keep the momentum going after a national title.
We end up with the No. 12 recruiting class in the country, which earns us another coaching point (to be applied after the upcoming season) for locking down a top-20 class. Hell yeah. Here's the team recruiting rankings: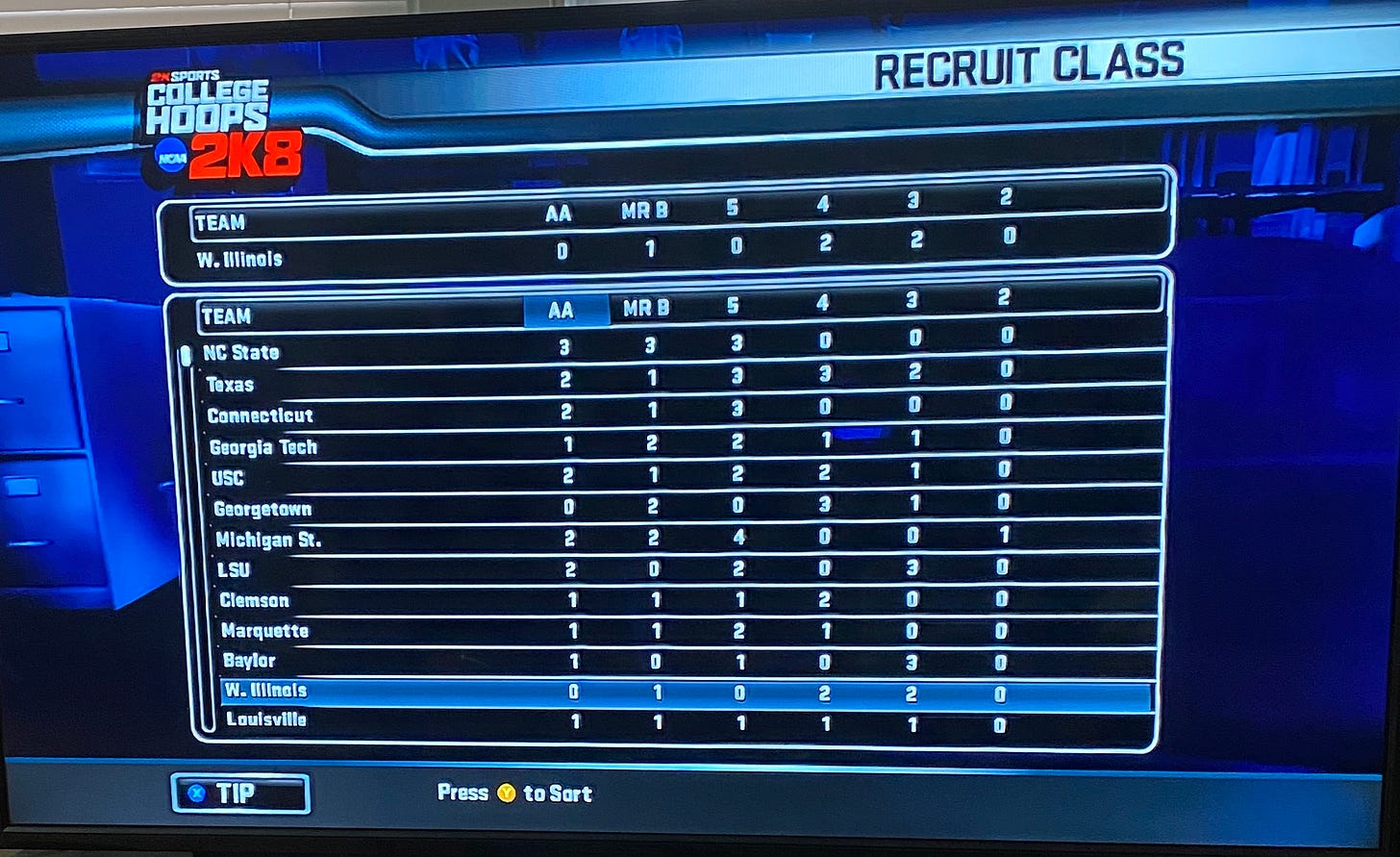 Time to schedule my non-conference slate.
With only one returning starter (Willis), I want my guys to be prepared for what big-time college basketball is like. Even if we struggle in Year 9, it's going to be okay: my team is more prepared for a run in Year 10 and Year 11.
Let's test them early. To do it, I schedule games @ Tennessee, @ Illinois, @ Iowa, @ Kansas (national title rematch, baby), home against Creighton, and @ Kentucky.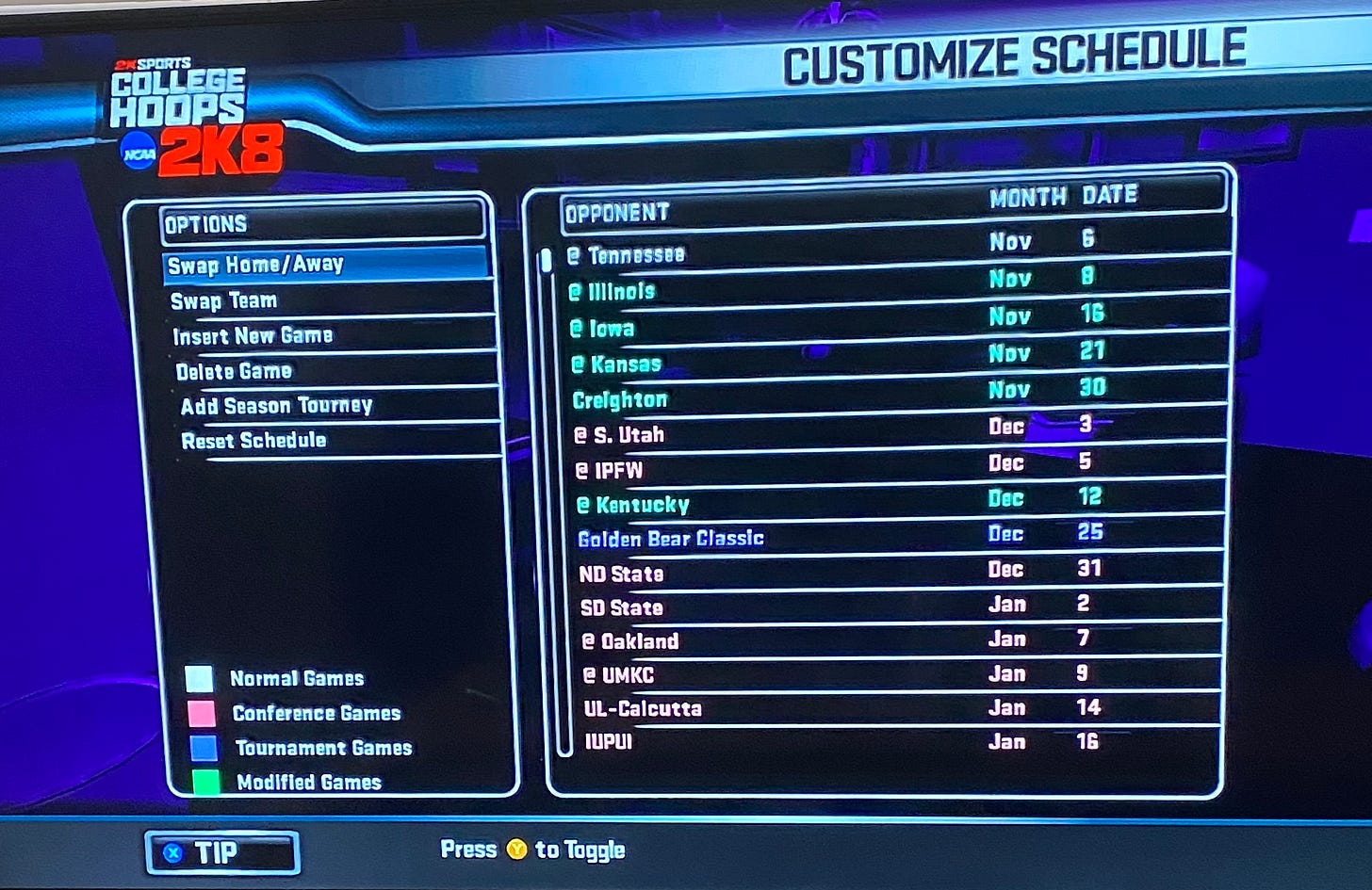 I also have to get revenge on Northwestern, who somehow beats me like every year.
We should be dominating the Summit League from this point forward, so I need to go hard in the non-con slate. Unfortunately, there's no conference realignment option once the dynasty has been started. I'd love to jump to the Missouri Valley right about now, but alas. This will have to do.
Year 9
Here's a first look at the roster.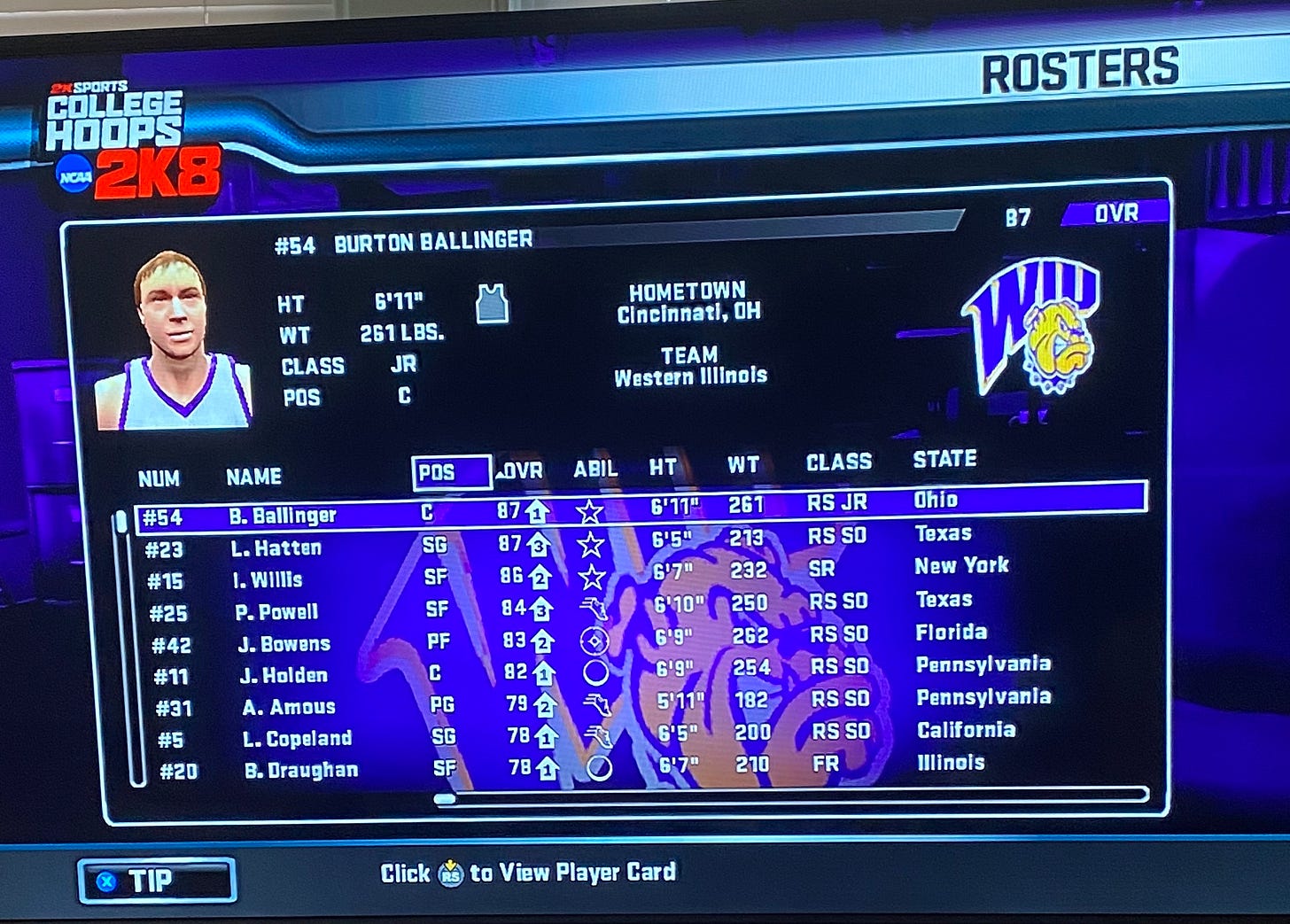 To be continued
Expect the next post to run later this week. I'll keep you updated in the comment section on this post. Buy a Deke Van t-shirt.
Since streaming was a success, I'm thinking we'll start streaming in the Sweet 16 from now on rather than the Final Four.
Thanks so much to everyone who has supported the series so far. You guys are amazing.
Back soon.