Western Illinois, Year 8, 2014-15
Welcome back to Western Illinois' chase for college basketball immortality. We introduced this series a few weeks back and brought in our first full recruiting class. We finally made the NCAA tournament in Year 3 and promptly got stomped by Florida. We won won our first NCAA tournament game by beating Miami (FL) in Year 5. Here's a recap of what happened in the last post:
We went 25-6 in Year 6, won the Summit League tournament, and earned an No. 11 seed to the NCAA tournament. Once there, Washington beat us by, ahem, 52 points. Seriously.

I landed a monstrous six-man recruiting classing, led by four-star shooting guard Lubos Hatten (No. 66 overall) and a pair of top-110, three-star forwards Phil Powell and Joseph Bowens.

Finally won @ Illinois in the season opener. We end Year 7 at 28-4 overall. Earned a No. 10 seed to the NCAA tournament, where we faced No. 7 NC State, and got our damn hearts ripped out on a 35-foot buzzer-beater that haunts me to this day.
We're out for redemption this year. Here's a first look at the roster in Year 8: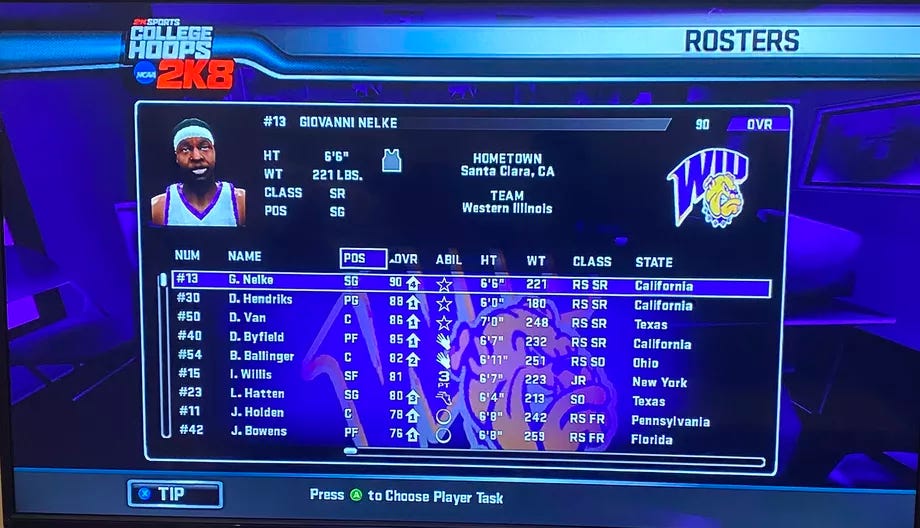 This is the season I've been waiting for.
We have four redshirt senior starters in the lineup. Damon Hendriks and Giovanni Nelke are going to be a deadly backcourt combination, two natural point guards who are both rated at least 94 in speed and 90 in three-point shooting. This will be the third straight season Deke Van (the reigning conference player of the year) and Dawud Byfield start together in the front court. We're rounding out the lineup with Ira Willis, a true junior and the first top-100 recruit (No. 82) in program history, by moving him from power forward to small forward. With an 82 rating in three-point shooting, he can space the floor from the wing and give me an extra boost in rebounding and interior defense.
Our first tough decision comes with Hattan, our standout sophomore shooting guard. Do we play him or redshirt him? We let him play as a true freshman last year to be the first guard off the bench. He would fill the same role this year and be the seventh man in the rotation, probably playing 10-15 minutes per game, and likely improving to an 83 overall or so through the course of the season.
It really comes down to if we think he'll stay all five years or bolt to the NBA after four. Ultimately, we decide to go with the redshirt, because the thought of getting Hattan-Powell-Bowens on the same team as redshirt seniors feels like it would be a Final Four-caliber squad. We'll take that chance.
We do have some decent backcourt depth this year anyway with fellow two-guard Ljudisa Copeland (74 overall) entering the mix as a redshirt freshman. Here's the rotation: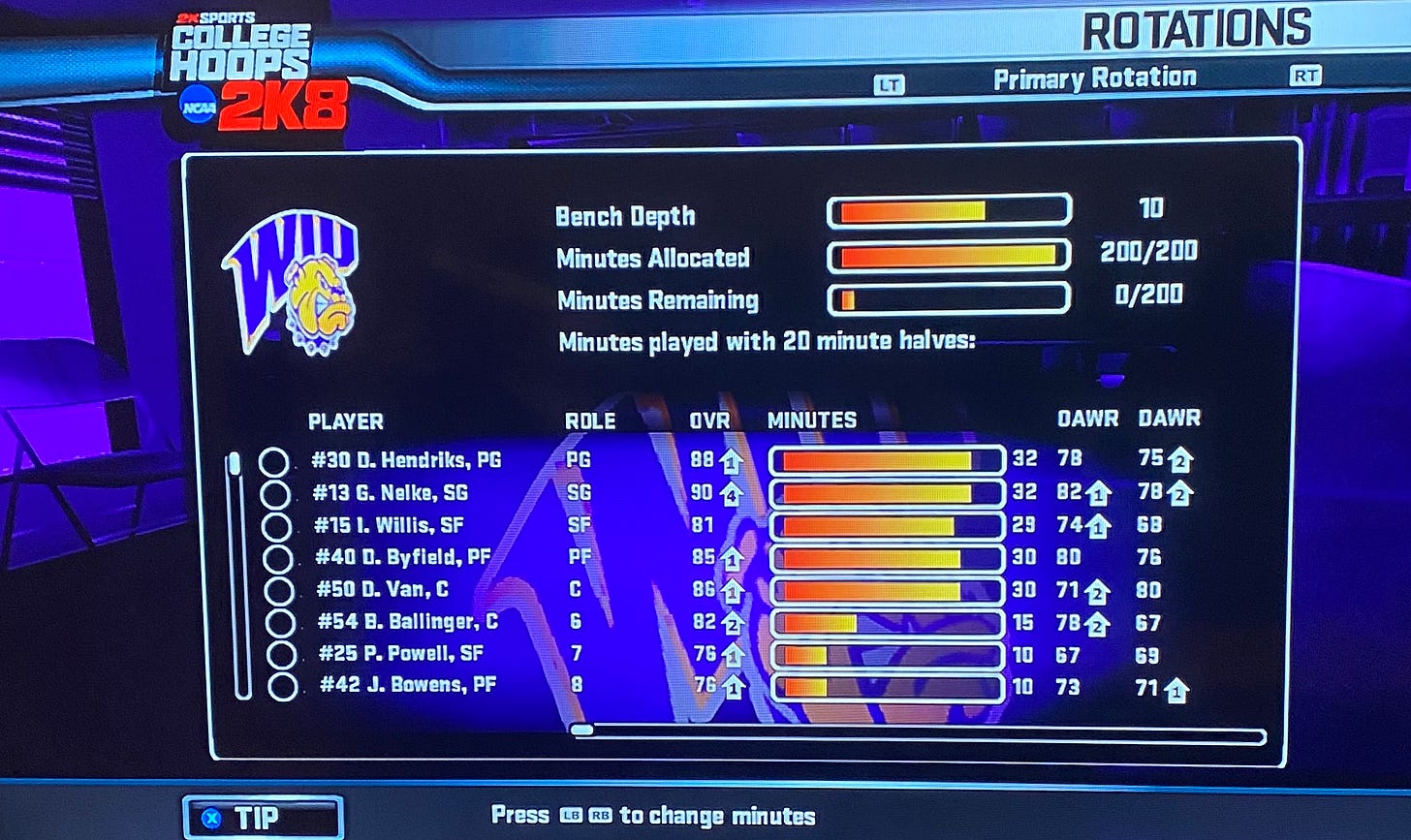 We only have one new recruit this year, point guard Nikola Stockman, who is rated as a 68 overall with C+ potential. He's not the improvement over the point guard I recruited a year ahead of him, Armein Amous, like I was hoping. I decide to redshirt Amous as a sophomore and let Stockman play to be an extra guard for when my guys get in foul trouble. We'll redshirt him next season.
My team is rated a 93 overall entering the season. This is my best team yet. 
Recruiting
I also have four scholarships to offer out this year in recruiting. With Stockman, as my lone recruit last year, I'm planning to target every other than point guard in recruiting this year.
I'm swinging for the fences early with four-star small forward Bert Draughan out of Chicago, ranked No. 29 overall and No. 6 at his position. One of my coaching objectives is to land Mr. Basketball from my home state, and Draughan just so happens to be that this year. It's probably a long shot, but the twofold benefit of a) getting my best recruit ever, and b) getting an extra coaching point for it makes him worth the early risk.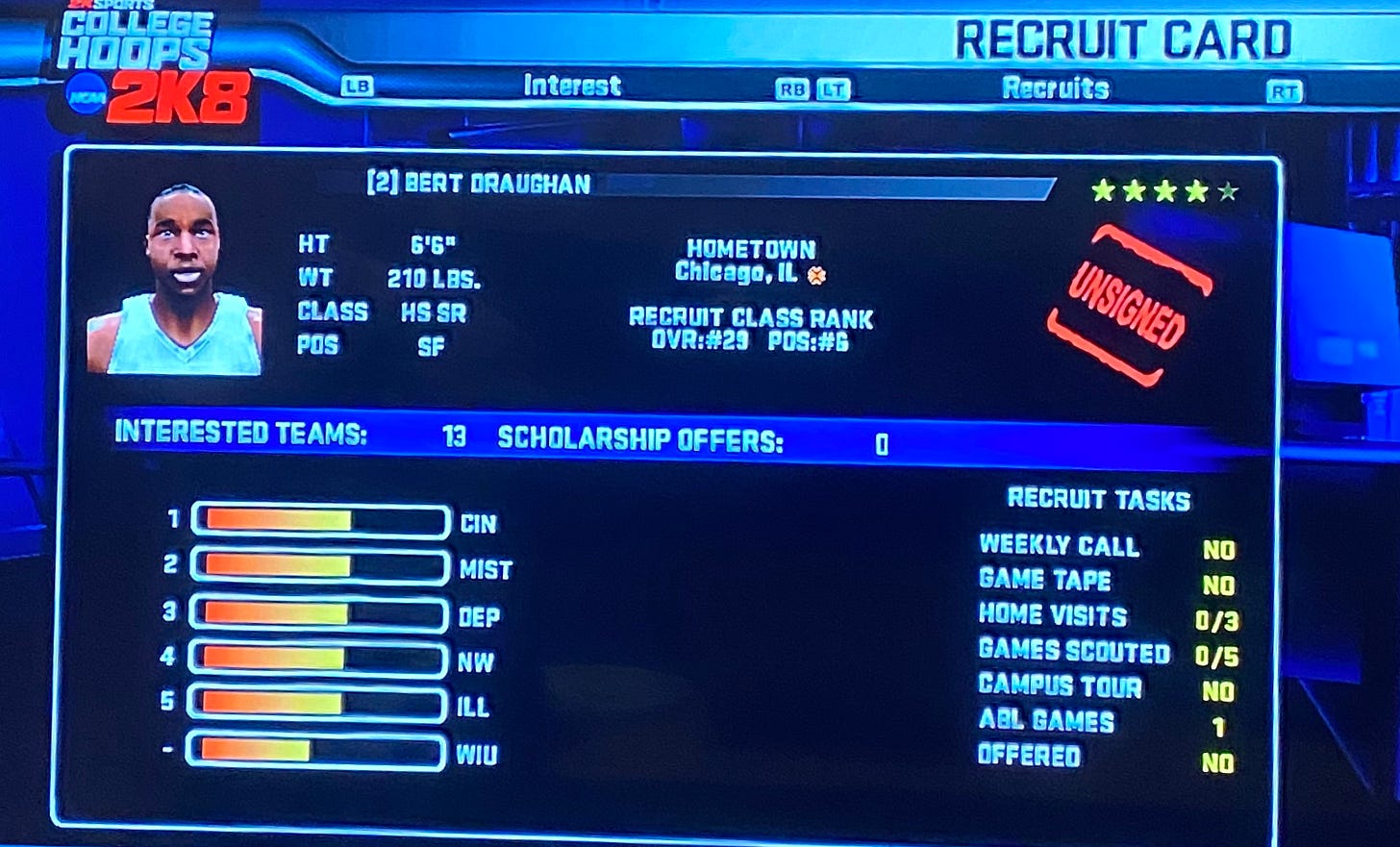 Here are my other three offers:
Shooting guard Emmett Cook (No. 120 overall)

Power forward Najeeb Goode (No. 114 overall)

Center Trevon Hoyer (No. 12 center)
I have an early lead for Cook, who was a 43 percent three-pointer shooter in AAU: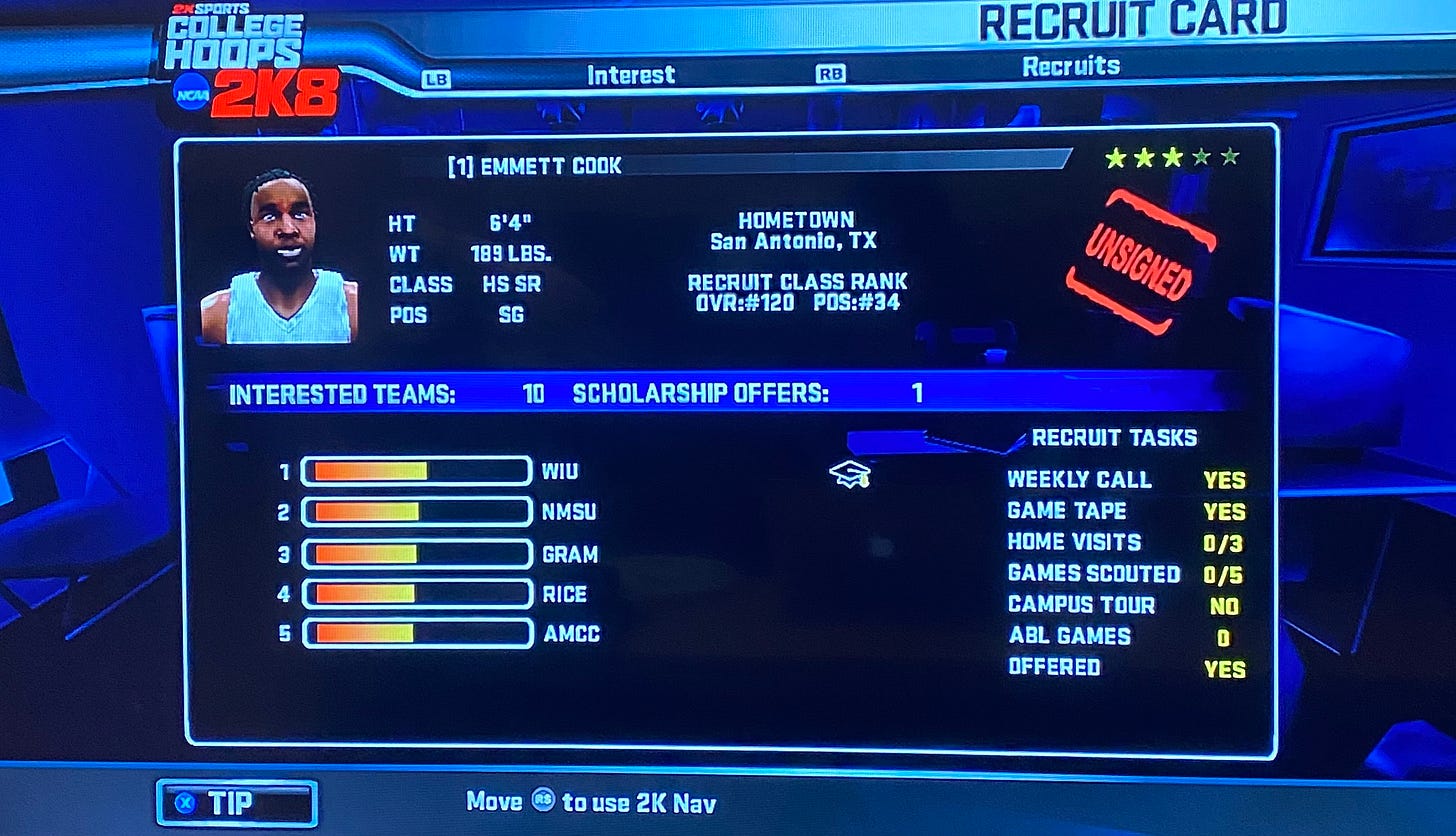 None of these guys have a ton of outside interest initially, so I'm feeling pretty good about my chances with all of them as I roll into the season opener vs. Northwestern.
We're out for revenge after the Wildcats beat us last season during our All Illinois Everything non-conference schedule. Let's start this year off right.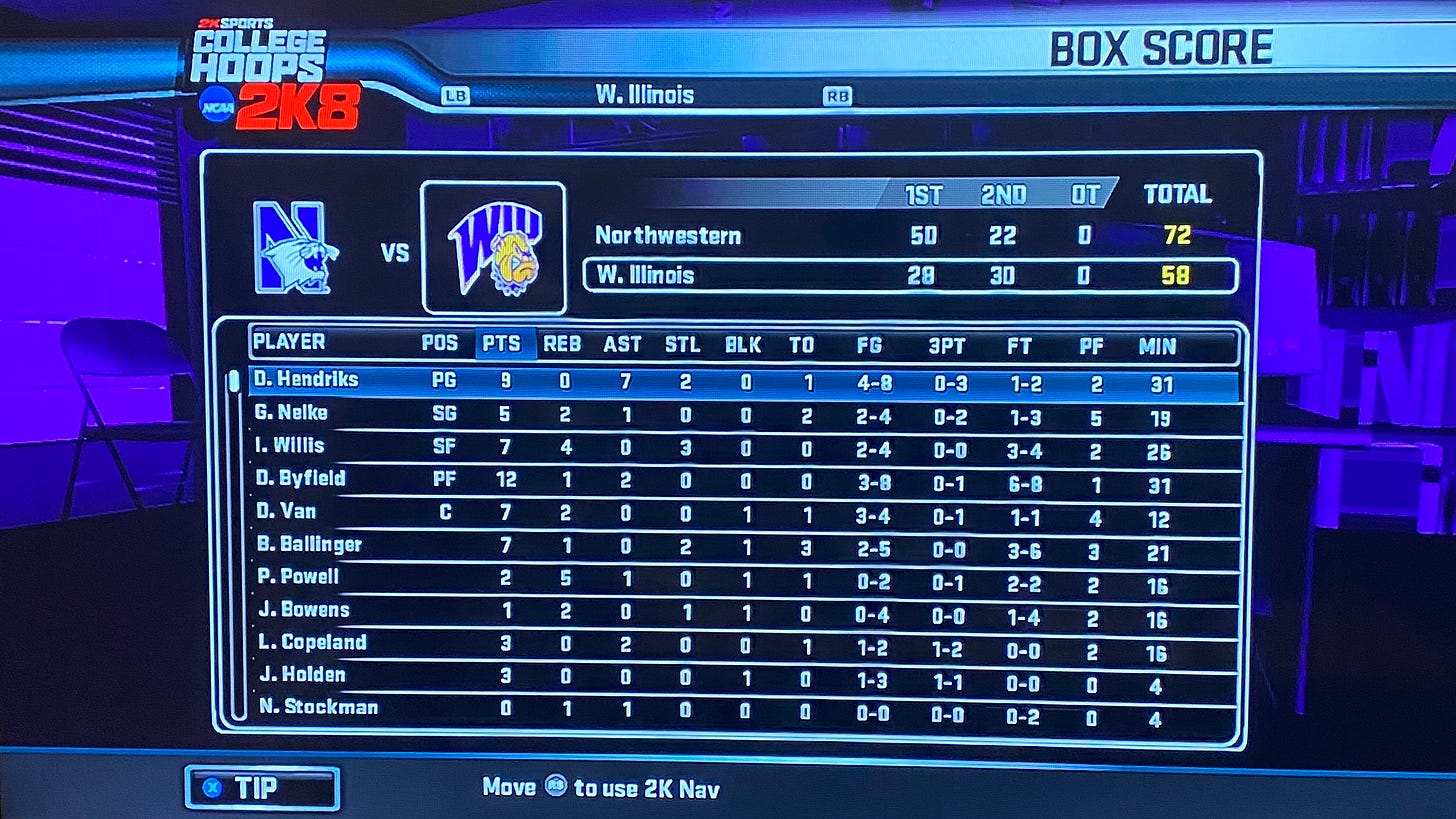 Or not. 72-58 loss. We shoot 18-44 from the field and 2-11 from three. I thought this team was supposed to have snipers on the perimeter?
Next up is UConn. The Huskies are going DOWN as we come away with a 84-73 win. Willis finishes with 17 points, five rebounds, and two assists to lead the way. We have Wichita State next. We win, 85-84. Van goes off for 29 points and 10 rebounds in the win, sheesh.
I have No. 1 Michigan State to start the next week. Beating the top-ranked team in the polls is one of my coaching objectives, which means I'll get a bonus point if we win this game. Biggest regular season game in program history, baby.
One time, Leathernecks?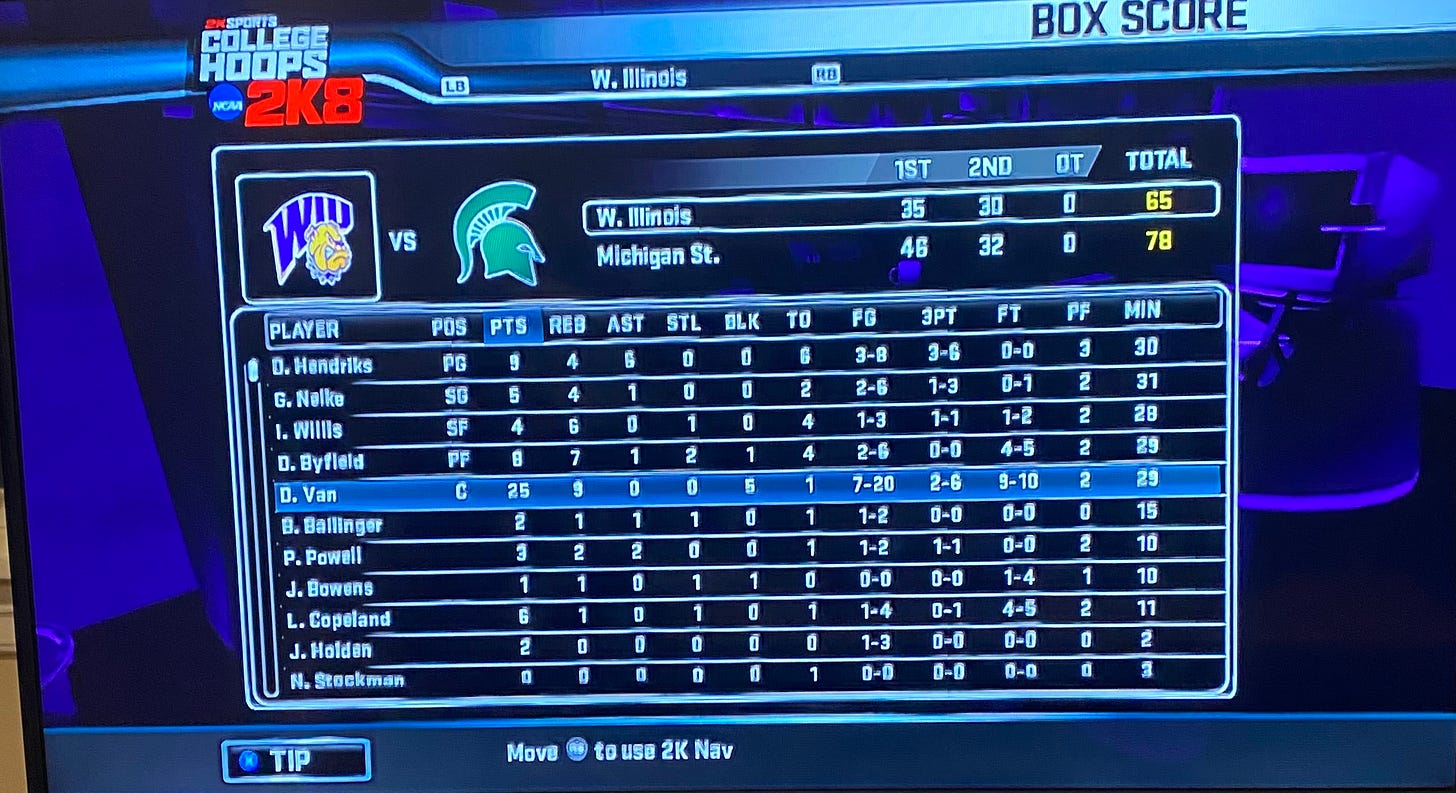 Well hell, 78-65 loss. Van goes for 25 points, nine rebounds, and five blocks in defeat.
We need to talk about Deke Van for a minute
Van had a breakout junior year last season, leading the team in scoring (15 PPG) and winning conference player of the year. He was crushing it in our NCAA tournament game against NC State (22 points, 19 boards) before it all went to hell in the final seconds.
Yes, Van was the player who took that ill-advised jump shot with five seconds left. There was no reason for it, and it directly led to the epic buzzer-beater that stuck a dagger in my heart. Leatherneck Nation was gutted:
Internally, we've spent the offseason building Van up, not tearing him down. We know he's one of our best players. We know we need him to have a big senior year. We believe he can get past this.
Deke Van's hunt for vindication is one of this season's major storylines.
Back to recruiting
Signing week is starting. My top two targets Draughan and Goode both look like they could commit with 94 percent interest. Can Coach Charisma close?
OH HELL YEAH, WE GET BOTH: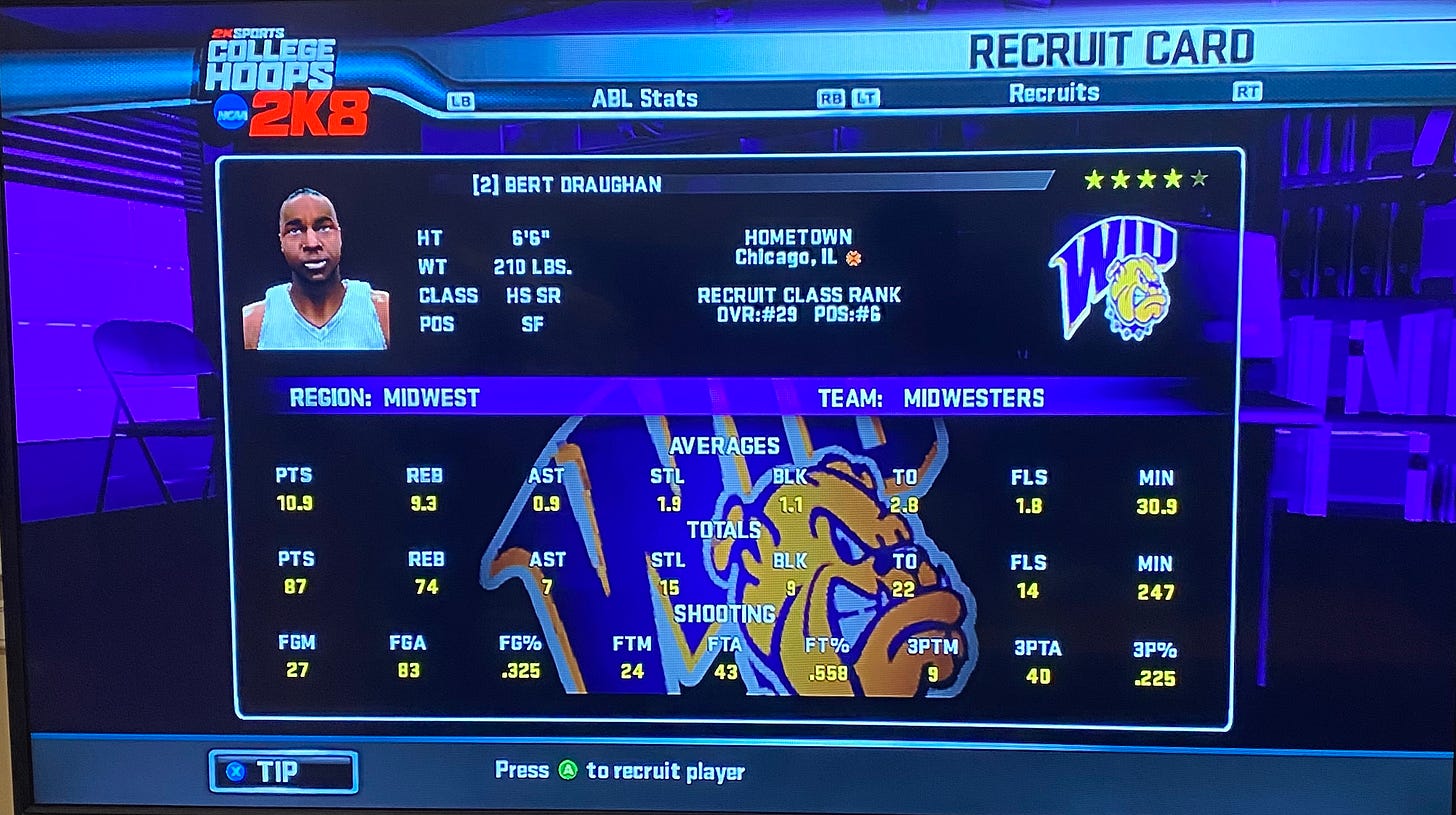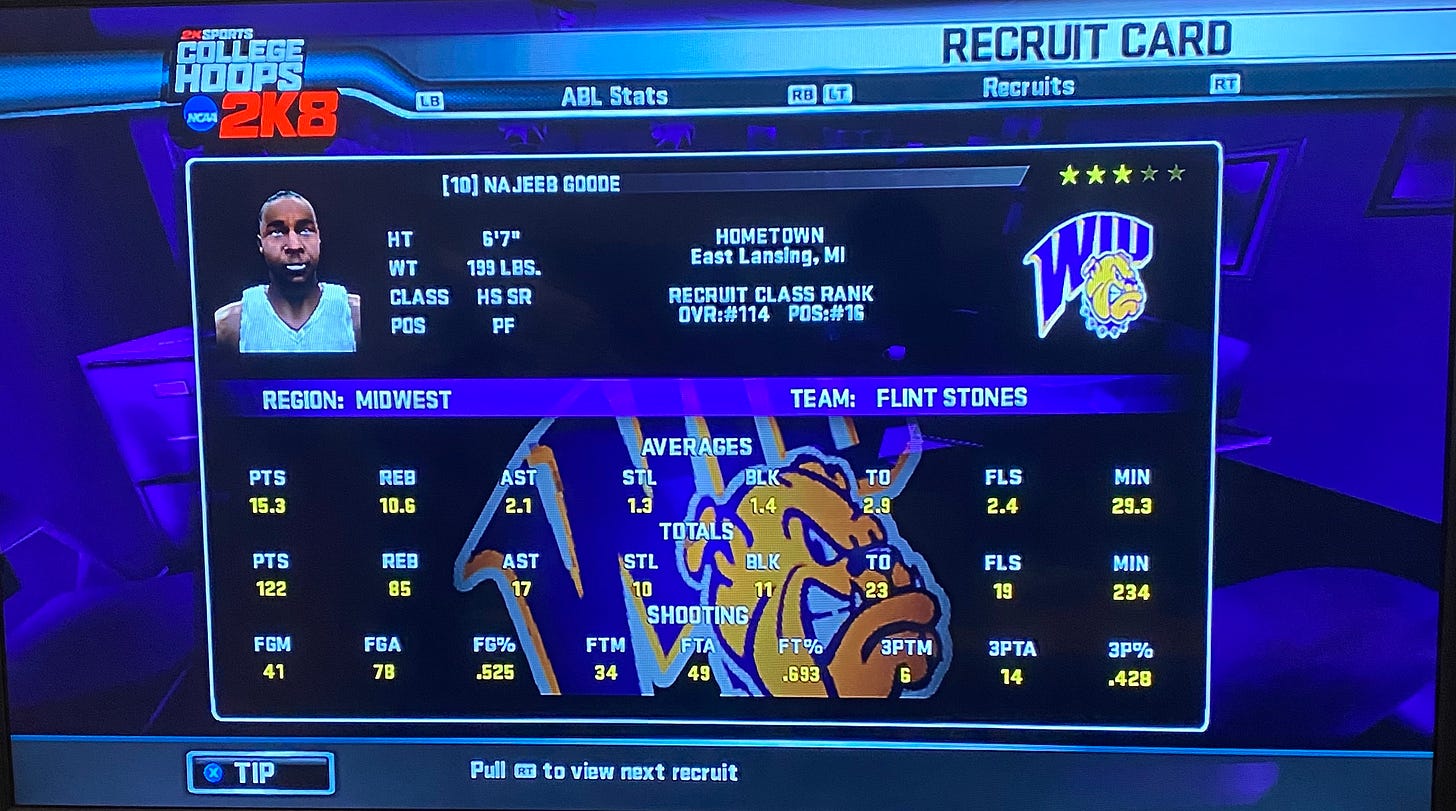 Wow. Draughan is my highest rated recruit ever (top-30!) and gets me the coaching point to add over the offseason as my state's Mr. Basketball. Goode looks awesome, as well. Check out that three-point shooting, that scoring, and that rebounding! He feels feels like a natural replacement for Willis down the line as a 6'7 swing forward.
It is so huge to land both of those guys early. Are we looking at a top-20 recruiting class this year?
I have Arizona this week, who are No. 5 in the polls and a 95 overall.
Damn, we take a 75-65 loss. I beat Notre Dame the next game behind 20 from Hendricks and 14 points and 10 assists from Nelke. 
Back on the recruiting trail, my shooting guard recruit Emmett Cook is apparently enamored with his Rice offer, so I drop him. I decide to get bold and go ofter another top-100 prospect as his replacement by offering four-star shooting guard Ime Terrell out of Dallas (No. 78 overall). Not much movement on my center recruit Hoyer, but I am slowly becoming the favorite to land him as long as he doesn't get another offer.
It's time for the North Carolina game. They're a 93 overall, but unranked at 7-3 on the season.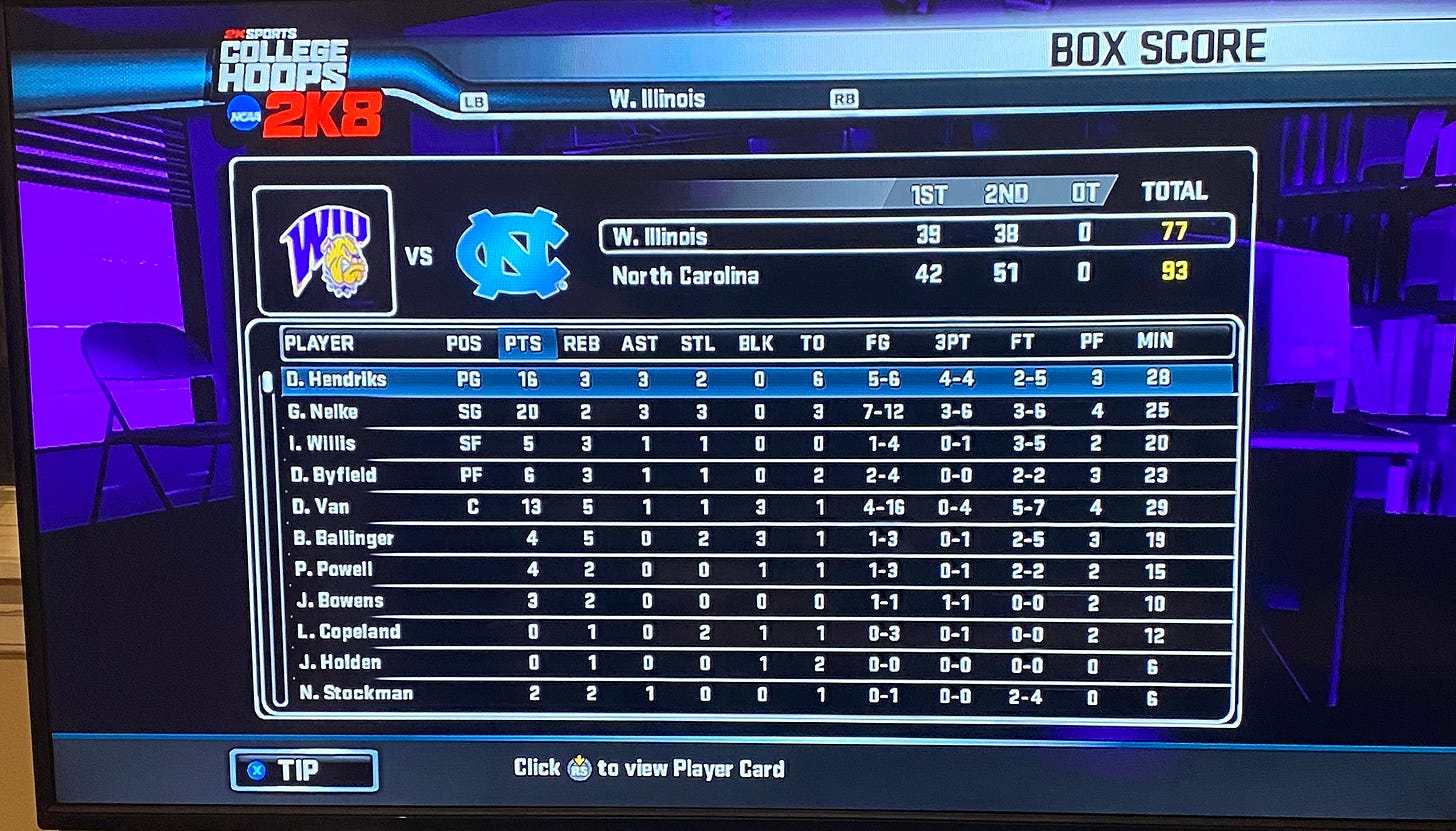 And I lose, 93-77. This non-conference season is not exactly going like I had hoped. We're now sitting at 5-4 overall. 
Two more non-conference games left. First up: Wisconsin. They smoke me, 83-70. Damn. I thought this was supposed to be a dream season? After we blow out Buffalo, the Leathernecks are 5-5 heading into full blown conference play. I basically have no margin for error in the conference tournament now. 
We open up conference play by scoring 109 points against ND State, with Van dropping 31. My team is so much better than the rest of the conference at this point that I think I can just cut the chase: we run the table in the Summit and enter the conference tournament at 23-5 overall and 18-0 in league play.
Looking at the end of season stats … man, what a year by Van.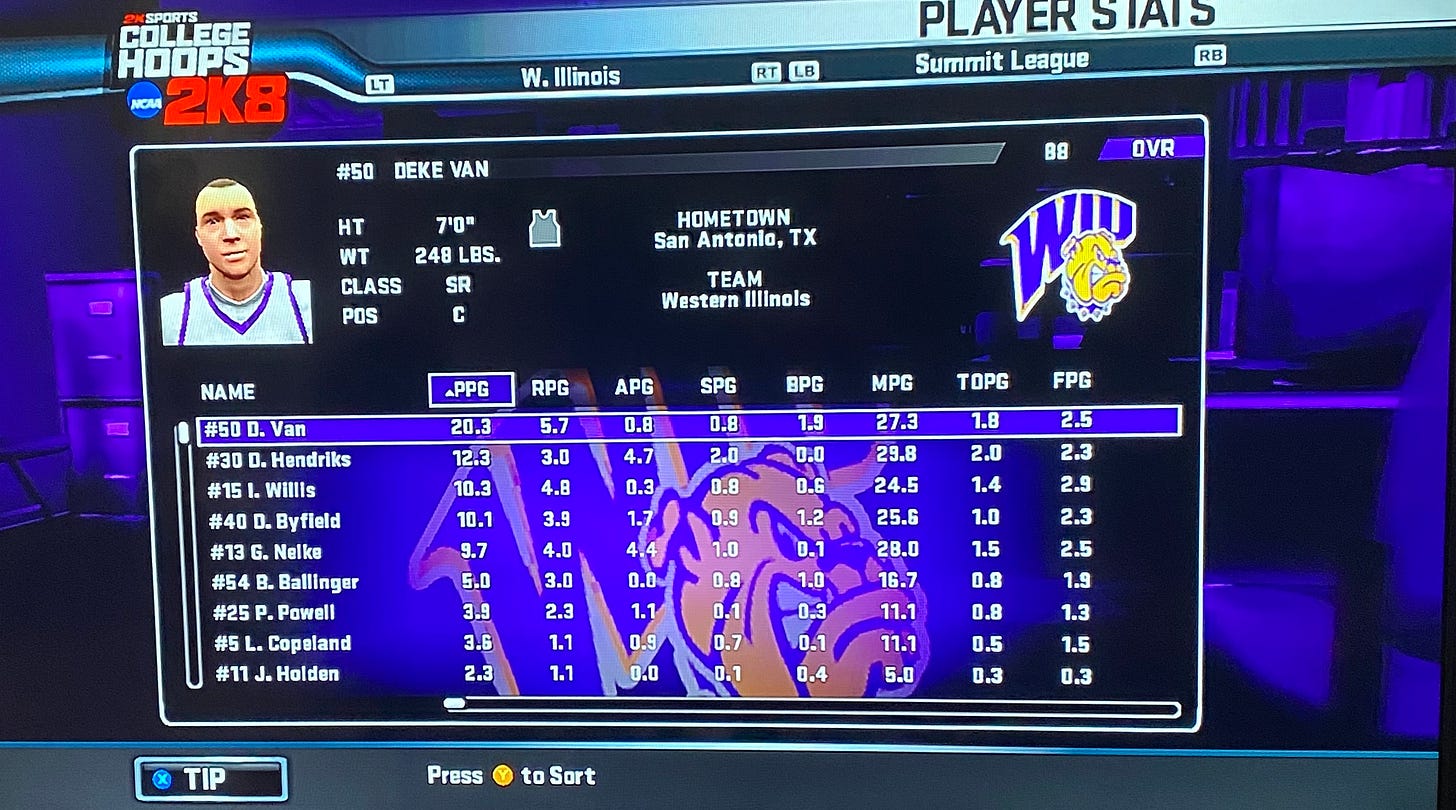 Summit League tournament
First up: IUPUI.
I win, 85-46. Double-double for Van, while Hendriks and Byfield each score 17. Next up: Oakland. They're a 75 overall. I'm really nervous for this game?
Win! 82-69. 20 for Hendriks to lead the way. Now I get Oral Roberts (78 overall) in the title game.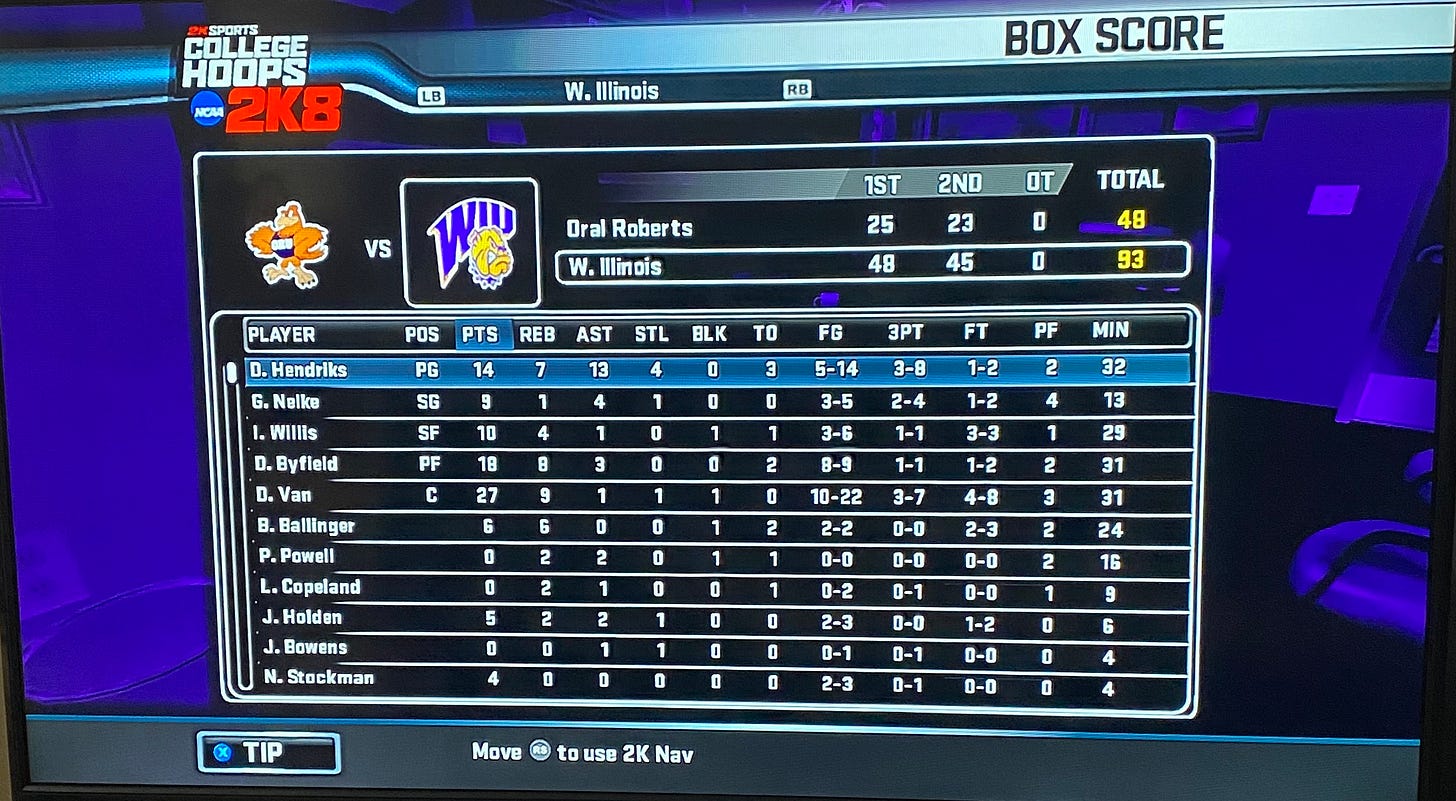 Win! 93-48. Van with another massive game with 27 points and nine rebounds. We're going to the tournament at 25-5 overall. 
NCAA tournament
I get a 10-seed against Ole Miss. Michigan State is likely waiting as the 2-seed if we win.
My team is ranked a 96 overall -- four points higher than Ole Miss. Here's the latest look at my roster: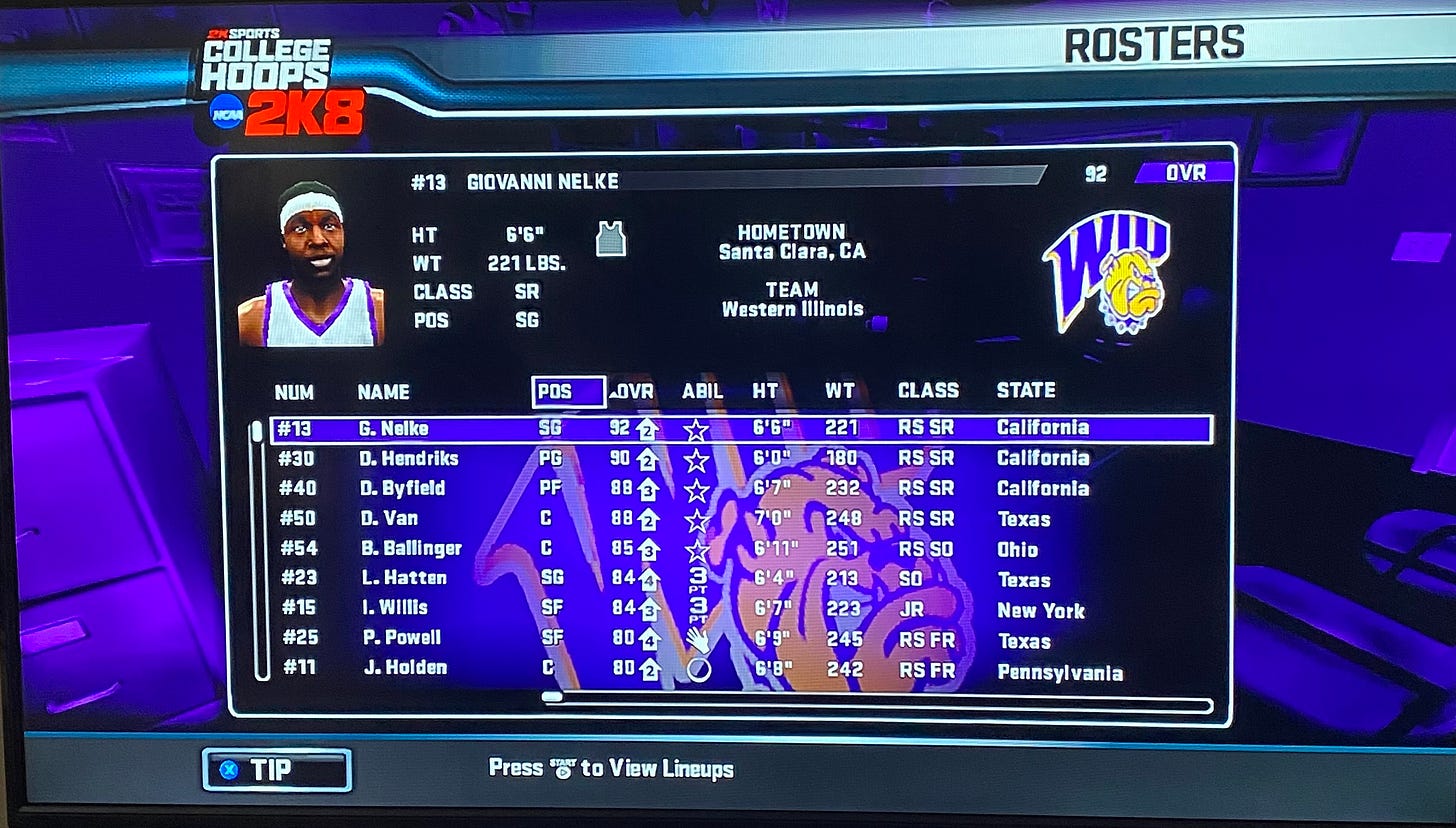 This has to be the year, man. That redshirt freshman class has given us more depth than ever before, and my starting lineup has a great combination of talent and experience.
I also notice Hatten is up to an 84 during his redshirt year. Maybe I should have kept him active?
Western Illinois vs. Ole Miss, opening round, NCAA tournament
Real butterflies for this one, folks. I'm the lower seed, but the game says we're the better team.
Let's go! As always, we're watching (not playing) this one.
***
***
***
***
***
***
***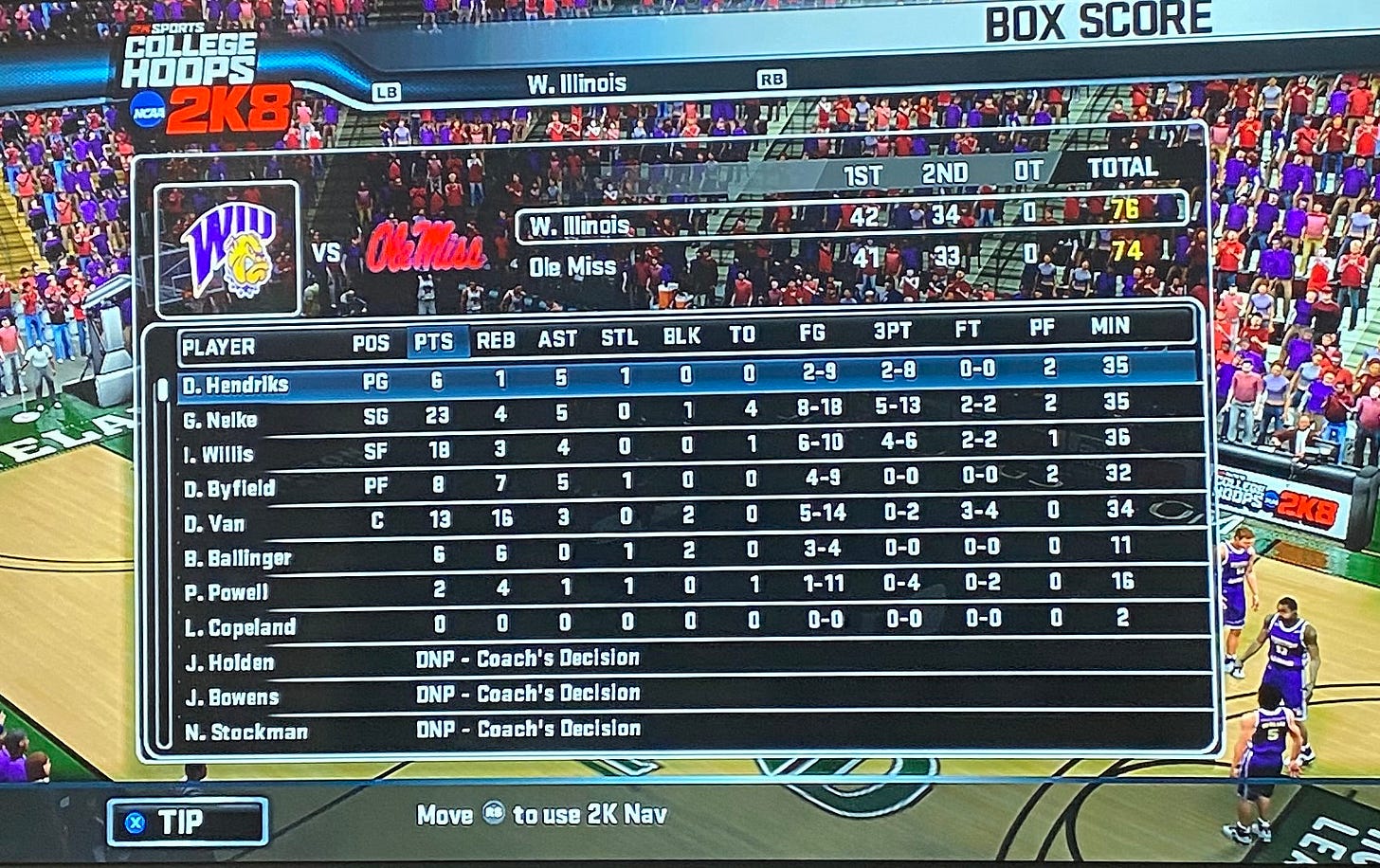 HOLY SHIT. NELKE WITH THE TIP. THEY MISSED A WIDE OPEN SHOT AT THE BUZZER. THE LEATHERNECKS ARE STILL DANCING.
The Leathernecks are still dancing!
And my prize for that dramatic win? Michigan State in the round of the 32.
Western Illinois vs. Michigan State, round of 32, NCAA tournament
Before we get to the Spartans, I feel like I need to make a change to my rotation.
Powell was brutal against Ole Miss off the bench; somehow, his final line of 1-for-11 from the field, 0-for-4 from three-point range, and 0-for-2 on free throws doesn't even fully capture it. My dude is huge (6'9), but he just doesn't look ready for this level. Every time he had the ball on the perimeter on offense, he tried to post his man up, even if he was 20-feet away from the basket. Just no ability to get off his own look on offense. Couldn't hit an open shot when we spoon-fed him one, either.
I'm thinking of taking him out of the rotation completely in favor of Copeland … until I look at their ratings. Powell is rated better than Copeland pretty much across the board, even in three-point shooting (76 vs. 74). I decide to give a few of his minutes to Copeland and Stockman, but ultimately I'm going to roll with Powell as my first forward off the bench. Maybe it was just one bad game?
OK, so, Michigan State. Uh, this roster is STACKED.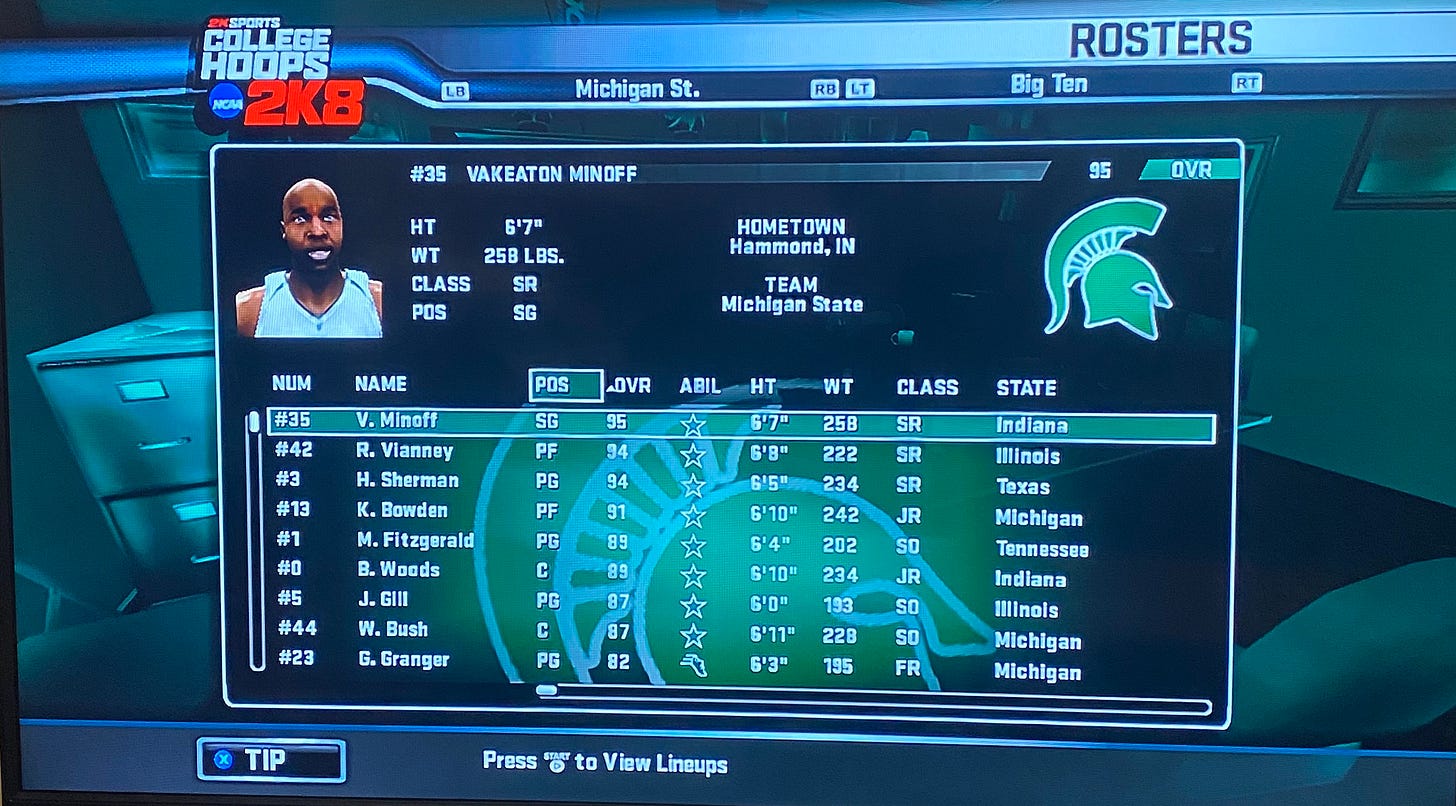 They're mostly upperclassmen, too. Great mix of guards and bigs. Four players rated in the 90s and then two 89s. Man.
This team is a 100 overall in every category but coaching, where they're a 99. Hilarious. You really gonna do Tom Izzo like that, 2K?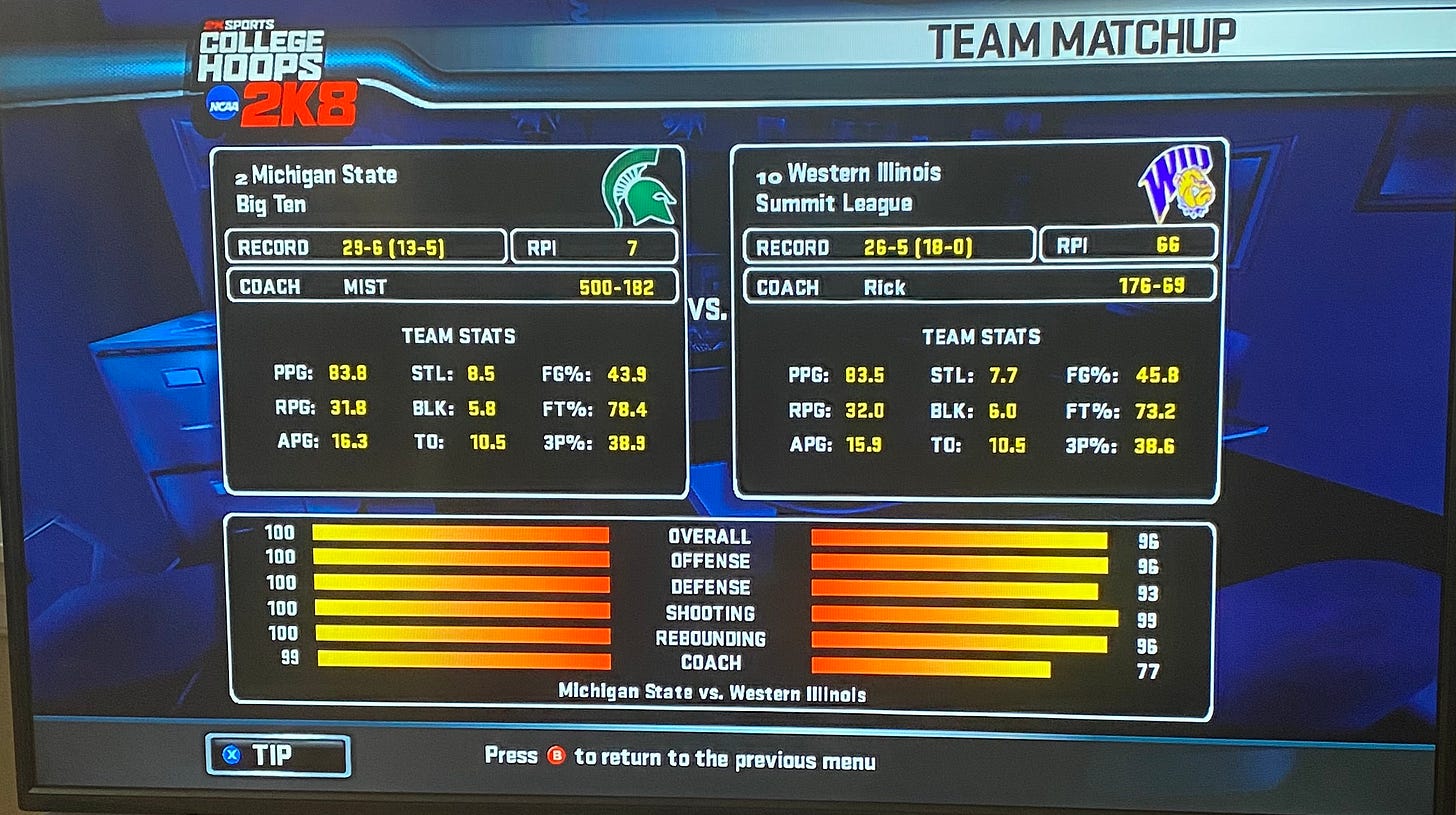 And speaking of that 77 rating for ole Coach Rick: this is the price of putting all of my attribute points in recruiting instead of, uh, actual coaching. It's Ricky Charisma, not Ricky Defense, remember that. Honestly, I'm fine with it. You don't win championships because of extra sick ATOs. You win with talent.
Holy shit, MSU! For the right to go to the Sweet 16!
A rematch from earlier this season!
LET'S GO.
***
***
***
***
***
***
***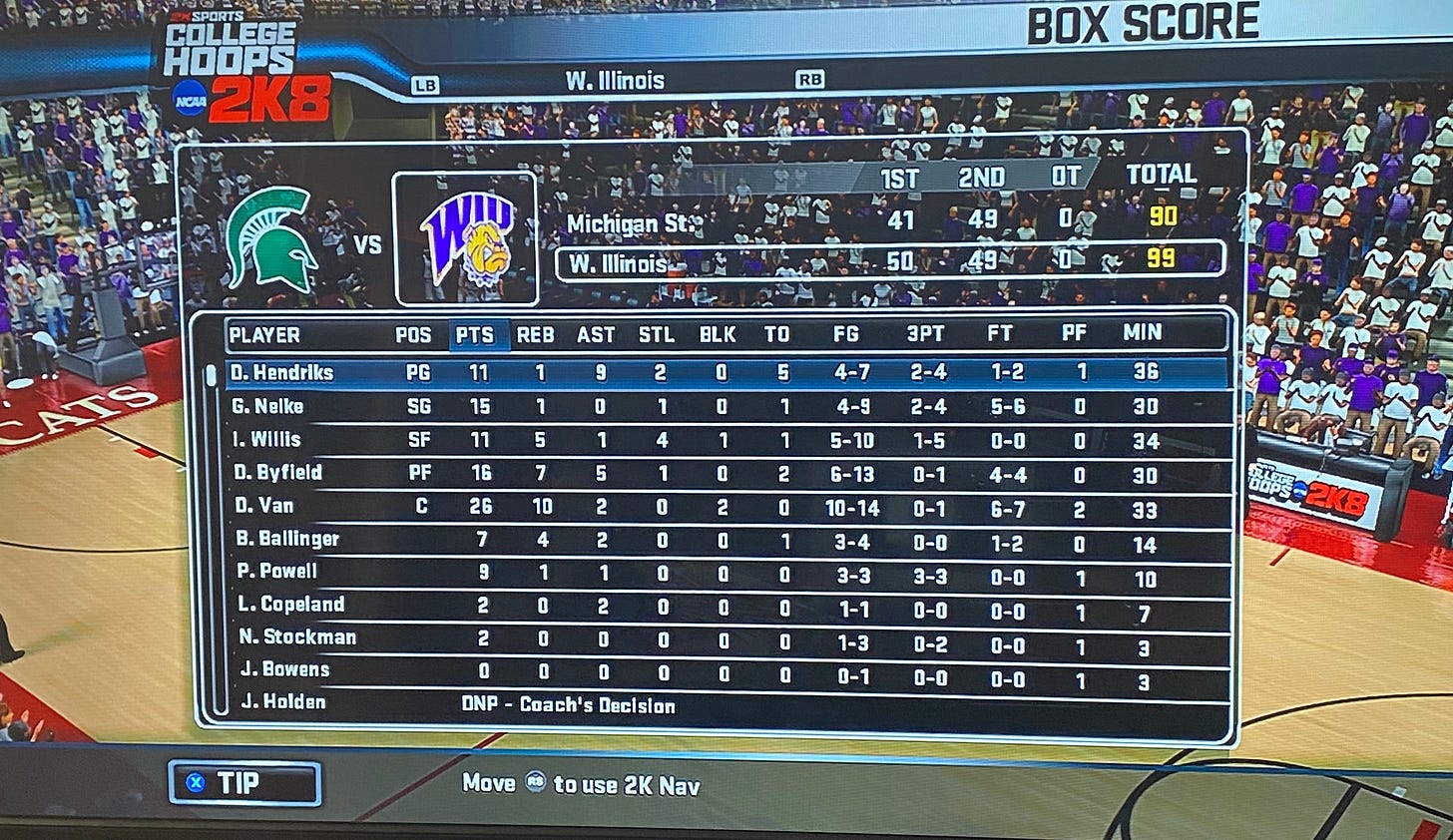 THE LEATHERNECKS ARE GOING TO THE SWEET SIXTEEN. I REPEAT: THE LEATHERNECKS ARE GOING TO THE SWEET SIXTEEN.
I really can't believe I won that game. Just a fucking gutsy performance by the guys. Van is a machine — not exactly new news there. I'm really liking Byfield next to him, too: obviously undersized at 6'7, but crafty on offense with an ability to get off his own shot. And how about Powell off the bench? Didn't miss!
I'm legit in shock. We have No. 6 Villanova (rated 96 overall) for the right to advance to the Elite Eight. Don't stop now, boys.
The rest of Year 8 is out now!
Here's the rest of the original post.
We're going to run the next post on Wednesday . Probably. A couple housekeeping notes:
If we make the Final Four at any point — including this year — we're going to try to live stream it. I don't really know how to do that on an XBox 360, but I'll try to figure it out.

A bunch of people have been nice enough to ask for my Venmo handle after hearing about my furlough from SB Nation. It's Ricky-ODonnell-1 if you feel compelled to toss me a few bucks. Thanks for anything/everything.
SWEET 16, WHAT IT DO BAY-BEE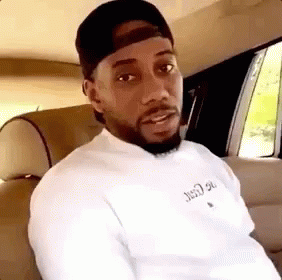 Back on Wednesday, I think.