Welcome back to Western Illinois' chase for greatness in College Hoops 2K8. You can find a full explanation of this project + spoiler-free links to previous seasons at the About page of this website. Share it with a friend!
This post will pick up with our Leathernecks in the opening round of the 2024 NCAA tournament. Here's a recap of everything that has happened this season so far:
We returned three starters from last year's Elite Eight team to begin the season rated as a 96 overall. After an 0-2 start, we defeated No. 1 Georgia Tech to begin a seven-game winning streak that included a home victory over Southern Illinois that we streamed on Twitch.

We lost a conference game for the second season in a row, this time to North Dakota State. We ended the year 17-1 in the Summit League and then won the conference tournament championship. We earned a No. 9 seed in the NCAA tournament, entering at 25-4 on the season.

We recruited for one scholarship and … we're not close to signing anyone yet.

---
Here's a look at the Western Illinois roster entering the NCAA tournament:
Our opponent in the opening round of the tournament is No. 8 seed Pepperdine. Check the Waves' roster here. This is the how the two teams matchup:
Our Leathernecks open the tournament rated as a 99 overall, but there's no question we got a tough draw in the 8-9 matchup. If we beat Pepperdine, we're going to face top-seeded Ohio State, the same Buckeyes team we beat in the Sweet 16 last season.
We streamed this game on Twitch on Thursday night. As always, we watched a computer simulation; I'm not playing any games in this series, I'm only doing the recruiting and setting the coaching strategies.
Unfortunately, when I exported by Twitch stream to YouTube, the video got stuck in processing at 95 percent. It appears I'm not the only person having this problem. Here's how to watch the game:
Click on this link for the Twitch stream. The game should tip-off when you start the video.
***
***
***
***
***
***
***
WIN, 101-98. KIM KONE FOR THE WIN. WE'RE GOING TO THE ROUND OF 32, BRING ON THE BUCKEYES.
I wrote an ode to Kim Kone on the the Leathernecks Dynasty subreddit (started by reader Evan — join it!) on Wednesday night. Like I said: "Kim Kone isn't the most talented player in program history (Draughan, Terrell, and Assel each hit 96 overall) and he isn't the most beloved (obviously Deke Van), but it's been a joy to watch his career from the start." By now, most fans know his backstory: our first ever international recruit (via France), Kone entered the program as the lowest rated freshman of the Coach Rick era at 65 overall per Evan's Leathernecks Recruiting Database. Over the years, he grew three inches, transitioned from the point to shooting guard, and developed into one of the best players in the country this year. Entering the tournament, only seven players in the field had a higher rating than his 94 overall.
I was hoping Kone would get his moment in the tournament, and oh man did it happen. This one of the all-time great NCAA tournament performances from a Leatherneck: 34 points, seven assists, 50 percent shooting from the field, and a ridiculous 8-of-16 shooting from three-point range. Honestly, he looked like Nelke out there, which is perhaps the greatest compliment I can give. Kone went off for 22 points in the second half, splashing three after three and using his length to disrupt the passing lanes on defense. I thought he might run out of gas at the end, but he hit the clutch corner three with 3.5 seconds left to send us to the NCAA tournament.
You have to watch the Twitch clip of Kone hitting the shot. A couple observations:
I sound completely unhinged and possibly insane.

The chat went absolutely bonkers.
That was so much fun, man.
It was also a night of vindication for Brandin Price. The 6'5 junior point guard is often maligned in the Twitch chat for the super slow release on his jump shot (which has earned him the nickname "The Musket") and his propensity to throw, um, ambitious passes. But Price balled out when we needed him to against Pepperdine, splashing seven three-pointers to finish with a majestic line of 23 points and nine assists. I'm telling y'all: you will miss him when he's gone.
'Funky' Cam Medina deserves some praise, too. Our decision to move Medina — a natural power forward — to the wing this year was criticized by some as a failure in recruiting to land enough quality perimeter players. Against Pepperdine, Medina didn't look out of place on the wing at all. He had several sick ball handling moves, showed off impressive speed and passing ability, and used his plus size (6'9, 257 pounds) to finish in the paint and make an impact on defense. This man was downright graceful on several occasions and finished with a lovely 19-6-6-2 line.
I thought Fulton and Dupre both had understated but very good performances as well to finish with identical lines of 10 points and 15 rebounds. Fulton even added seven (!) assists in the process.
Holy hell, we hit 19 three-pointers on the night. Kone and Price, baby. They saved our ass.
That set up the rematch with top-seeded Ohio State in the round of 32.
No. 9 Western Illinois vs. No. 1 Ohio State, round of 32, 2024 NCAA tournament
Ohio State entered the game rated one point better than us at 100 overall. Here's a look at the Buckeyes roster: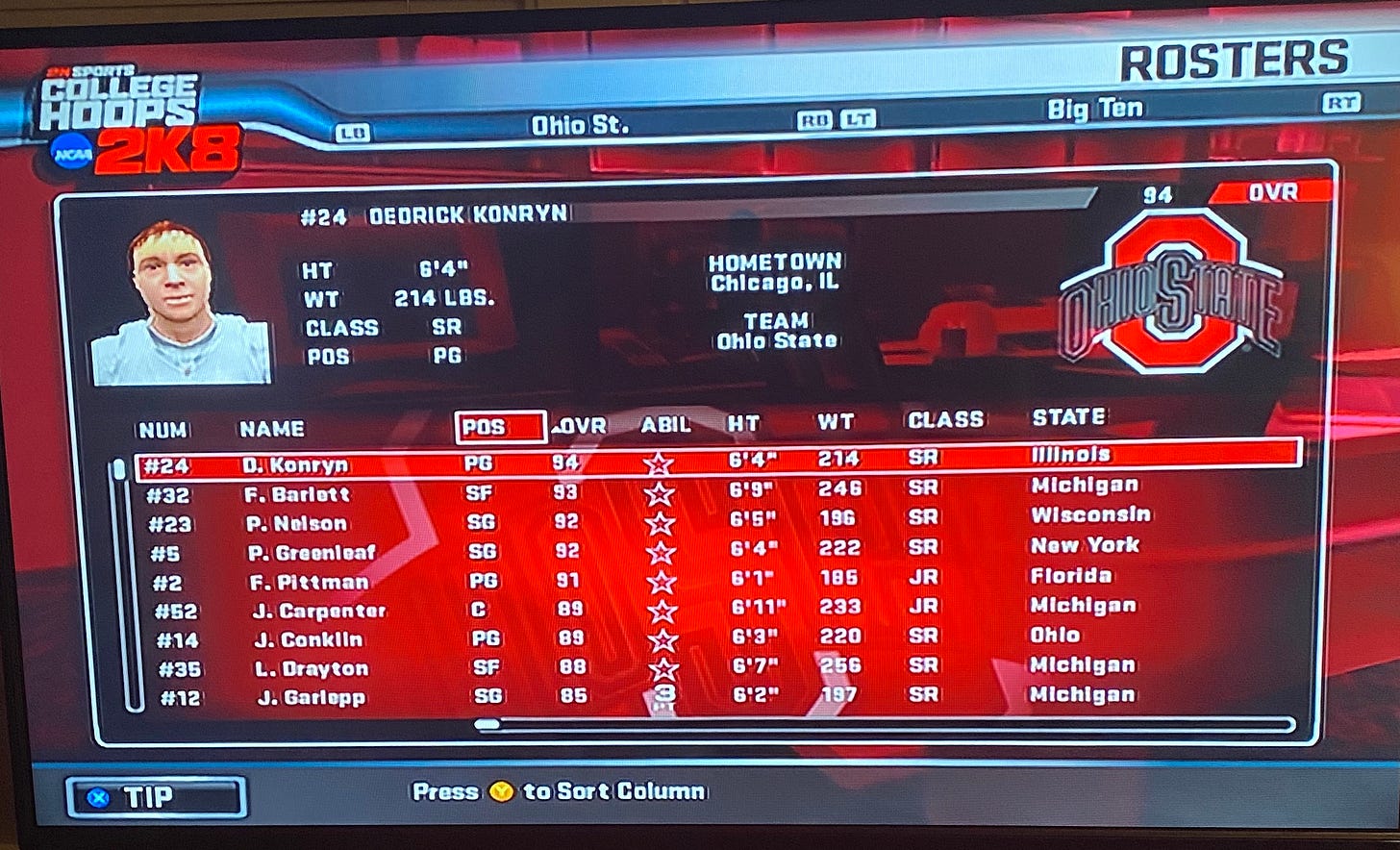 This Buckeyes roster is almost identical the one we beat in the Sweet 16 last year, only another year older and another year improved via internal development. We had no doubt OSU was going to come in super hyped for this game; we didn't just need to match their intensity, we needed to raise it.
Again, we streamed this game on Twitch. Again, apologies that the YouTube vid won't upload. To watch the game, click on this link to view last night's stream. The game should start when you press play.
***
***
***
***
***
***
***
Win, 88-67. We're going to the Sweet 16 for the third year in a row! Here are the tempo-free team stats from @akulawolf:
This is a massive upset in every regard. Consider the following:
Ohio State was the most popular national championship pick in the bracket contest, with 21 of the 93 entries picking them to win it all. That's nearly a quarter of the submissions!

53 percent of bracket contest entries picked Ohio State to beat Western Illinois. Compare that to literally 100 percent of the bracket pool picking WIU to beat Pepperdine.
We just took out the heavy favorite to win it all with perhaps the greatest defensive performance in program history. Look at those stock numbers: 12 steals and four blocks for our team on the night. You don't need to hit 19 three-pointers to win when you do that.
It was nice to see Dupre really get going after a steady but unspectacular game against Pepperdine to open the tournament. He was our leading scorer (18.9 points per game) and rebounder during the season and performed admirably taking over as the starting center for the one of the greatest players in Leathernecks history in Roberto 'Jorts' Djordjevic. Dupre was excellent in this game — 16 points and nine rebounds — and continued to hold down our backline. We've had a lot of great centers in Macomb, but Dupre is the best shot-blocker out of all of them. While he only had one block tonight, I think knowing that we have his rim protection behind us allows our guards to gamble for steals more often.
With that in mind, I have a take: Price and Kone are the best defensive backcourt we've ever had. They both have great size — 6'5 and 6'7 respectively — and use their long arms to get a hand on so many passes. They force so many more steals than they get credit for because someone else recovers the ball (see Medina's three steals tonight). While they probably aren't better than Assell and Terrell from our national title team in 2020, there's no doubt our current duo is just filthy defensively. Also they can both rip threes. I think it's a backcourt that gives a fighting chance to make another long run in the tournament.
I can't believe we won that game. Call me Tom Emanski because we're going to back-to-back-to-back Sweet 16s. We're not done yet: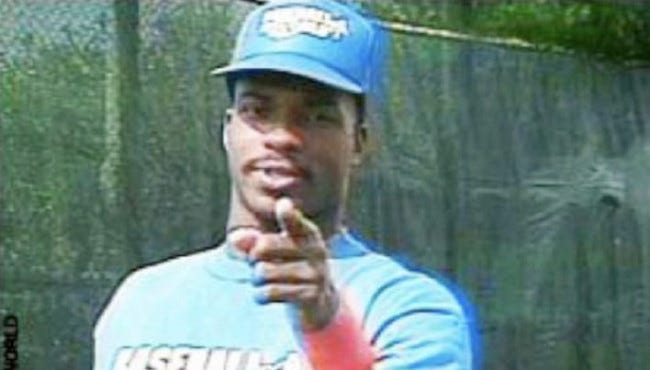 Our opponent in the Sweet 16 will be Seton Hall. We're streaming the game on Saturday, July 18 at 8:30 p.m. ET on Twitch.
Here's the rest of the original post.
How to watch Western Illinois vs. Seton Hall in the Sweet 16
Game: No. 9 seed Western Illinois vs. No. 4 seed Seton Hall, Sweet 16, 2024 NCAA tournament
How to watch: My Twitch channel
Date: Saturday, July 18
Tip-off time: 8:30 p.m. ET // 7:30 p.m. CT. The stream will start a little earlier.
If we win: Elite Eight game vs. the winner of No. 2 Houston vs. No. 3 Alabama will happen immediately after.
Here's a look at Seton Hall's roster. Here's how the two teams matchup:
Some good news from the Western Illinois roster: Renardo 'Vino' Verdejo improved two points on his overall rating in the last week and is now an 88 overall. That's huge. This Seton Hall team is stacked with talented wings, so we're going to need everything Vino can give us.
Come hang out Saturday night on Twitch. It'll be fun, I promise.
Bracket contest update
Here are the standings after the first week of the NCAA tournament:
And here are a look at the remaining teams in the field:
No. 4 Seton Hall vs. No. 9 Western Illinois
No. 2 Houston vs. No. 3 Alabama
No. 1 Maryland vs. No. 4 UCLA
No. 3 Kentucky vs. No. 2 Xavier
No. 1 West Virginia vs. No. 5 NC State
No. 3 South Florida vs. No. 10 Notre Dame
No. 8 Villanova vs. No. 4 Memphis
No. 3 UConn vs. No. 10 Kansas
Thank you for everyone who participated.
I hope to see you there. 'Go Necks.