Welcome back to Western Illinois' chase for greatness in College Hoops 2K8. You can find a full explanation of exactly what we're doing here + spoiler-free links to previous seasons at the About page of this website. Share it with a friend!
We pick up with the Leathernecks in the Sweet 16 of the 2023 NCAA tournament — better known as Year 16. Here's a recap of everything that has happened so far this season:
We lost our two best players from last year's Sweet 16 team to the NBA draft when Austen Kleinzweig and Borislav Grimes declared as juniors. With four new starters, the Leathernecks entered the season unranked in the polls and rated as a 94 overall.

We opened the season with an upset win over No. 2 Duke at Cameron Indoor Stadium, but also snapped our Summit League winning streak (which dated back to Year 10) when Southern Utah beat us in the regular season. We finished the year at 26-5 overall and earned a No. 10 seed to the NCAA tournament.

Senior center Roberto 'Jorts' Djordjevic broke the program's single-season scoring record (25.9 points per game) and all-time scoring record by becoming the first Leatherneck to ever score 2,000 points under Coach Rick.

We beat No. 7 seed Louisville in the first round and No. 2 Dayton in the round of 32 to advance to the Sweet 16. It's the first time in program history we've made back-to-back Sweet 16 appearances.
---
Here's a look at our roster heading into the Sweet 16:
Our opponent in the Sweet 16 is No. 6 seed Ohio State. You can check out the Buckeyes' roster here. OSU is pretty much loaded at every position. I deemed their point guard Konryn 'cosplay Aaron Craft' and their bigs are better than most of the teams we have faced. Also their starting small forward Filip Barlett was once a recruiting target of ours.
The Buckeyes enter the contest rated one point better than us. Here's how the two teams matchup: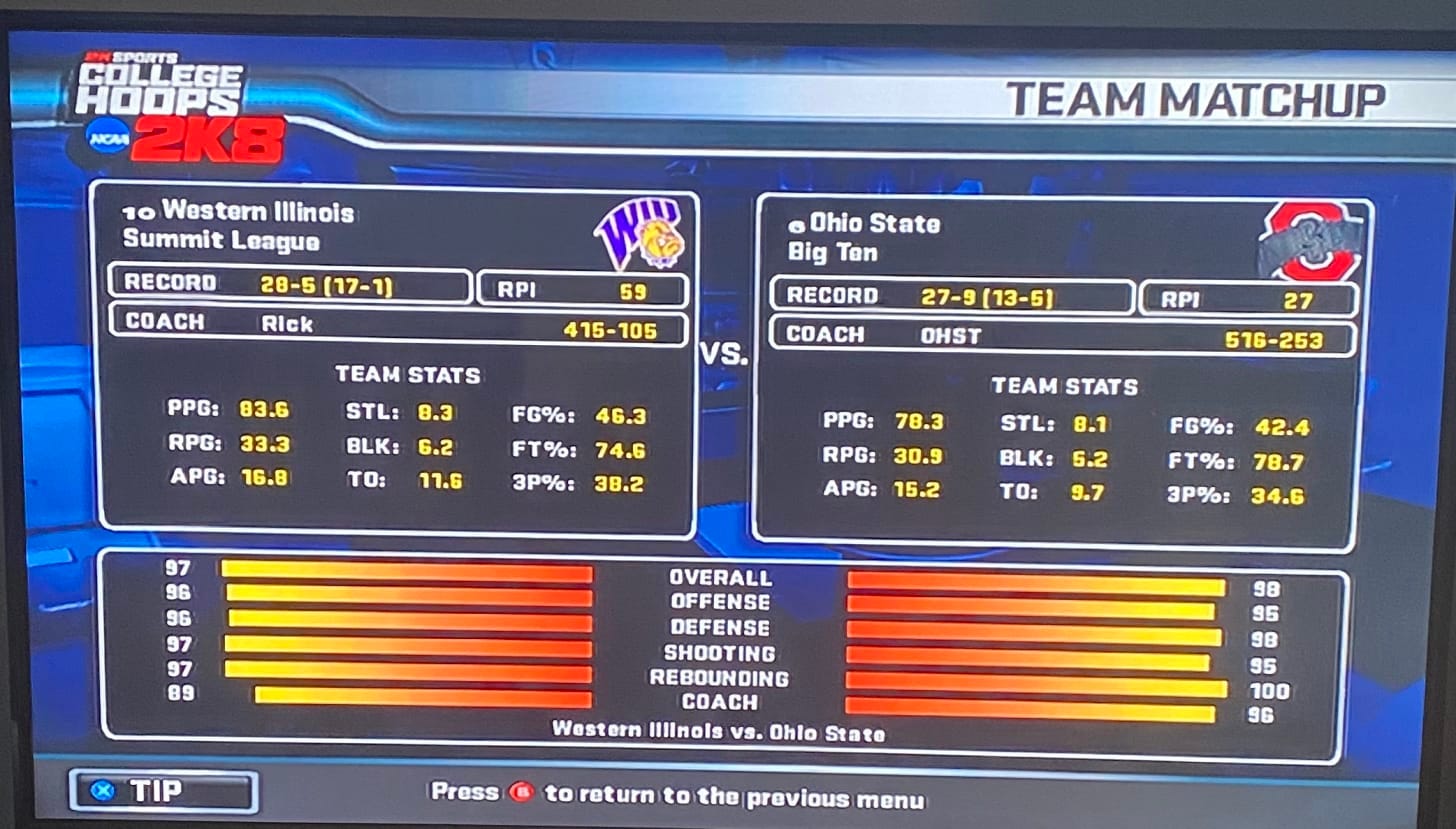 The big topic of conversation coming into the night was Jorts' place in history. There was a minority opinion that believed he had surpassed Deke Van as the greatest center we've ever had. A few people in the Twitch chat even said they considered Jorts to be the GOAT Leatherneck.
It wasn't hard to make an argument in his favor: he's the greatest scorer in program history by any criteria, he took us to back-to-back Sweet 16 appearances for the first time ever, and he already has a national championship ring as a rarely used reserve on our 2019-2020 team (he scored exactly two points during the tournament run).
My counter was the same every time: legends are made in March. Jorts was writing his own legacy in real time as we prepared to take on Ohio State.
Unrelated, I was sent this stat by reader James coming into the night:
Do you realize, coach, that your 23 NCAA tournament victories - by age 40, no less - are already 12th on the active coaching list?! And the clip at which you've won; I mean man... despite being chronically under-seeded, you've gone 23-9 in the NCAA tournament. That's a .719 winning percentage; that's better than Izzo, better than Self, better than Jay Wright. Just wanted to keep before your eyes that you're in the middle of putting together a singularly great coaching resume at a place no one would have ever expected. Good luck tomorrow, Coach; smash the Buckeyes. Go Necks!
We streamed this game on Twitch. As always, we watched a computer simulation. I'm not actually playing any of the games in this series.
The game should begin when you push play on this video. If not, start it at the 23:30 mark.
***
***
***
***
***
***
***
Win, 97-93. We're going to the Elite Eight! Tempo-free team stats from @akulawolf:
That game felt way uglier than the final score will indicate. The first half was a straight up struggle-fest with neither team able to generate consistent offense. We were finally able to breakthrough late in the second half thanks mostly to the genius of Kim Kone. The junior shooting guard from France scored 14 of his 16 points after halftime and hit jumper after jumper late to help us surge in front. That performance was a long time in the making for a player who entered the program with a lowly 65 overall rating. It was so beautiful to see him shine on the biggest of stages.
We also need to shout out Brandin Price. The chat was on his ass all night because of a few bad turnovers early in the game, but our sophomore point guard ended up with the best line of the game: 23 points, 11 assists, and three steals on 6-of-8 shooting. He also iced the game from the free throw line, going 10-for-10 from the charity stripe to help us close out the win. At 6'5, he's able to use his length overwhelm opposing guards and help us turn defense into offense. He might have the slowest jump shot release in basketball history, but the dude brings so many positive attributes on a nightly basis.
This felt like a true team win. Every starter was in double-figures. We haven't even talked about Jorts yet and all he did was finish with 18-10-6 and three blocks. I thought our defense was the key, grabbing 11 steals to help kickstart an offense that was stagnant in the halfcourt.
I cannot believe this team is going to the Elite Eight in what was supposed to be a rebuilding year. What a world.
Our opponent in the Elite Eight would be No. 1 seed Kansas. Who else?
No. 10 Western Illinois vs. No. 1 Kansas, Elite Eight, 2023 NCAA tournament
The Jayhawks have become our biggest rival at this point in the dynasty. We famously beat Kansas in the 2015 national championship game in Year 8. We also beat the Jayhawks in the Sweet 16 in 2018 and in the Elite Eight in 2020.
The Jayhawks entered as a 98 overall, rated one point better than us. Here's a look at Kansas' roster.
We also streamed this game on Twitch. Apologies for the not-super-great camera angle early the game. I'm going to be superstitious about that from now on.
***
***
***
***
***
***
***
Loss, 89-75. The game wasn't even that close. And just like that, the dream of winning title No. 3 is over.
I don't think I've ever seen this program play a worse game on such a big stage. Kansas was up 10 not even six minutes into the game. They were up 20 after 10 minutes. We kept waiting for our 'Necks to make a run that never materialized.
Just a terrible shooting night all-around. Garik Frye was the biggest culprit in his last game as a senior, finishing the night 2-for-15 from the floor and 0-for-9 from three-point range. With the in-game boost, he was a 96 overall and still played like that! What a bummer. Kone and Price couldn't do enough to pick us up on the perimeter. Jorts (21 points, four rebounds) felt like the only star who played close to his typical level. Everyone else had an off night, and our season ends because of it.
Some silver linings: our freshman power forward Vernard Fulton was productive (12 points, seven rebounds), showing off a quick-but-funky release on his jumper. He should be poised for a breakout season next year. I also liked what Renardo 'Vino' Verdejo and Sidney Dupre did off the bench. We'll need them in Year 17.
Ultimately, reaching the Elite Eight in what was supposed to be a rebuilding year qualifies as a hell of a season. I figured we'd be one-and-out in the tournament after Comrade Grimes and Kleinzweig bounced early to the NBA, but Jorts balled out all season and the supporting cast showed some great individual development to help us win three games in the tournament. All the streams were super fun and I appreciate everyone who came out for them. Love 'Neck Nation a lot, y'all are the best.
Bracket contest results
We hosted a bracket contest this year with the help of Sean from Hoops Insight. Thank you everyone who participated. The Final Four ended up as: No. 1 seed Kansas vs. No. 1 seed Georgia Tech, and No. 8 seed Texas vs. No. 1 seed Vanderbilt. Kansas beat Vandy in the title game. The Leathernecks can claim to be the second best team in America!
The winner of the contest is …. Matt B. I sent him an email. Here's a look at the final leaderboard:
I finished with 45 points, which is straight trash. At least no one can accuse me of rigging it.
We're going to do this again. Matt will get to create a character in the game and chose our season-opening opponent for Year 18. I say that because we played through the offseason on the Twitch stream last night and already zoomed forward to Year 17.
Offseason
You can watch me play through the offseason after the conclusion of the Kansas game. It is probably more fun on Twitch so you can read the comments — just go to the 1:03:20 mark of this video. Here's a recap:
Kansas wins the national title. You win this round, Bill Self.

Jorts wins his second Summit League Player of the Year award but gets snubbed as an All-American. Jorts also gets drafted (he was a projected lottery pick) while Frye goes undrafted. The rest of the roster is returning.

Jorts ends his career with 2,118 total points, the most in program history.

Coach Rick — at age 41 — sits with an overall record of 416-106.

Louisville, Michigan State, and Illinois are among the schools that offer me their head coaching job. No thanks. We're returning to Macomb.

Here's the big controversy of the night: we lost an assistant and had to hire someone new. I eventually hired Bron Randle, who had A- teaching (the most important attribute for an assistant IMO) and was rated as a B in offense. This did not appease the chat. The chat was fucking pissed. They wanted me to hire an assistant named … Rudolpho Butt.
Thanks to reader Abby for clipping this moment. The chat was coming in HOT.
To be fair, Mr. Butt had worse ratings in offense, defense, and charisma while having the same teaching rating and better scouting/discipline ratings than Randle. Maybe we'll hire him in the future. We will have Butt on our radar moving forward.
Recruiting
We were recruiting for four scholarships this season and had not filled any of them yet. That changed on the first day when four-star power forward Allan Cunningham committed to the Leathernecks:
I'm hyped about this one. Cunningham is the No. 67 overall player in his class and the No. 11 power forward. He has great size at 6'10, 256 pounds and put up monster AAU numbers. 19.1 rebounds per game! He looks like he can shoot a bit, too. This dude might have a chance to be our $5 power forward before it's all said and done.
Three more spots left to fill. We wanted four-star point guard J. Stivers, but he would eventually sign with Indiana. We did land a three-star point guard when Tron Whaley out of Riverside, CA became our second signing of the recruiting period.
Tron is rated No. 128 overall and No. 47 at his position. He looks like a solid if not spectacular point guard option who should be a five-year player for us. We like his shooting ability and those steal numbers. Feeling good about him.
Two more scholarships to fill. The first one goes to stud center Pat Giddens out of Brockton, MA. We've been recruiting Giddens for most of the year and he looks tremendous — rated as the No. 7 center and No. 115 overall player.
While Giddens didn't play AAU, our internal scouting (not always accurate) has him at A potential. Him and Cunningham might fuck around and turn into the greatest front line we've ever had.
One scholarship left to fill. In need of a guard and short on options, we offered five-star international point guard Vitor Andrisevic out of Montenegro. He's 6'3 and likely moves to the shooting guard long-term. Both of the international recruits we've signed in the past — Kone and Verdejo — needed a few years to grow into contributors but ultimately became very good pieces for our team. Maybe we're finally do for some luck and Andrisevic comes in with a better initial rating?
Now it's time to set the schedule. We also did this on the Twitch stream. Here's where we ended up:
@ Vanderbilt, @ Georgetown, @ Georgia Tech, @ Michigan State, @ Arizona State, vs. Hawaii, vs. Southern Illinois, @ Kentucky
Year 17
Here's a look at the roster for Year 17:
We've already made two position changes, moving Medina from power forward to small forward where he falls from 87 to 86 overall. We also moved Wilky Henry from small forward to shooting guard where he falls from 78 to 77 overall.
This team looks like he's going to be deep and talented without a clear-cut star. Who steps up? I can't wait to find out. We're going to watch one regular season game and play through the season until the NCAA tournament on Sunday July 12, at 8:30 p.m. ET.
What regular season game should we watch in Year 17? I made a poll. Vote on Kentucky, Vanderbilt, Georgia Tech, and Southern Illinois. Here's how to watch:
Western Illinois Year 17 Twitch stream information
Game: Western Illinois, Year 17, 2023-2024. We'll sim and watch one regular season game and then play through the season up to the NCAA tournament.
How to watch: My Twitch channel
Date: Sunday, July 12
Tip-off time: 8:30 p.m. ET // 7:30 p.m. CT.
Let's party Sunday. Thanks for such a fun tournament run, Neck Nation. It was also very cool to get so many birthday wishes at the end of the stream. Y'all are the best.
Let's go get banner No. 3.