Welcome back to Western Illinois' quest for greatness in College Hoops 2K8. You can find a full explanation of exactly what we're doing here + spoiler-free links to previous seasons on the About page of this website. Share it with a friend!
Here's everything that happened last season:
With four new starters, we played .500 basketball against a stacked non-conference schedule before sweeping the Summit League once again.

We earned a No. 11 seed to the NCAA tournament, where we lost to St. Joe's in the opening round, 93-83. We finished the season at 25-8 overall.

We had one scholarship available and signed Kim Kone, a five-star point guard out of France. He's our first ever international recruit.
---
Here's a look at the roster for this season:
No excuses this year. We are loaded. Let's run through the starters real quick.
PG Billy Assel, redshirt junior: Highest-rated recruit in program history (No. 25 overall) is our lone new starter after averaging 9.1 points and 4.1 assists as sixth man last year. The 6'4 point guard has A or A- ratings in close range finishing, off the dribble shooting, dunking, handling, and passing. Rated as a B+ in three-point shooting and speed. Should be poised for a breakout year. Projected lottery pick.

SG Ime Terrell, redshirt senior: Elite finisher and monster defender with A+ speed. Now rated an 80 three-point shooter after years of improvement. If the game is on the line, he should get the ball: his clutch rating of 93 is the highest on the team. Averaged 11.1 points, 3.1 assists, and 3.2 rebounds per game last season. Former No. 78 overall recruit. Projected top pick in the NBA draft.

SF Bert Draughan, redshirt senior: Three-year starter who averaged 11.4 points and 6.4 rebounds per game last year. Two-way wing with a well-rounded skill set and elite intangibles. He's grown an inch over the offseason to 6'7. Feels like this is his chance to turn into one of the great players in Leathernecks history. Former No. 29 overall recruit and Mr. Basketball out of Chicago. Projected lottery pick.

PF Najeeb Goode, redshirt senior: An athletic, undersized four with elite rebounding ability. Averaged 15.3 points and 7.1 rebounds per game on 52 percent shooting from the field last season. Former No. 114 overall recruit.

C Trevor Hoyer, redshirt senior: After entering the program at 6'9, he's developed into a 7'1 center with a B+ rating in three-point shooting and A- ratings in ball handling, passing, quickness, and speed. Mediocre as a rebounder and shot blocker. Put up 27 points and 10 rebounds in opening round loss to St. Joe's in the NCAA tournament last year. Former No. 212 overall recruit (No. 12 center).
In addition to having an experienced starting lineup, we also have some nice depth this year even if it's a little green. With that in mind, I've decided to go with a 10-man rotation featuring RS sophomore Diondre Haynes at point guard, RS freshman Borislav Grimes at shooting guard, RS freshman Garik Frye at small forward, RS junior Raymond Harper at power forward, and RS freshman Roberto Djordjevic at backup center. Each bench player will get eight minutes per game, besides for Harper who gets 13 minutes per game. Small forward Austen Kleinzweig is redshirting this year after coming off the bench as a true freshman. French point guard Kim Kone is rated as a 65 overall with B- potential (bummer) and will also redshirt.
We're unranked in the preseason polls but start the new year rated as a 98 overall.
Recruiting
I have four scholarships to offer out on the recruiting trail. Ideally I'd like an All-American point guard to leapfrog Kone, but it doesn't seem like any of them are interested. After assessing my options, I use my first two visits on the following players:
PG Brandin Price out of South Bend, Indiana, ranked No. 50 overall and No. 21 at his position

C Sidney Dupre out of Memphis, ranked No. 144 overall and No. 11 at his position
I extend a scholarship to both on the first day I'm allowed to make offers. I also offer these two players:
6'8 small forward Filip Barlett out of Detroit, ranked No. 79 overall and No. 11 at his position

6'7 power forward Cam Medina out of Charleston, SC, ranked No. 123 overall and No. 16 at his position
Time to get this season started.
Season opener @ St. Joe's
We're better, deeper, and more experienced than last season when they beat us in the NCAA tournament. Let's run these dorks.
Win, 83-56. Blowout, baby. Balanced scoring all around, but this confirms my suspicion that Goode and Hoyer have never met a field goal attempt they don't like.
With the win, we enter the polls at No. 23. Hell yeah. We have Duke @ Cameron this week.
Win! 80-66. Look at that lockdown defense in the second half. Also shouts to Terrell for packing the box score with winning plays even during a modest scoring game. I'm also loving Assel's ability as a distributor. We finish the week off with Northwestern.
Loss, 60-52. I can't believe it. What is it about Northwestern that always makes our guys play so terribly? Just a brutal offensive performance from the 'Necks: we shoot 17-of-48 from the field and 3-of-15 from three. How the hell are we only scoring 52 points? We drop out of the polls with the loss.
As the early signing period begins, both Price and Dupre are around 95 percent interest. Can Ricky Charisma close the deal? We start the week as we travel to Louisville, where the Cards are ranked No. 1 in the country. Please, please, please give me this coaching bonus point for beating the top team in the polls ….
Loss, 75-66. Damn. We shot only 18-of-50 from the field and 5-of-18 from three. You're not beating anyone shooting like that, especially not No. 1. I'm starting to think I will never get that coaching point. We really need Draughan and Terrell to be better in these big games. We finish out the week with a home game vs. South Illinois.
Big dub, 99-64. Draughan balls out with 15 points and 13 rebounds. That's an ideal game for game.
As we sim to next week, Sidney Dupre signs!
I believe that's only my second early commitment ever, with Burton Ballinger being the other. There's still one more week left for Price to sign too, and he's now at 99 percent interest.
We have two games this week: UIC and Oral Roberts.
Win beat UIC, 81-61, behind 16 points and five assists from Assel. We whoop Oral Roberts, too.
AND WE SIGN BRANDIN PRICE.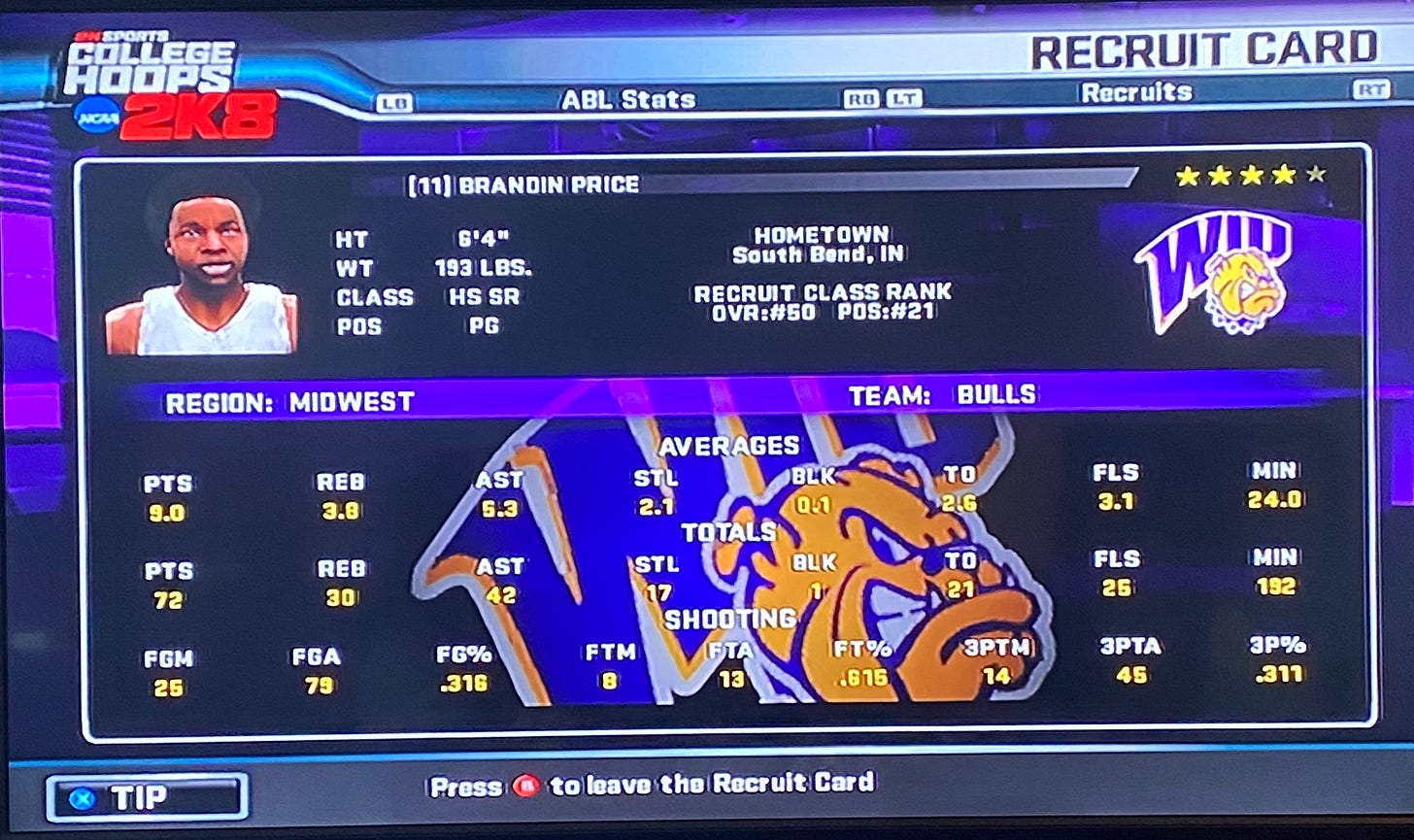 He's our third top-50 recruit ever. We love his size, hair, and his ability to get into the passing lanes and force turnovers. Dupre looks good, too. He has the highest overall rating for a center recruit in program history according to Evan's Leathernecks Recruiting Database. We also lead for Barlett and Medina. Could this be a quick and easy recruiting year?
Of course, as soon as I say that, Barlett gets an Ohio State offer the next week. Dang, he looked dope. I'm offering 6'8 small forward Jorge Beatty out of Dallas a scholarship in his place.
We have two games + a tournament this week to close out non-con play. First up, @ No. 21 Kansas:
Win over Kansas, 108-92! Goode and Hoyer combine for 50. Even Djordejevic had 11 points in 11 minutes off the bench — Jayhawks' front court needs to hit the weight room.
We beat Chicago State 81-76 (Harper with 18 off the bench), beat Appalachian State 81-76 with Terrell scoring 18, and then we beat Cincinnati 75-57 with Assel going for 15 points and Goode going for 18 points. We re-enter the polls at No. 23.
Beatty gets an offer from Texas the next week. There are not many small forward options left, however there is one All-American still without an offer: Ndudi Clinton from New York City, ranked No. 19 overall and No. 3 at his position. I guess I'll throw a Hail Mary offer his way. If that doesn't work out, I'm eying some international recruits.
We climb to No. 15 in the polls after a 2-0 start to conference play and keep stacking Ws after that. Assel drops 26 on South Dakota State, 24 on Southern Utah, 21 on UL-Calcutta, and 23 on IUPUI. I love it. We're also scoring 100+ points in pretty much every game.
We sweep conference play again to end the regular season at 26-2 overall and ranked No. 22 in the polls. Hoyer and Goode lead the team in scoring. Look at Draughan lead us in rebounding.
I'm also at 99 percent interest for Medina on the recruiting trail so hopefully that gets locked up on day one of recruiting. As for Clinton … he still doesn't have any other offers yet, but I'm only at 61 percent interest with three teams in front of me. My backup options on the wing are looking pretty dire.
Summit League tournament
First up, South Dakota State.
We win, 99-46. Assel with 17, Draughan with 15, Hoyer with 18 in the win. Next up: Oakland.
We win, 89-52. Hoyer with 25 and 10 to lead the way. Now we have Southern Utah in the conference tournament title game.
We win 88-75. Harper leads us in scoring off the bench with 17 points in only 13 minutes, damn.
Can't wait to see what seed we get.
NCAA Tournament
We're a No. 7 seed facing No. 10 seed Pitt. The No. 1 seeds are UCLA, Kansas, Oregon, and NC State.
Here's a look at our roster.
Terrell and Draughan are now the highest rated players in program history at 96 overall. Sick. We also have six guys ranked in the 90s, which is a new all-time best. How about Kleinzweig and Haynes going up SIX since the start of the year? Huge. Our new assistant coach is doing work.
Going through some of the other team stats, it says we rank No. 1 in both offensive and defensive efficiency in the country. I need to see this for myself, and yep it's true: we led the NCAA in scoring at 91.7 PPG. We also tied Princeton for allowing the fewest points per game in the country at 60.4. (note: there are no tempo-free stats in this game because it was released in 2007.) Part of that is playing in the Summit for sure, but we feel dangerously under-seeded as a No. 7 seed.
We're rated as a 100 overall. Pitt is rated as an 89 overall. As always, I'm watching a simulated game and not actually playing it myself.
Let's go!
***
***
***
***
***
***
We win, 95-84. Second half team! But seriously, I was *nervous* after that first half. I feel relieved more than anything else.
I love seeing Terrell and Draughan step up in big games. Terrell dropped 17 points in the second half and Draughan gave us the consistent scoring punch we needed. I think both guys are more comfortable being do-it-all role players rather than high volume shot-takers, and that's okay. I'm just glad they rose to the occasion when we needed them. I'm not concerned about their so-so regular season numbers given our incredible team stats. It's all about their tournament performance, and they showed up for this one in a big way.
That sets up a matchups with … No. 2 seed Gonzaga.
No. 7 Western Illinois vs. No. 2 Gonzaga
The Zags are rated as a 95 overall. Yes, we're still a 100 overall.
Sweet 16 and another Twitch stream on the line. Remember, Gonzaga (then ranked No. 3 in the polls) beat us in the regular season last year.
One time, Leathernecks. Let's go!
***
***
***
***
***
***
We win, 94-85. Sweet 16! We're streaming on Thursday!
That was such a satisfying win. Draughan kicking ass in the first half, Assel taking us home in the second half. I *really* like the mix of talent on this team. We have two elite 3-and-D guys on the wing, a tall point guard who can create off the dribble + facilitate + score in transition + hit threes, a 7'1 stretch five who also has low post moves at center, and a monster rebounder next to him at the four. The bench is solid, too. This isn't a perfect team, but it's a damn good one.
Also, can we talk about this Hoyer dunk? Is it the best in program history?
And our reward is … a date with No. 6 seed Memphis in the Sweet 16. Here's how we stack up.
Looking at that coaching rating reminds me … Memphis is still coached by John Calipari!
Ricky Charisma vs. Coach Cal. Western Illinois vs. Memphis. We're streaming the Sweet 16 on Thursday, June 11 at 8:30 p.m. ET over on Twitch.
Read the continuation of the Leathernecks' journey in the Sweet 16.
Here's the rest of the original post:
Here's what you need to know about the stream:
Game: Western Illinois vs. Memphis, 2020 Sweet 16
How to watch: My Twitch channel
Date: Thursday, June 11
Time: 8:30 p.m. ET // 7:30 p.m. CT
If we win: Elite Eight vs. the winner of Kansas-St. Joe's will happen immediately after.
LOL @ Kansas vs. St. Joe's. I can't believe that. A few other things before we get out of here.
Coach Rick vs. Coach Cal. I'll see you Thursday.