Welcome back to Western Illinois' chase for greatness in College Hoops 2K8. For a full explanation of exactly what we're doing + spoiler-free links to previous seasons, head to the About page of this website. Maybe you even want to share it with a friend.
Here's a recap of what happened last season:
Ranked in the preseason polls for the first time ever at No. 11, Western Illinois would run the table against a difficult non-conference schedule and then sweep Summit League play to enter the NCAA tournament at 31-0. We also hit No. 1 in the media poll for the first time in program history and ended the regular season there.

Entering the NCAA tournament as a No. 1 seed for the first time, we defeated No. 16 seed Portland State, No. 9 seed Cal, No. 5 seed Kansas, and No. 2 seed Florida to reach the Final Four for the second time in four seasons. We entered the Final Four at 35-0 on the year.

We recruited for six open scholarships, landing four high school seniors and two five-star JUCO players.
---
Here's a first look at the roster for Year 12:
This is going to feel like a new team after losing five seniors from last year. Let's run through our starters.
Nikola Stockman, point guard, RS senior: Better known as "Stonks". Averaged 5.2 points per game off the bench last season. Best three-point shooter on the team with a 96 rating. Also tied for the fastest player on the team (!) with 96 rating (!!) in speed. Former No. 104 overall recruit with C+ potential. Peoria native. Also a projected lottery pick in the preseason, somehow.

Ime Terrell, shooting guard, RS junior: He's been flying under the radar for years — never playing more than 17 minutes in a game up to this point — but the junior guard enters the season as our highest rated player. Has A or A+ ratings in close-range finishing, speed, shooting off the dribble, vertical leaping, and clutch. He's also our best defender. He's grown an inch over the offseason and now stands 6'4. Former No. 78 overall recruit with B- potential. Dallas native. Projected lottery pick. Can't wait to see what he can do this season.

Bert Draughan, small forward, RS junior: My lone returning starter after averaging nine points and five rebounds per game with 40.7 percent shooting from three-point range last year. The game rates him as having elite intangibles, with his highest marks coming in offensive and defensive awareness, offensive rebounding, strength, and quickness. Former No. 29 overall recruit with C+ potential. Chicago native. Projected first round pick.

Najeeb Goode, power forward, RS junior: A little undersized for a power forward and not a great three-point shooter (63 rating), but performed well in the NCAA tournament last year and has an interesting skill set. He excels at free throw shooting, making layups, ball handling, passing, and vertical leaping. Also has a 93 and 94 rating respectively in offensive and defensive rebounding. Former No. 114 overall recruit with C potential. East Lansing native.

Trevor Hoyer, center, RS junior: I didn't realize this dude was 7'1? Rated a 95 in close-range finishing and surprisingly rated as a 70 in three-point shooting, which is considered a B+ for a center. Also is rated as an A- in ball handling, passing, speed, strength and quickness for a center! Hell yeah. Kinda sucks at rebounding, which explains why his overall rating isn't all that high.
We're going with an eight-man rotation this year. Point guard Billy Assel will be the sixth man. The best recruit in school history (No. 25 overall), Assel is already rated an 87 overall as a redshirt sophomore and has grown an inch over the offseason to 6'4. Raymond Harper, a former five-star JUCO recruit, moves from power forward to center to be the first big off the bench. Austen Kleinzweig, a true freshman small forward ranked No. 71 in his class, will be our eighth man. I cut all the walk-ons.
Here's a first look at our full six-man recruiting class.
SG Borislav Grimes: 77 overall, C+ potential. Probably looks like my best recruit? We might need him to start next year if Terrell goes pro. He's getting a redshirt. Former No. 77 overall recruit, No. 19 at his position.

SF Garik Frye: 76 overall, C- potential. Disappointing potential rating, but he should be a solid five-year player for us. He's getting a redshirt. Former No. 113 overall recruit, No. 16 at his position.

SF Austen Kleinzweig: 75 overall, B- potential. 6'8 wing who struggles to shoot from three, but hits the glass hard and is a decent shot blocker. Could possibly move to the four later. Will come off the bench this season as our eighth man. Former No. 71 overall recruit, No. 9 at his position.

C Roberto Djordjevic, 74 overall, B- potential. Should be a really good five-year big man for us as long as he isn't asked to contribute too soon. He's redshirting this year. Has B- three-point shooting, A- speed, and B+ strength. Former No. 171 overall recruit, No. 9 at his position.

PG Diondre Haynes, 74 overall, B- potential. We were hoping he'd be a stud, but alas. Should still be a solid four-year player who can swing between either guard spot. He's redshirting this year and will be a RS sophomore next season. Former five-star JUCO recruit.

PF Orien Newton, 74 overall, C+ potential. Kind of disappointing combination of rating and potential, but he'll still be a contributor down the line. At least he has good size at 6'9, 251 pounds. He's redshirting this year and will be a RS sophomore next season. Former five-star JUCO recruit.
We're unranked but rated as a 95 overall at the start of the season.
Recruiting
We only have one available scholarship for next season, so I'm thinking we might as well swing for the fences with a five-star point guard. You can watch me run through a list of possible options at the end of last season's Twitch live stream starting around the 2:07:50 mark.
I decide to use my two visits these players:
Fats Geiger from Madison, Wisconsin: No. 7 overall recruit

Zack Moreno from Lincoln, Nebraska: No. 16 overall recruit
Either player would be my first ever All-American, which would get me a coaching bonus point. I also have a big list of backup options if these guys fall through.
After weighing both, I decide offer Moreno because he has better size, better stats, and and his top schools have a smaller leader over me. Here goes nothing.
Season opener @ No. 13 Michigan State
Rematch vs. Sparty after they ended our perfect season in the Final Four last year. I am scared yet jacked up LET'S GO.
Loss, 68-59. Really low scoring, ugly game. We shoot 19-of-56 from the field, 3-for-16 from three. I'll get you one day, Izzo.
As I sim to the next week, I see Duke has already offered our boy Fats Geiger, so I'm glad I didn't go with him. Meanwhile, FSU — the team in front of me for Moreno — has offered another point guard (No. 3 overall recruit Dez Wofford), so maybe that means they aren't going to offer my guy. Most of my backup plans also already have offers, so we have a lot of eggs in Moreno's basket right now. One name we do add to our target list this week: 6'4 five-star international point guard Kim Kone from France. Tough to turn down a name like that.
Next up, No. 10 Florida. This is a revenge game for the Gators after we beat them in the Elite Eight last year.
Loss, 83-82. Damn. At least Stonks Curry got going a little bit. Next up, No. 16 Louisville, the defending champs:
Loss, 89-72. Well shit, we are 0-3. Is the short bench hurting us? We need to get Draughan going.
The two-week signing period starts. Moreno prefers FSU but we're his only offer and in second place with 90 percent interest. It's going to be close.
We face Illinois, who enter at 5-2 on the season.
Hell yeah, blowout win, 77-45. Lockdown defense from our boys.
Our reward is we get to play No. 5 NC State next:
Wow, major upset! No. 5 going down, 77-70. Look at Billy Assel ball out off the bench. We whooped them on the glass, 40-28. Love to see it.
Next up is Duke, who have fallen from No. 1 to No. 11 since last week in the polls.
85-67 loss. Damn you, Duke. We had two guys foul out and two more guys with four fouls. Uhh, what happens if four dudes foul out? I wouldn't have enough active players to finish the game. Let's hope we never find that out.
Next we have two conference games vs. Oral Roberts and vs. Oakland, both of which we win.
Ugh, Moreno signs with Florida State on the last day of in-season recruiting. What a bummer. There's really only one elite point guard still on the table: Abdou Winter from Montreal, who is rated No. 6 overall. He has lukewarm interest in general, but we're still trailing his leaders by a significant margin. This is kind of a Hail Mary, but I decide to offer him. Don Rodgers, a 6'4 point guard out of Kent, Ohio, is the other guy we're visiting. Still keeping an eye on Kim Kone out of France, too.
Got Illinois State this week.
Win, 99-56. Assel with 21 points off the bench, Draughan and Goode each with 18.
Next up: Rutgers.
We win, 62-61. Whew. Now: No. 3 Pepperdine, who enter at 12-0.
Loss, 92-78. Man, I was too hyped to call them frauds. Goode leads the team with 20 points and Stonks adds 19 points in the loss.
Next up: Syracuse. They're unranked at 9-3. I notice that three of their four best players are point guards.
Loss, 75-74. That would have been a nice one to get. We're 6-6 entering conference season.
I decide to extend a scholarship offer to Kim Kone from France. He's 6'4, has a cool name and is French, so why not? Virginia and Providence are also in on him but neither have offered.
After two conference games, we have one more non-con left on the schedule: vs. No. 3 Gonzaga.
Loss, 75-71. Terrell and Draughan combine to go 4-for-20, awesome.
Good news: I run the table in conference play to end the year at 22-7. Bad news: I haven't made much progress with Kim Kone on the recruiting trail.
Stonks leads the team in scoring while shooting 48.5 percent from three (66-of-136).
Summit League tournament
First game: vs. Oakland.
Win, 88-40. Stonks with 24 points to lead the team. Next up: UMKC in the semis.
Win, 75-57. Goode with 27 points on 10-of-12 shooting to power us to victory. Now I have Oral Roberts in the title game.
Win, 93-51. Draughan with a hot 25 and 14. That's how you roll into March. We enter the tournament at 25-7 overall.
2019 NCAA tournament
We're a No. 12 seed drawing St. Joe's in the first round. Your No. 1 seeds are Pepperdine (!), Northwestern (!!), Cincinnati, and Florida. What the hell is going on this year? Northwestern is only rated as a 93 overall! They are 30-5 on the season, though.
Here's a look at my roster: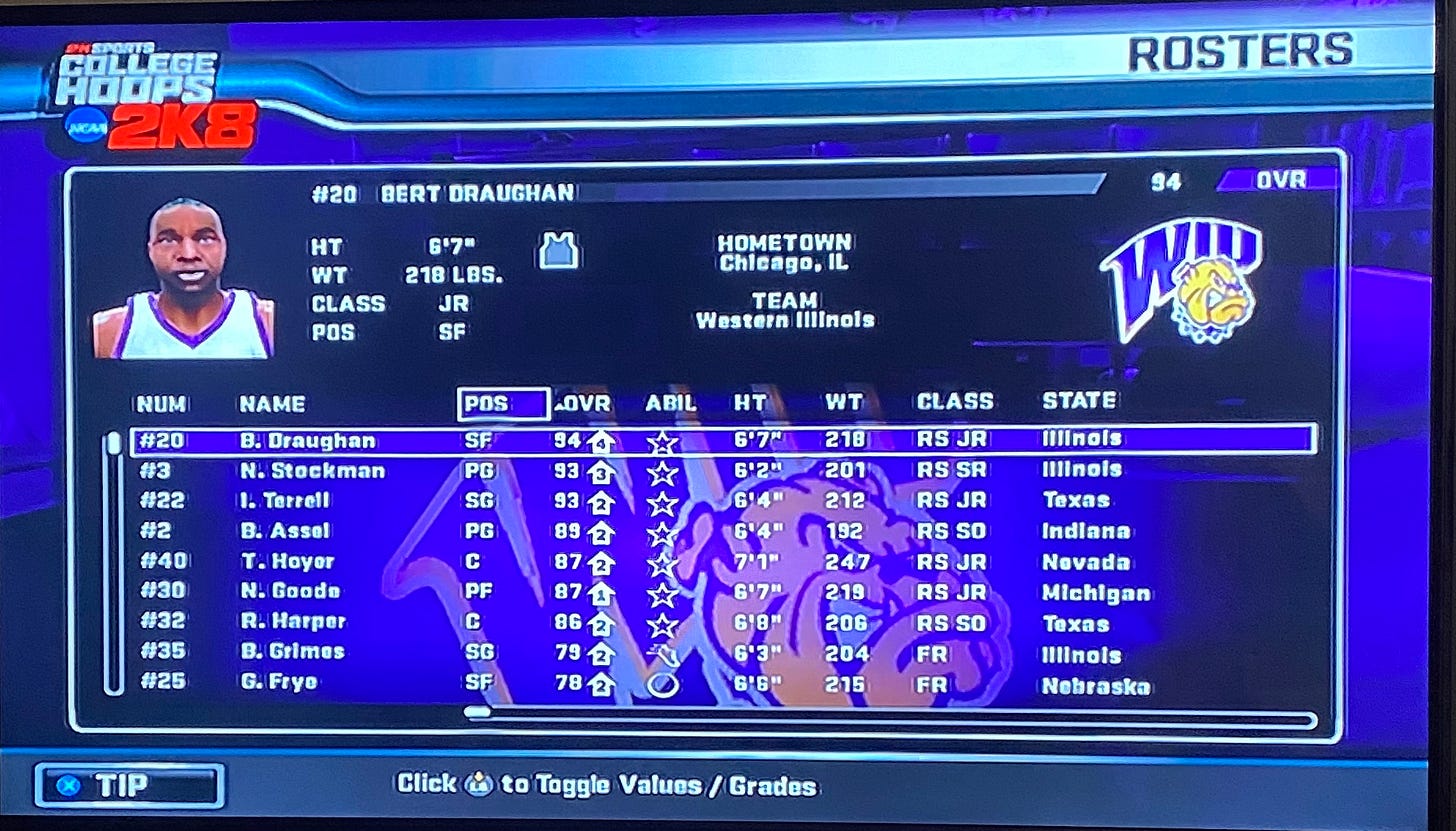 Draughan ascending to become our best player just feels right even if his numbers weren't amazing this year. He's also projected as a second round pick now so he'll probably come back? Also, I am so excited for Assel next season.
We're a 98 overall, St. Joe's is a 96. Before I sim, I see No. 13 East Carolina has upset No. 5 Charlotte, and would be my opponent if we win.
Let's get a dub!
***
***
***
***
***
***
Man, 93-83 loss. We got run off the floor in the last seven minuets.
I wish we could have gotten Draughan a bit more rest in the second half. Is that 38 minutes? Sheesh. Harper and Kleinzweig were both supposed to get more tick. I'm not sure why this keeps happening.
The real reason St. Joe's won: we let them make a ridiculous 17-of-30 shots from three-point range, good for 56.7 percent. They also beat us on the glass, 41-32. It's hard to beat anyone when they're shooting like that and owning the boards.
Tough way to end the year. Now the big question is if Terrell and/or Draughan turn pro.
Offseason
Louisville wins the title again. Damn, Cards going back-to-back.

Stonks gets drafted, but no one leaves early! We back, baby. The hype train for next year has officially left station.

After a 25-8 season, Coach Rick has an overall record of 296-88 at age 37.

I get zero coaching points

Oh shit, a bunch of sick job offers come in, North Carolina, Indiana, and Texas among them. I can't just walk out on Bert Draughan like that. I turn all of them down.

One of my assistants got hired away so I have to replace him. I decide hire a new guy Garik Toole, who has A+ teaching, C+ offense/defense, and A- discipline. That teaching rating is a pretty big deal and should help my guys improve.
We have one scholarship to fill. We want Kim Kone!
On the last day of recruiting, he signs.
I get the coaching bonus point for four first international recruit.
Here's the schedule for next year: @ St. Joe's, @ Duke, @ Northwestern, @ Louisville, vs. Southern Illinois, vs. UIC, @ Kansas, then I'm playing in a tournament called the Gossner Foods Holiday Classic, @ Cincinnati.
Year 13
Here's a first look at the roster:
To be continued.
Aiming to be back with Year 13 on Monday. A couple things:
Reader Evan made a ridiculously sick Leathernecks Recruiting Database. Holy shit, this is amazing. The map! The 'good kid, good family' column! Do I need to start going by Ricky Texas??
Back Monday, hopefully. Take care of yourselves and take care of each other.