Welcome back to Western Illinois' quest for greatness in College Hoops 2K8. You can find a full explanation of exactly what we're doing here + spoiler-free links to previous seasons on the About page of this website. Share it with a friend!
Here's a recap of everything that happened last season:
We set out to avenge a heartbreaking loss to Indiana in the opening round of the NCAA tournament with a team that entered the new season rated as a 97 overall. We had two seniors and three juniors in the starting lineup with a rotation that went 10-deep.

After starting the year 1-3, we rebounded to pick up a few impressive non-con wins, sweep the Summit League once again, and earn a No. 6 seed to the NCAA tournament.

We defeated No. 11 seed Syracuse in the opening round and knocked off No. 3 seed UCLA in the round of 32 to advance to the Sweet 16 for the fourth time in program history. We were done in by a cold shooting night against Texas once we got there, ending the season with a 91-81 loss to the Longhorns.

Our two best players — small forward Austen Kleinzweig and shooting guard Borislav Grimes — each turned pro as juniors at the end of the season.

We landed two new players on the recruiting trail: five-star JUCO center Timon Suotamo and four-star small forward Wilky Henry.
---
Here's a look at our roster heading into Year 16:
The new reality for our Leathernecks is both good news and bad news for the growth of the program: we're sending guys to the league early to live their dream of playing in the NBA, but it comes at the cost of building the best possible team here in Macomb.
There's really no way to prepare for losing your two best players as underclassmen, which is what happened when Grimes and Kleinzweig each decided to declare for the draft after their redshirt junior seasons. That's especially true when only one player in program history had left early before — Phil Powell, way back in Year 10. Even with their departure, I'm feeling slightly more optimistic about our chances this season than I was originally. Let's run the through the lineup real quick.
PG Brandin Price, redshirt sophomore, 83 overall: The 6'5 guard enters the starting lineup after playing a small role off the bench last season as a freshman. Easily the team's best three-point shooter (90 rating) and passer (89 rating), though he has a slow release on his jumper and a tendency to bypass open looks. Not particularly quick, strong, or explosive, and needs to improve his awareness at both ends. I'm giving him the Tyrese Haliburton comp. Former No. 50 overall recruit with C- potential.

SG Kim Kone, redshirt junior, 86 overall: Our first ever international recruit, Kone entered the program out of France as a 6'4 point guard rated as a 65 overall, which made him our lowest-rated freshman since I took over as head coach per Evan's Leathernecks Recruiting Database. Since then, he's grown three inches and blossomed into a jumbo combo guard who steps into a featured offensive role for his final two years of eligibility. He has A or A- ratings in close range finishing, passing, ball handing, speed, and quickness. He's the second best three-point shooter on the team rated as a 79. B- potential.

SF Garik Frye, redshirt senior, 91 overall: Steps into the starting lineup after averaging 9.2 points per game as our sixth man last season. He's a monster physically (6'8, 224 pounds) with A- ratings in close range finishing, ball handling, speed, and offensive and defensive awareness. Monster offensive rebounder and vertical jumper with a 95 rating in both categories. Only has a 67 rating in three-point shooting. Former No. 113 overall recruit (No. 16 SF) with C- potential. Projected first round pick.

PF Vernard Fulton, redshirt freshman, 81 overall: We've decided to start Fulton because he feels like one of the best long-term prospects we've ever had. Blessed with B+ potential, Fulton already holds B ratings in rebounding and shot blocking with B+ defensive awareness and three-point shooting. I believe he's our first freshman starter since Year 3. Former No. 30 overall recruit and No. 3 at his position.

C Roberto Djordjevic, redshirt senior, 92 overall: Needs 573 points to pass Lubos Hatten as the program's all-time leading scorer. Reigning conference player of the year after averaging 18.7 points per game (616 total points) as a junior. Rated as an A- or better in the following categories: close range finishing, three-point shooting, free throw shooting, layups, ball handling, passing, low post offense and defense, steals, speed, quickness, strength, stamina, and offensive and defensive awareness. Former No. 171 overall recruit (No. 9 center) with B- potential. Projected top pick.
I love the size in our starting lineup with a 6'5 point guard, 6'7 shooting guard, 6'8 small forward, 6'8 power forward, and 7'1 center.
We're going to have four bench players in the rotation: center Sidney Dupre gets 15 minutes, power forward Cam Medina gets eight minutes, small forward Renardo Verdejo gets nine minutes, and point guard Angel Keita gets 14 minutes per game as a redshirt freshman.
We also welcome two new players to the team: small forward Wilky Henry (74 overall, C+ potential) and JUCO center Timon Suotamo (76 overall, A- potential). Both will redshirt. Suotamo becomes the second player to reach the 'A' threshold in potential after Phil Powell. Both Fulton and Suotamo feel like likely early entry NBA draft candidates a few years down the line.
Recruiting
We have four scholarships to recruit for this year. We need everything but small forward. I decided to use my first visits on the following players:
SG Gus Barber out of Mobile, Alabama, rated No. 27 overall and No. 8 at his position

PF Allan Cunningham out of Gresham, Oregon, rated No. 67 overall and No. 11 at his position
We also offered Mr. Basketball out of Idaho point guard Ferdinand Chancler (No. 29 overall, No. 13 at his position) and center Jeromy Miles (No. 170 overall, No. 12 at his position) out of Plano, Texas.
---
We will start the season rated as a 94 overall.
First game: @ No. 2 Duke
We open the season at Cameron Indoor Stadium against the Blue Devils, who begin the year ranked No. 2 in the preseason polls. Former Leathernecks recruiting target Fats Geiger is now a senior starter at point guard for Duke, rated as a 91 overall. Because our fanbase has never let go of Fats, we decided to stream this game on Twitch on Tuesday night.
As always, we watched a simulated game; I didn't actually play. The game should begin when you click play (if not, it starts at the 11-minute mark).
***
***
***
***
***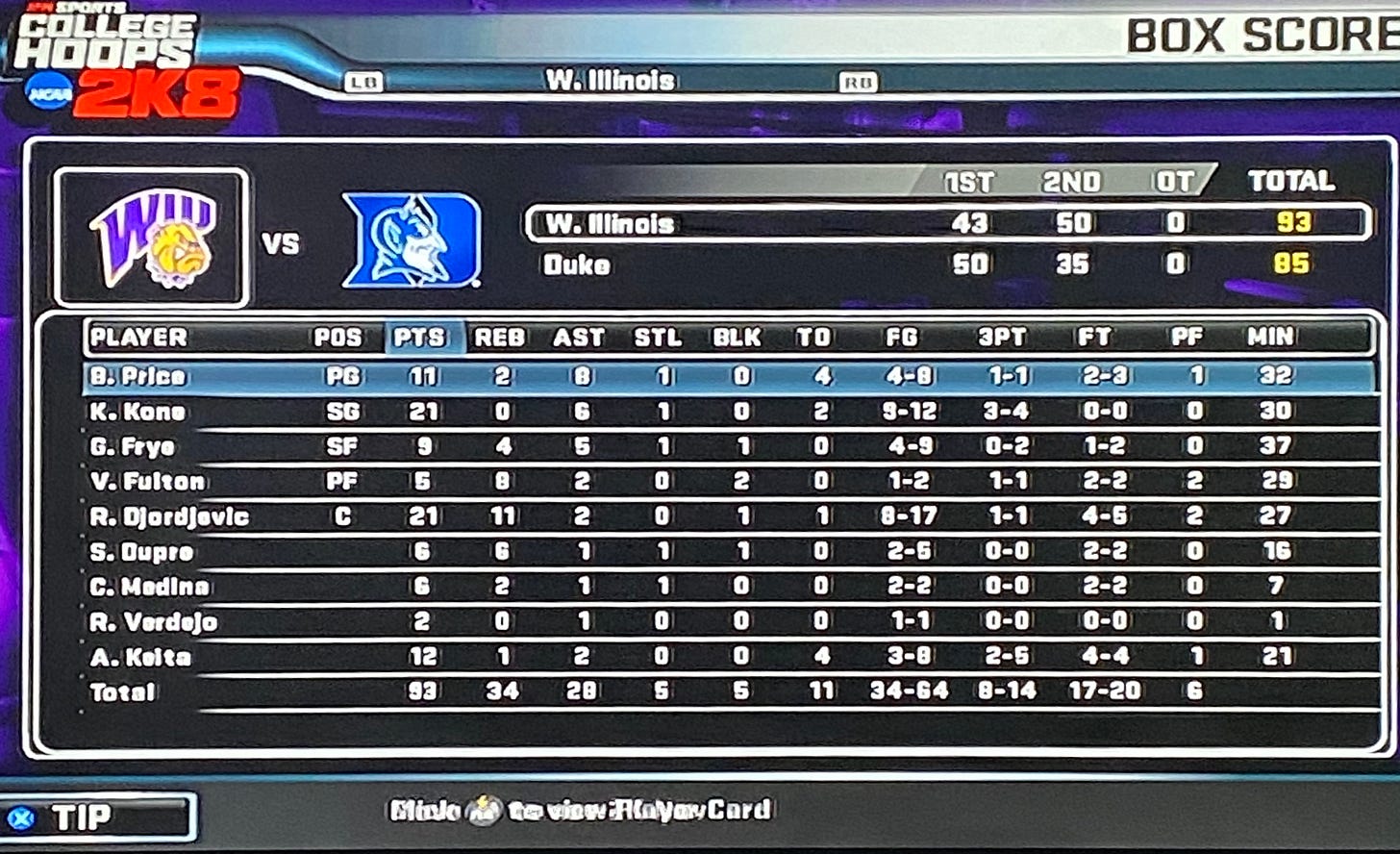 WIN, 93-85! SECOND HALF TEAM, LET'S GO.
I am *shocked*. We really just went into Cameron with four new starters and beat the No. 2 team in the country. It was all Kim Kone (final line: 21 points and six assists) in the first half, drilling catch-and-shoot threes and using his speed to get to the rim. Jorts took us home with a dominant second half to finish with 21 and 11. Reader Abby clipped this ridiculous post move that put us up six with under four minutes left — we love to see it.
Truly a remarkable effort by the squad. I just sort of assumed this was going to be a rebuilding year with so much turnover, but if we can beat Duke on the road, we can beat anyone.
We have one more game before the week is over: @ Illinois. The Illini are only rated as an 82 coming into the year, but it's never easy to win in Champaign. Can we start 2-0?
Boom, 87-54 win. Another Jorts takeover with 28 points. He's gunning for that all-time scoring record. I also love the defensive pressure out of the starting backcourt, with Kone and Price combining for eight (!) steals.
As we sim to the next week, Barber has offers from LSU and Alabama. Oh well. We replace him with shooting guard Jud McDonald, the No. 58 overall recruit who averaged 22 points and 3.5 steals per game in AAU.
Our next game is against Indiana. Yes, I'm still mad about that tournament loss in Year 14.
Win, 78-74! Eat it, Hoosiers. We're really 3-0. Jorts is just going to drop 20 every game, huh? I also love the line from Price. That should be the first of many quality games in his college career.
We finish off the week by going on the road to face the team that eliminated us in the Sweet 16 last season: Texas. The Longhorns are ranked No. 22 in the latest poll. I want 4-0. I need 4-0.
Damn, 81-75 loss. I am encouraged that we kept it close the whole game. Jorts goes off once again, and Price and Frye also had nice performances in the loss. Nothing wrong with 3-1.
As signing week begins, my center recruit Miles gets an offer elsewhere, so we ditch him and extender a scholarship to Jameel Jordan, the No. 10 center out of Rockford. Our only game this week is against Vanderbilt. I am shocked to see the Commodores are ranked No. 2 (!) in the polls.
Well damn, we lose 106-84. What a beatdown. Jorts scores 29 points, but it isn't nearly enough. We're now 3-2.
Next game: @ UConn, the reigning national champs. The Huskies were top 10 last week but have tumbled to No. 16 after losing a game. This is still a big test:
Hell yeah, 85-72 win. Jorts is a machine. Great to see our three starters on the perimeter all reach double-figures, too. We finish the week with early conference games against Fort Wayne and UL-Calcutta, both of which we win easily.
As early signing period ends, Joseph and McDonald both sign elsewhere. Well, shit. The pickings are really slim among centers. I decide to offer Pat Giddens, the No. 115 overall prospect and the No. 7 center, out of Brockton, MA. This is kind of a hail mary, but I'm not getting a top-20 guy at the position if we miss on him. We decide to play it more conservatively with the other open scholarship, offering point guard Tron Whaley — No. 128 overall and No. 47 at his position — out of Riverside, CA.
The next two games are against Kentucky and UNC. I'd embed the grimacing face emoji here if I could.
Loss to Kentucky, 73-64. Jorts was our only scorer in double-figures with 29 points. Also UK's starting point guard is Berry Deane, who we once recruited.

Loss to North Carolina, 66-64. Ugh. Our freshman Fulton scores 15 points to lead the way. Jorts only scored 10, which I think is the first time all year he's been held under 20.
Back on the recruiting trail, Chancler gets an offer, which is greatly annoying me. We drop him and add point guard J. Stivers, the No. 31 overall player in the class and No. 15 at his position, out of Mount Prospect, IL. We also have Cunningham at 100 percent interest with Washington right behind despite the fact that they haven't offered him yet. We love Cunningham's size and rebounding ability (19.1 per game!!) at the four:
The final non-con games are in a tournament called the Golden Bear Classic. We open with Lehigh, and smoke them 82-63, behind 38 points from Djordjevic. Oh my. That sets up a game with Arizona State the next day, and we win that one too, 92-85. Price and Kone combine for 31 points and eight assists, while Frye finishes with a 23-7-3 line in the win.
Now it's time for conference season. Our last Summit League loss happened in the conference tournament title game against Oral Roberts in Year 10. We haven't lost a regular season game in the Summit League since Year 6. I kept saying on the Twitch stream that I had a bad feeling we could drop one this year and …
Yup, it happened.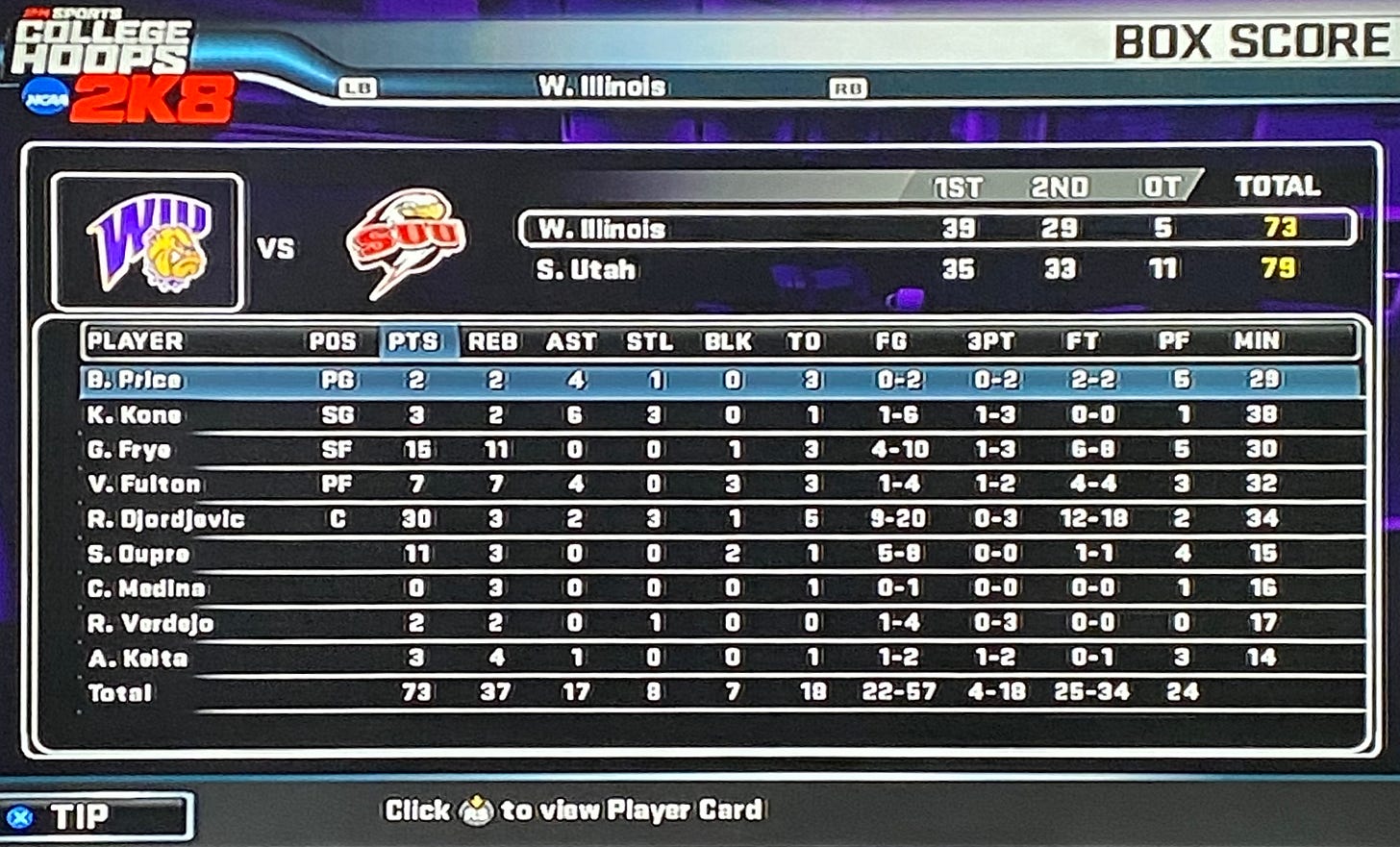 Loss in overtime, 79-73. I even predicted it would be Southern Utah, who are clearly the second best team in the conference at 79 overall. Miserable. I wanted the Summit streak to go forever.
We win the rest of our conference games and end the regular season at 23-5. As I pull up the end of season stats, I notice that Roberto Djordjevic has a) broken Raymond Harper's single-season scoring record at 25.9 points per game, b) broken Lubos Hatten's all-time scoring record.
Some other numbers that jump out to me: Kone shoots 49 percent from the field and 45 percent from three, Price shoots 47 percent from three but 38 percent (???) from the field, Fulton hits 39 percent of the 33 three-pointers he attempted.
We head into the Summit League tournament likely needing to win it to earn a berth to the NCAA tournament.
Summit League tournament
UL-Calcutta is our opening round opponent.
We win, 87-69. Kone leads the way with 18 points in the win. Next game: vs. Fort Wayne.
Win, 78-48. Kone and Jorts each score a team-high 18 points. Now it's time for the title game against … Southern Utah. After a five minute discussion on the stream about if we should watch this game, we decide to sim it. And ….
WIN, 95-53. Fuckin' blowout, baby. Five Leathernecks reach double-figures in scoring as we win the rubber match in the season series and punch our ticket to the big dance.
What seed are we gonna get???
NCAA tournament
The Leathernecks are …. a No. 10 seed with a first round matchup against No. 7 Louisville. We enter the tournament as a 97 overall. The Cards are a 98 overall.
Here's a look at our roster:
This is normally the part of the newsletter where I watch the game myself and cut up a video of the highlights. But we're not going to do that this time. As I simmed up to this point on the Twitch chat on Tuesday night, the viewers suggested we hold a bracket contest and a sponsorship drive to the newsletter. So that's what we're going to do.
Here's are the rules:
Sean from Hoops Insight was kind enough to create an incredible app that will store and score the brackets. It works on both desktop and mobile. The only way to get a link to the bracket app is to be on a Twitch stream before our game against Louisville tips off. That includes tonight's Twitch stream (July 2) for Deke Van and Seattle SuperSonics and also Sunday's Twitch stream (July 5) for Western Illinois vs. Louisville in the NCAA tournament. Both the Sonics and Leathernecks games will tip off at 8:30 p.m. ET but I'll start the streams a little early to give people time to get the app link and fill out their bracket.
I'm doing it this way so that this contest doesn't get totally out of control with thousands of entries. You want in on the bracket contest? Just join a Twitch stream tonight or Sunday and we'll give you the link.
The app is really intuitive. As you chose your winners in the first round games, the matchups will subsequently appear in the round of 32, ect. We're using what I consider to be standard scoring: you get one point for correctly guessing a round of 64 matchup, two points for correctly guessing a round of 32 matchup, four points for getting a Sweet 16 game right, eight points for the Elite Eight, 16 points for the Final Four, and 32 points for the national champion.
Entry to the bracket contest is free. I'm also going to do a sponsorship drive for the newsletter. Both the recommended donation and the maximum donation is $1. Venmo me a buck at Ricky-ODonnell-1 and use the thumbs up emoji as your note, if you feel so inclined. Thanks to everyone for the generosity so far.
Here's the full bracket:
I suggest zooming in on your screen a little bit to read those team names.
The only information I'm giving you on these teams is a look at the rosters. You can find all of the rosters on the left side of the bracket (East and West regionals) here. You can find all of the rosters on the right side of the bracket (South and Midwest regionals) here. The rosters in the photo gallery should be ordered by the teams facing each other.
I recommend studying up on those rosters and matchups, then hopping on to a Twitch stream to get a link to the bracket app. All brackets must be submitted by 8:30 p.m. ET on Sunday night.
The winner will get a prize. It will be cool and I'll leave it at that.
---
Here's the rest of the original post:
Sonics Twitch stream information
Game: Seattle SuperSonics regular season games in NBA 2K20 with Deke Van
How to watch: My Twitch channel
Date: Thursday, July 2
Tip-off time: 8:30 p.m. ET // 7:30 p.m. CT. The stream will start a little earlier.
We'll give out a link to the bracket app during the stream.
Western Illinois Twitch stream information
Game: Western Illinois vs. Louisville, 2023 NCAA tournament, opening round
How to watch: My Twitch channel
Date: Sunday, July 5
Tip-off time: 8:30 p.m. ET // 7:30 p.m. CT. The stream will start a little earlier.
If we win: Round of 32 game vs. the winner of No. 2 Dayton vs. No. 15 UC Riverside will happen immediately after.
We'll give out a link to the bracket app before tip-off.
If Western Illinois wins both games, we'll stream the Sweet 16 and potentially the Elite Eight on Tuesday. If we lose in one of the first two rounds, we'll simulate the rest of the NCAA tournament bracket on Sunday.
Also, read new Thahn!
You guys will want to be on the Twitch stream tonight or Sunday. This is going to be fun.