Can Deke Van bring the Seattle SuperSonics back to glory?
Welcome to a new spin-off series from the Leathernecks Cinematic Universe. This project will be played as a simulated MyLeague in NBA 2K20 while integrating certain characters from our Western Illinois dynasty in College Hoops 2K8. If none of that makes sense to you, head to the About page of this website for a full explanation of what we've been doing here.
---
In desperate need of a cash influx in the wake of a global pandemic, the NBA has turned to expansion. The league has announced its 31st team will be the rebooted Seattle SuperSonics.
An anonymous rich person is bankrolling the operation after falling hard for the sport over the last few years, though not at the professional level . Their interest in hoops was sparked by the Cinderella-turned-blueblood located in Macomb, Illinois that has captured the heart of the country: the Western Illinois Leathernecks.
Upon winning his second national championship, Ricky Charisma finally gets a job offer he can't turn down. Coach Rick has agreed to join Seattle in a part-time capacity — not on the bench, but in the front office. He's been tasked with running the new-look Sonics from afar as he continues to turn Western Illinois into a powerhouse.
Almost 13 years after they left for Oklahoma City, the SuperSonics are back.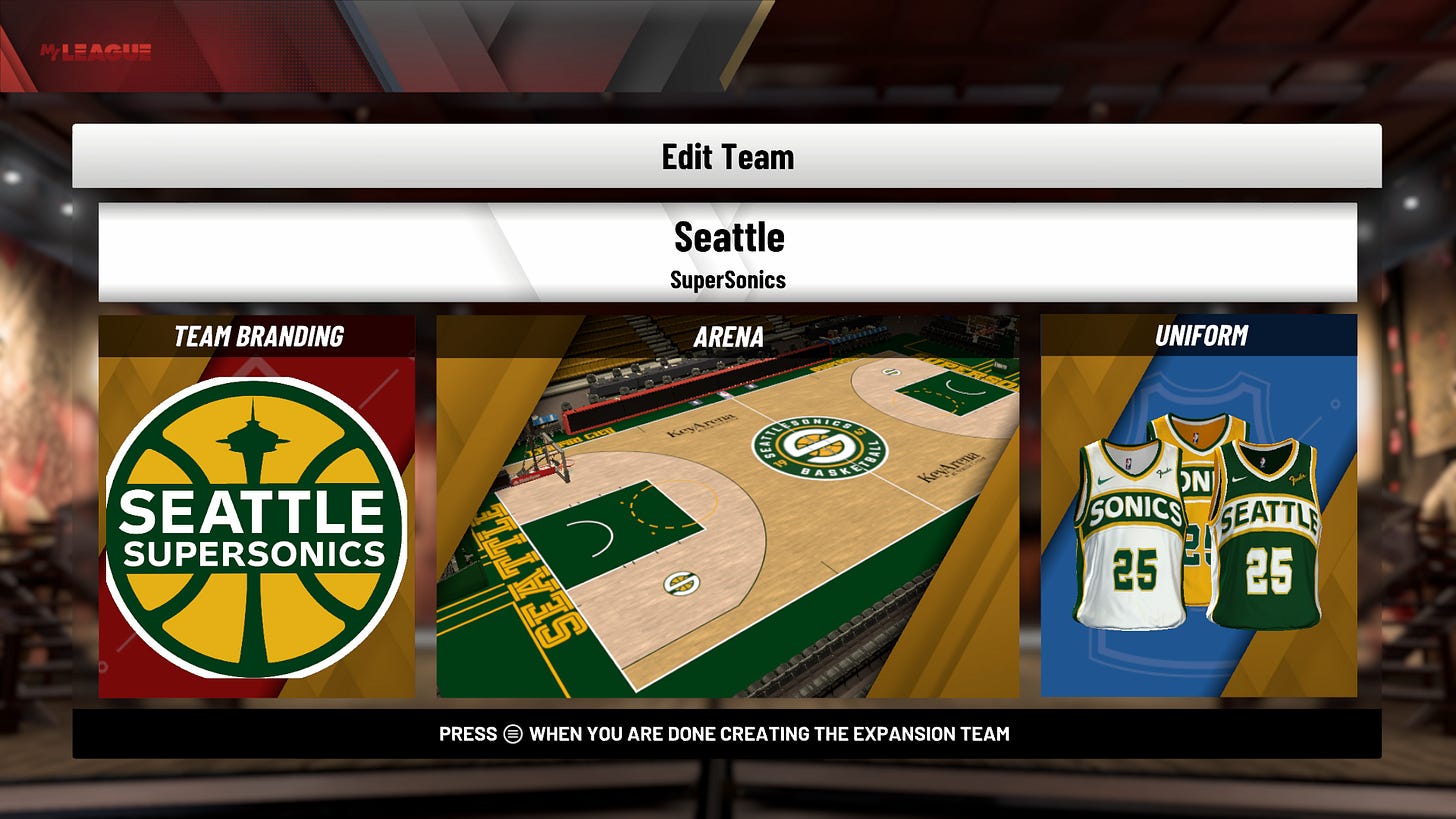 As I stood on a ladder 10-feet above the hardwood in the RCA Dome in Indianapolis, my right hand grasping a pair of scissors preparing to again cut down the nets as a national champion, I wondered: what more was left for me to accomplish?
Before my 40th birthday, I had taken a program that had never reached the NCAA tournament and made them the the biggest story in sports. Three Final Four appearances, two national titles, a conference winning streak seven years in the making. The Leathernecks were America's team. Yet as I cut into the nylon, I felt the beginning of an existential crisis. I was unfulfilled.
I didn't want to leave Macomb, at least not yet, especially not after Billy Assel embraced me in the locker room and whispered in my ear he was coming back for senior season. At the same time, the competitor in me needed a new challenge. When I got back to the hotel, my clothes still damp from the champagne, the phone rang. It was Deke. My old friend was off in Greece preparing for a game the next night. We talked for hours, reminiscing about the brief moment in time when he was one of the most visible athletes in the world. Unfortunately, that wasn't enough to get him an NBA shot. Scouts thought he was still too slow to defend in space, still too inconsistent with his outside jump shot, still a few pounds overweight because he never said no to another Keystone. At the ripe age of 28 years old, it felt like his moment in this game was passing.
The phone rang again the next morning. The voice on the other end said they were the new owner of the Seattle SuperSonics. They offered me a top job in the front office. I told them I couldn't leave Western just yet. They said I wouldn't need to. I could call all the shots from Macomb and try to help build another dynasty, this time in the NBA.
"I don't know much about professional basketball," the person told me. "But I do know there are a lot of Leathernecks in the NBA right now."
It didn't take long for me to accept. The Sonics were my second favorite team growing up behind my hometown Bulls. I had a Shawn Kemp poster on my wall. It was bullshit Seattle ever lost its team to begin with — especially just as they were beginning to assemble one of the greatest young cores ever. Who could forget the photo of Russell Westbrook on draft night holding up a Seattle jersey even though he was never going to play there? I couldn't make up for the sins of Clay Bennett, but I could help them build something new. And maybe I could reconnect with some of my former players along the way.
Our first task was the expansion draft. Every team was able to protect eight players — the rest were fair game for us. Here's a look at the highest rated players available.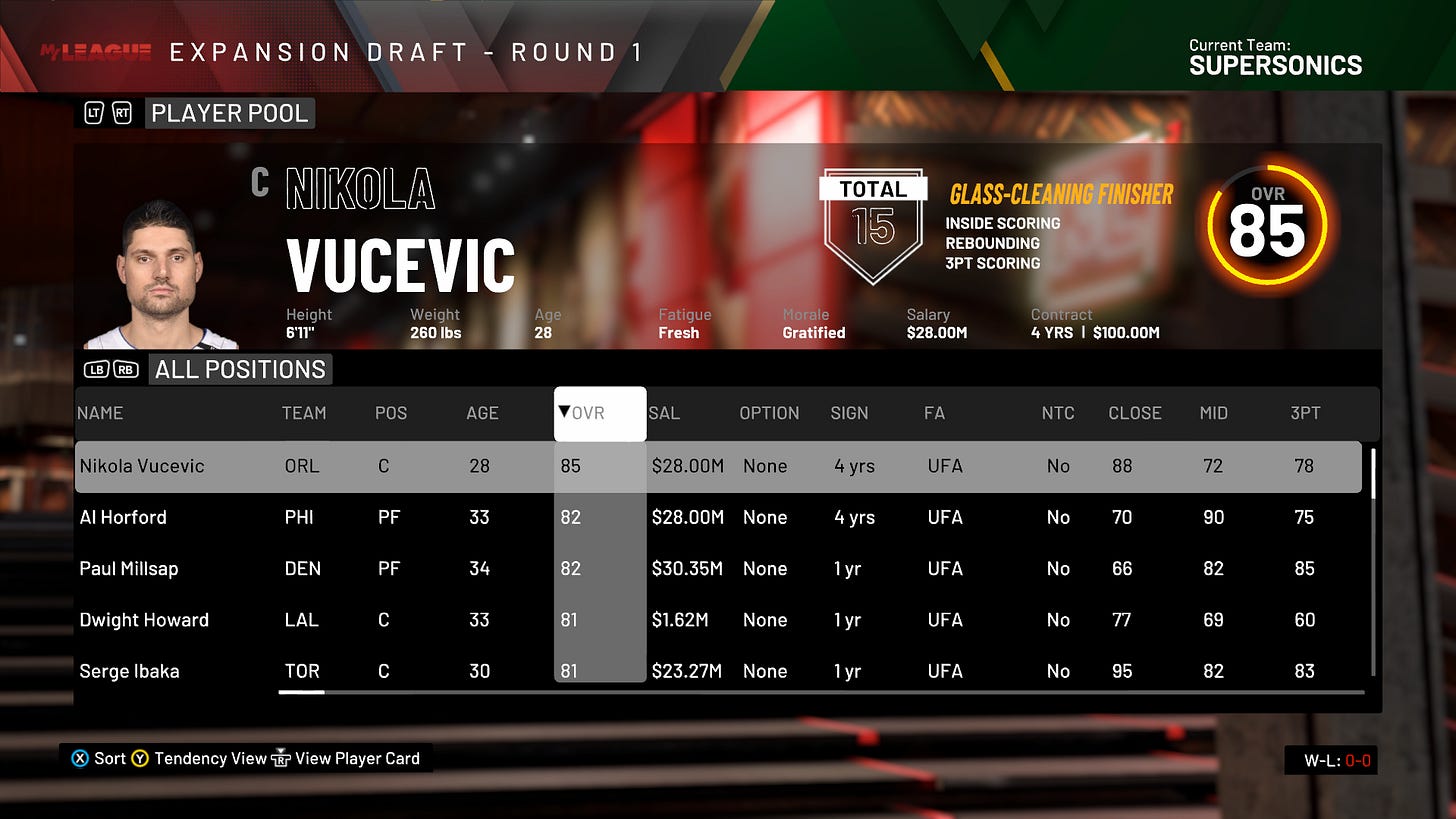 Remember that we have to work within the salary cap and think about the long-term future of the franchise. We don't want to pay Nikola Vucevic $28 million annually for the next four years, especially since I know I have an old friend waiting in Europe for his first NBA opportunity.
With our first pick, the Sonics go with do-it-all forward and two-time SEC Player of the Year who also happens to have the highest potential rating on the board. That's rookie power forward Grant Williams, who was left unprotected by the Boston Celtics. Williams is our first pick and comes with a team-friendly four-year rookie contract.
Here's how we fill out the rest of the roster in the expansion draft, sorted by overall rating.
Expansion draft results
PF Paul Millsap, 82 overall, 34 years old
One of the most underrated players of his generation. Should be a solid two-way forward in our starting lineup. Has one-year, $30.35 million left on his contract.
C Dwight Howard, 81 overall, 33 years old
The former MVP candidate is coming off something of a career resurgence with the Lakers. Still rated as an elite rebounder in the game and should be able to provide enough rim protection to keep our defense afloat. Has one-year, $1.62 million left on his contract.
SG Caris LeVert, 80 overall, 25 years old
Skinny 6'6 shooting guard with range on his jump shot, above average playmaking chops, and A- potential. Makes only $2.6 million this season before averaging about $17 million per year over the next three seasons. Could be a prime trade candidate.
SG Bogdan Bogdanovic, 79 overall, 27 years old
Scoring guard who has proven himself to be instant offense during the start of his NBA career with the Sacramento Kings. Gives us more shooting and a skilled finisher at the rim. Has one-year. $8.53 million left on his contract.
SG Jeremy Lamb, 79 overall, 27 years old
Another scoring guard who could be a trade candidate. Has three years, $31 million left on his deal.
SG Malik Beasley, 78 overall, 22 years old
Gifted three-point shooter who was buried on a deep Denver bench after becoming the No. 19 overall pick in the 2016 draft. Looked great in a brief stint with the Wolves. Has one-year, $2.7 million left on his contract.
PG Mike Conley, 78 overall, 32 years old
One of the more complete lead guards of his generation, Conley started to see his play decline as he was traded to Utah this past season. He'll be a short-term fix at point guard. Has two years, $67 million left on his contract.
SG Matisse Thybulle, 77 overall, 22 years old
Elite defensive wing prospect left unprotected by the 76ers. We get him at the start of his rookie scale contract.
PF Carmelo Anthony, 77 overall, 35 years old
There was no way I was passing on Melo even in his diminished state. A scoring legend on a minimum contract.
SG De'Anthony Melton, 76 overall, 21 years old
Elite defensive guard prospect with developing playmaking chops and A potential. On a one-year, $1.4 million contract.
C Joakim Noah, 74 overall, 34 years old
One of my favorite athletes of all-time. Will be the 'director of vibes' for this team.
PG Ty Jerome, 72 overall, 22 years old
Crafty but slow-footed 6'5 point guard who became a first round pick for the Suns after leading Virginia to a national championship. Gives us a decent developmental point guard in the pipeline.
PF Grant Williams, 71 overall, 20 years old
Versatile 6'6 forward with razor sharp defensive instincts, impressive strength, intriguing passing ability, and developing shooting chops. On a rookie contract with A+ potential.
SF Dylan Windler, 71 overall, 23 years old
Shooter out of Belmont to give us some additional wing depth.
Now we need to find a head coach
Well, there's a guy named Michael Stauffer rated as an A in offense and an A in defense with A+ potential. That will do.
I also remake the rest of the staff, replacing my CFO, assistant GM, assistant coach, head scout, and trainer with the best available options at those positions.
Deke Van gets his shot in the NBA
I said all I needed to say about Deke Van's illustrious college career when we inducted him in the Leathernecks Hall of Fame. Here's what he's been up to since then: after going undrafted as a fifth-year senior in 2015, Deke's been playing all over globe, rebounding from a brief and disastrous stint in Taiwan to become a standout in Greece and eventually make a name for himself in Euroleague .
Now 28 years old, I call Deke and offer him a contract. He's officially a Sonic.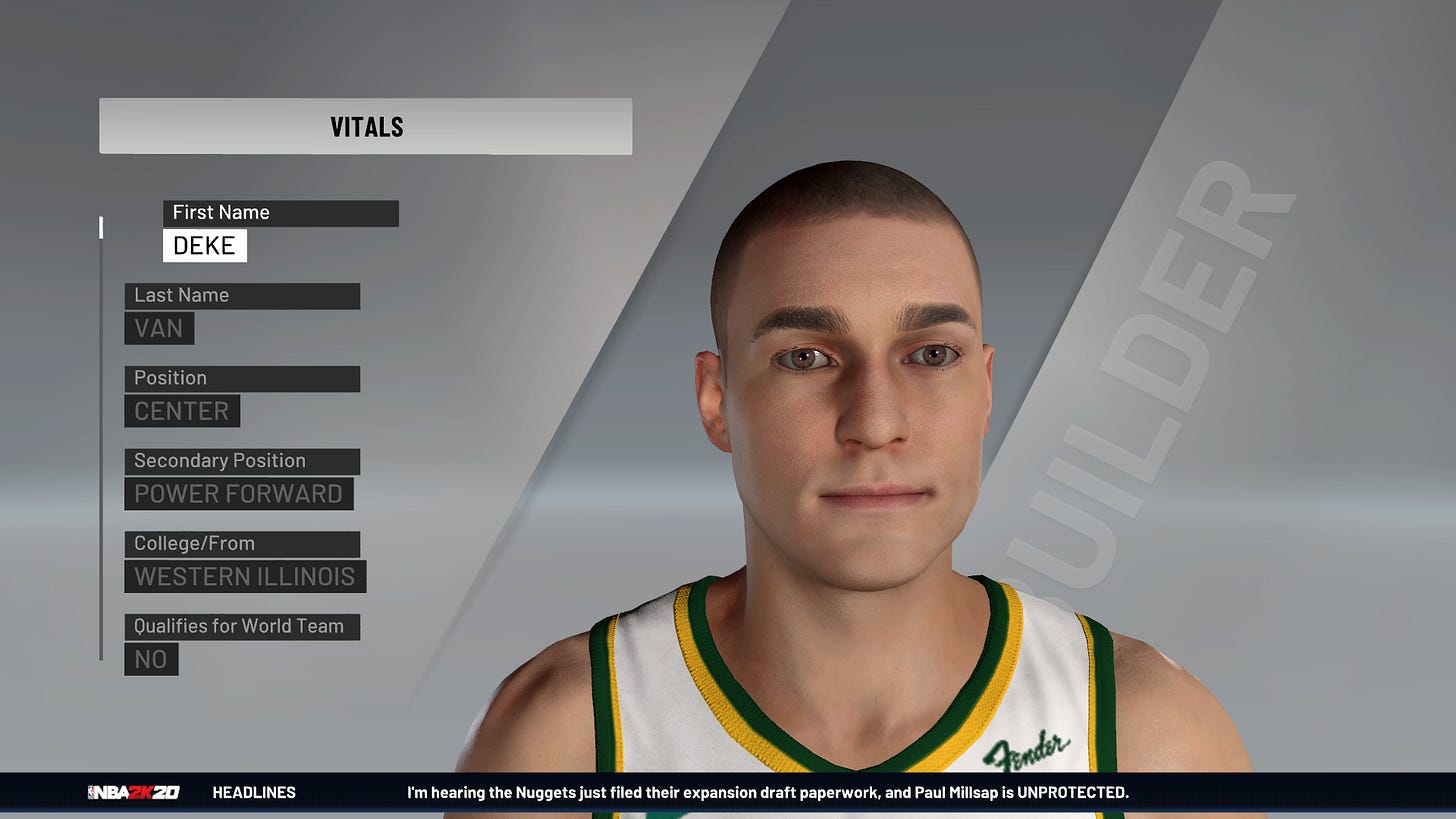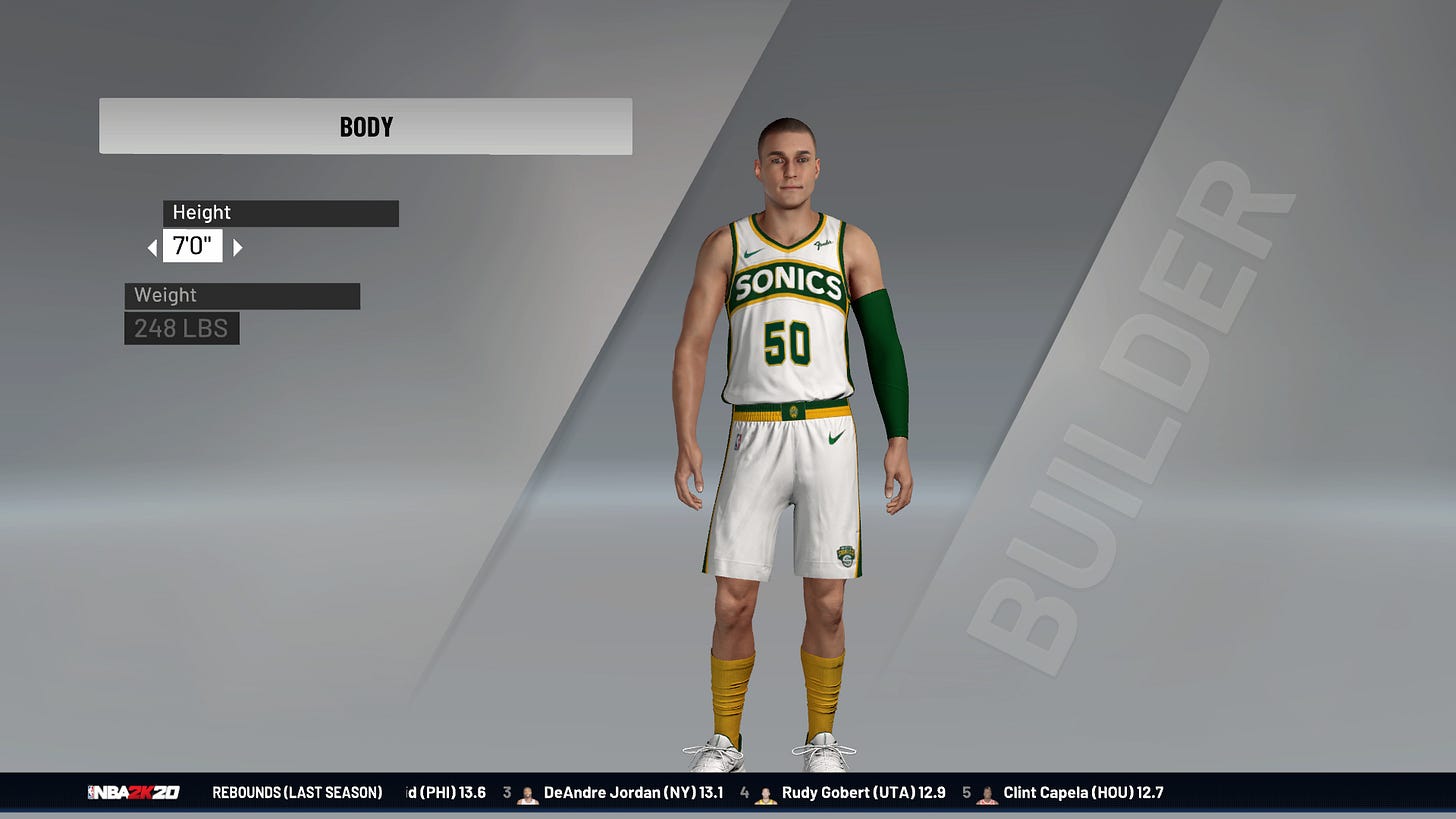 Deke will begin his NBA career rated as a 75 overall. He signs a four-year deal worth just over $7.53 million total. Not exactly the most player-friendly contract imaginable, but hey, I'm not his agent. At least my dude has finally earned a spot in the NBA.
Deke down to his college playing weight of 248 pounds, and he's confident his best basketball is in front of him. Like, very confident. He's watched the way big men like Marc Gasol and Brook Lopez have adapted to the demands of the modern game and he's spent his time in Europe trying to become skilled in all the ways we traditionally associate with a Euro big man.
"I haven't peaked yet," Deke tells me as he signs his contract. "You're going to have to pay me a lot more on my second deal."
We're also adding other Leathernecks players
So far there have been five Western Illinois players drafted into the NBA since I took over the program. We're creating all of those players in NBA 2K20 and making them free agents. Each player will have a skill set closely associated with how they played in college. Here's a list of players available to be signed:
Lubos Hatten, 83 overall, 24 years old

Phil Powell, 81 overall, 24 years old

Giovanni Nelke, 77 overall, 28 years old

Nikola Stockman, 72 overall, 23 years old

Burton Ballinger, 77 overall, 23 years old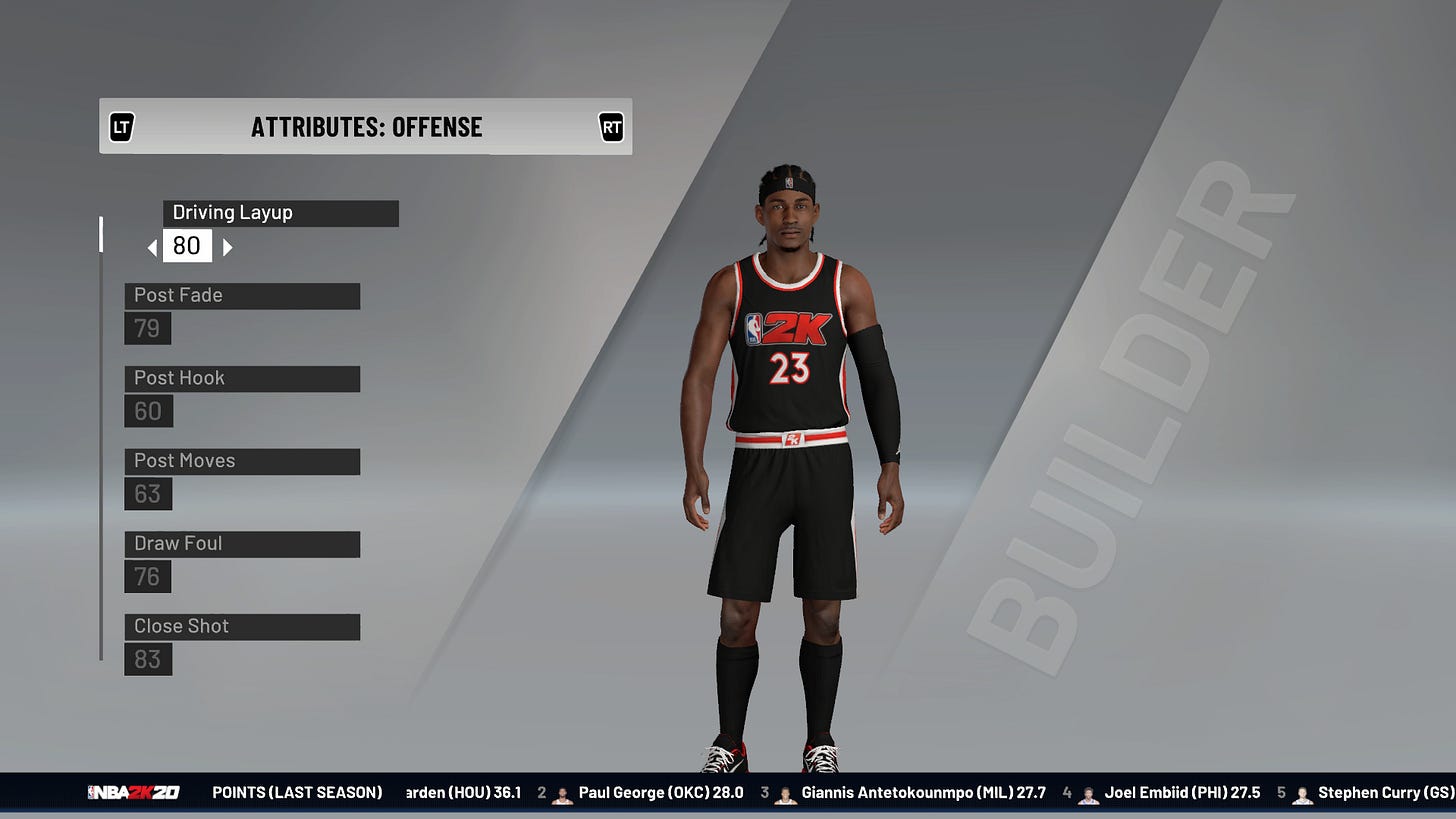 Hatten (pictured above) and Powell are each asking for more than $25 million per season. We don't have the cap space to sign them. We do have enough wiggle room to add Nelke, though.
We sign the Nelk Man to a four-year, $24.79 million deal. He's rated a 77 overall and has moved back to the original position we recruited him at — point guard — in the pros after starting at both shooting guard and small forward for us at Western Illinois.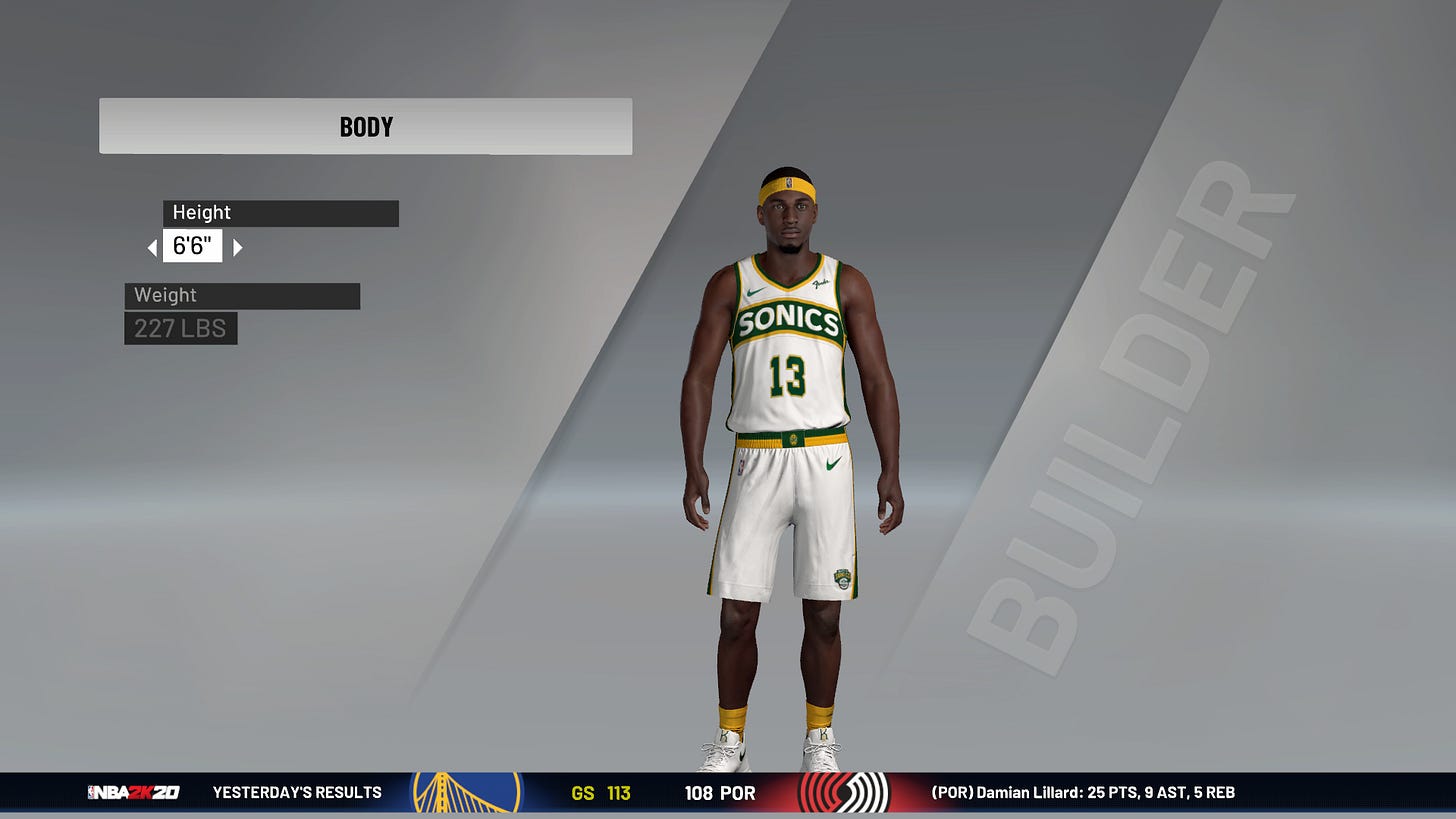 We're also going to be creating all future Leathernecks who get drafted as incoming prospects in NBA 2K20. After our 2020 national championship year, Bert Draughan and Ime Terrell were each selected. Terrell was projected as a top pick, while Draughan was projected as a lottery pick. Both are added to the game and will be available in the draft after this season.
To do this, I edited prospects who played Terrell and Draughan's positions and were projected in a similar range. I didn't look at their ratings. Terrell is now the projected No. 6 overall pick, while Draughan is projected at No. 14 overall.
Now we need to make some trades
We need to be honest with ourselves: we're building for the future, not looking to compete this year. With that in mind, we have a few objectives: a) create max cap space for next offseason, b) acquire additional first round picks.
My first trade is a big one with the Minnesota Timberwolves.
Sonics get: James Johnson (76 overall), Evan Turner (73 overall), and 2023 unprotected first round pick
Wolves get: Mike Conley (78 overall) and Jeremy Lamb (79 overall)
Conley was going to be making $34 million the next two seasons, which simply didn't mesh with our timeline. We already had comparable players at Lamb's position and he was going to be making $10.5 million for three more seasons. Both players we get back have expiring deals and we're pumped to also add a future first rounder.
That leaves us with only Nelke at point guard, and I'm not sure he's ready to be a starter yet. We still have some surplus depth at shooting guard, so we decide to make another deal: Caris LeVert for Devonte' Graham.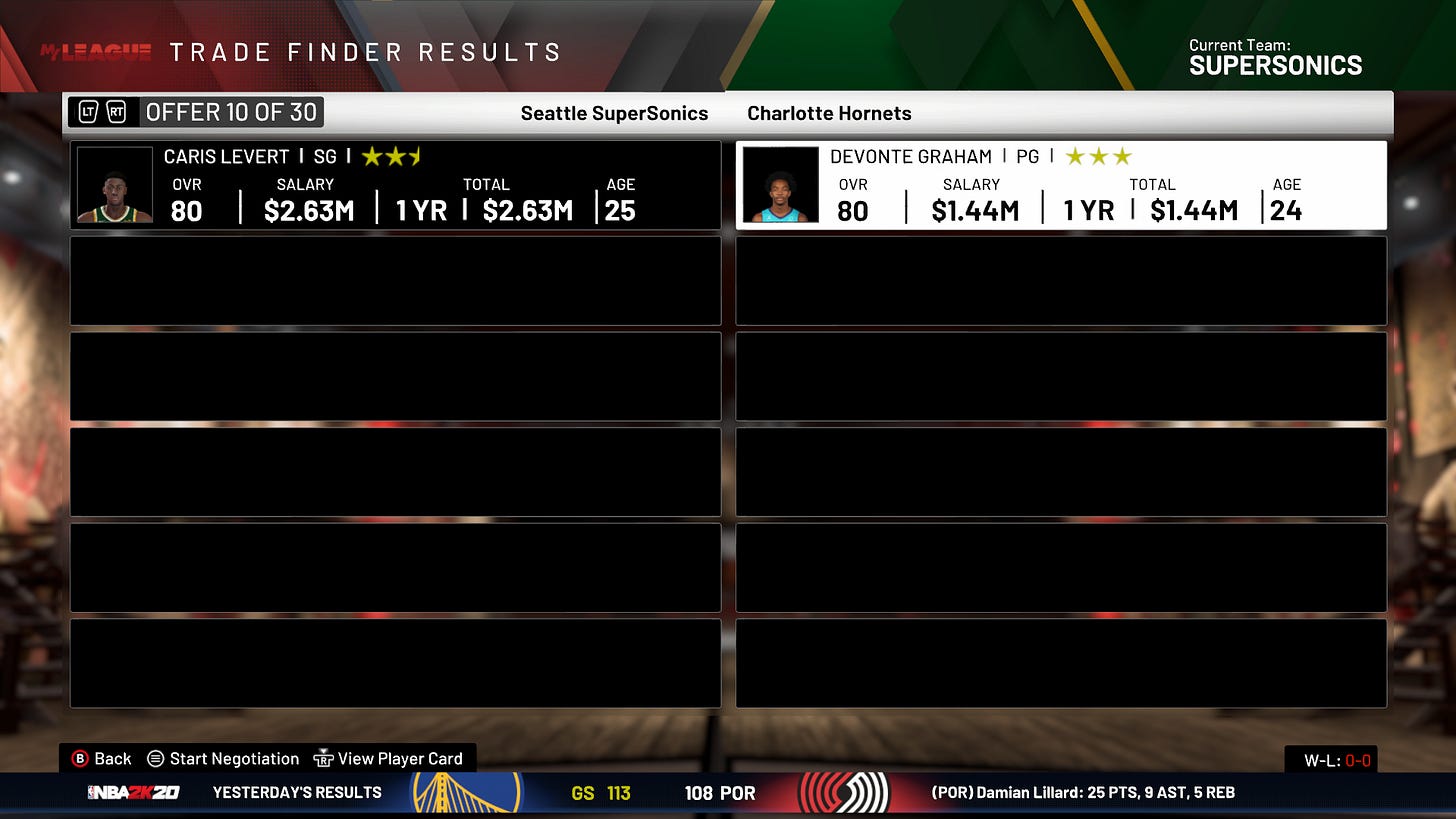 Both players are rated an 80 overall and have A- potential. Graham is a year younger. While LeVert starts a big extension after this season, Graham is on an expiring minimum deal and will be in-line for a big payday next year. On a personal note, I was a fan of Graham's game at Kansas and seeing him blossom into one of the league's biggest surprises with Charlotte this season was one of my favorite storylines of the year. Graham is a deadly pull-up shooter with deep range and could be a long-term option for us at point guard depending on how he develops.
We still need a small forward, but before trying to trade for one, I experiment with moving Thybulle there from shooting guard. He goes up three points to an 80, which rules. He's our starter.
I notice that James Johnson has a player option for $16 million next season, so I want to move him for an expiring deal. I accomplish that by trading Johnson and a second round pick for Marvin Williams.
We currently have $9 million in cap space for this season, and we're going to have a ton of cap space for next season with Millsap ($30.35 million), Turner ($18.61 million), Marvin Williams ($15 million), and Bogdanovic ($8.53 million) among our expiring deals.
This will be a rebuilding year, but we're set up to make some big moves in the offseason.
Here's a look at our rotation
We're going to play a 10-man rotation. These are the starters: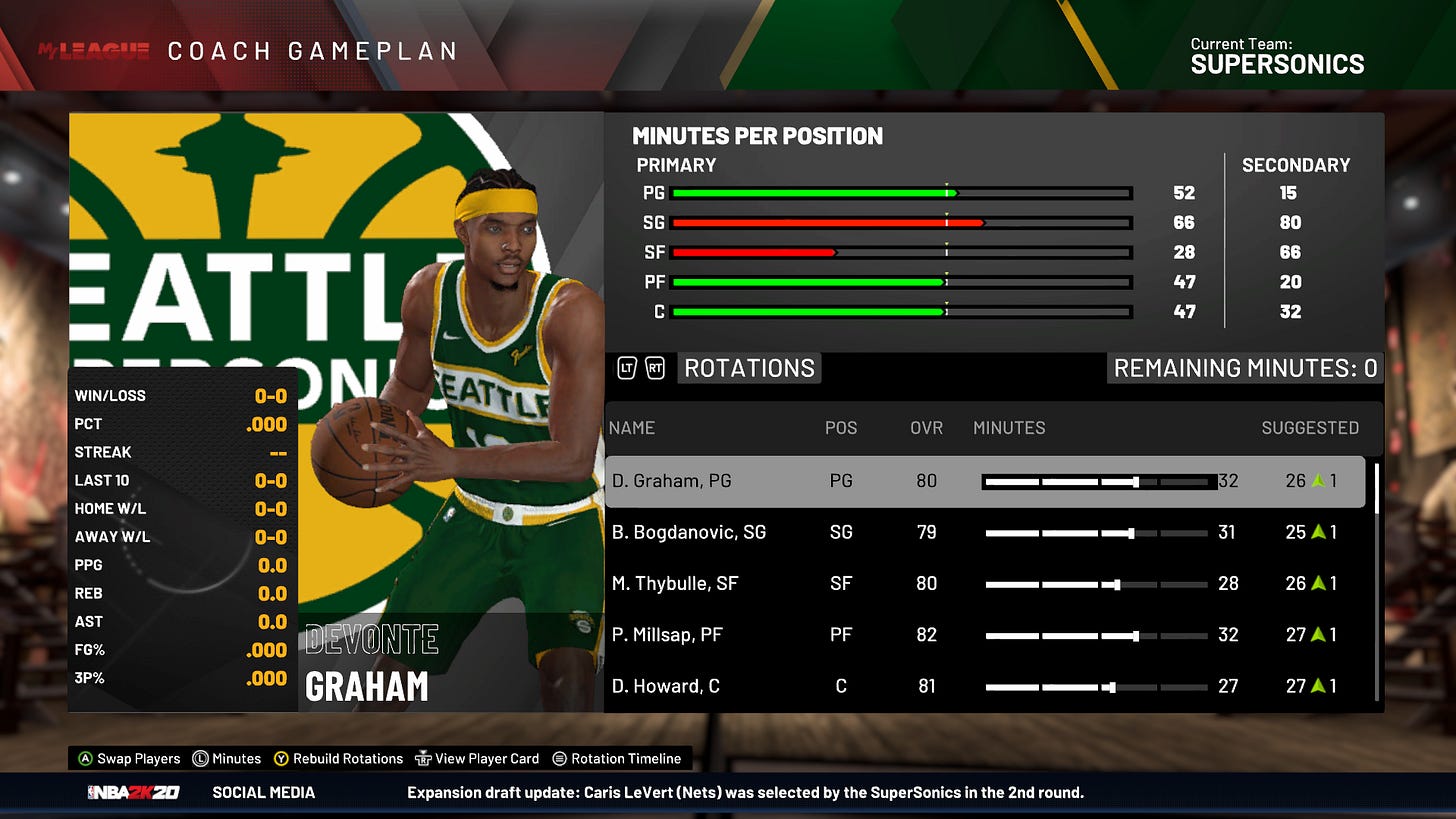 And here's the bench — starring Deke Van and Giovanni Nelke: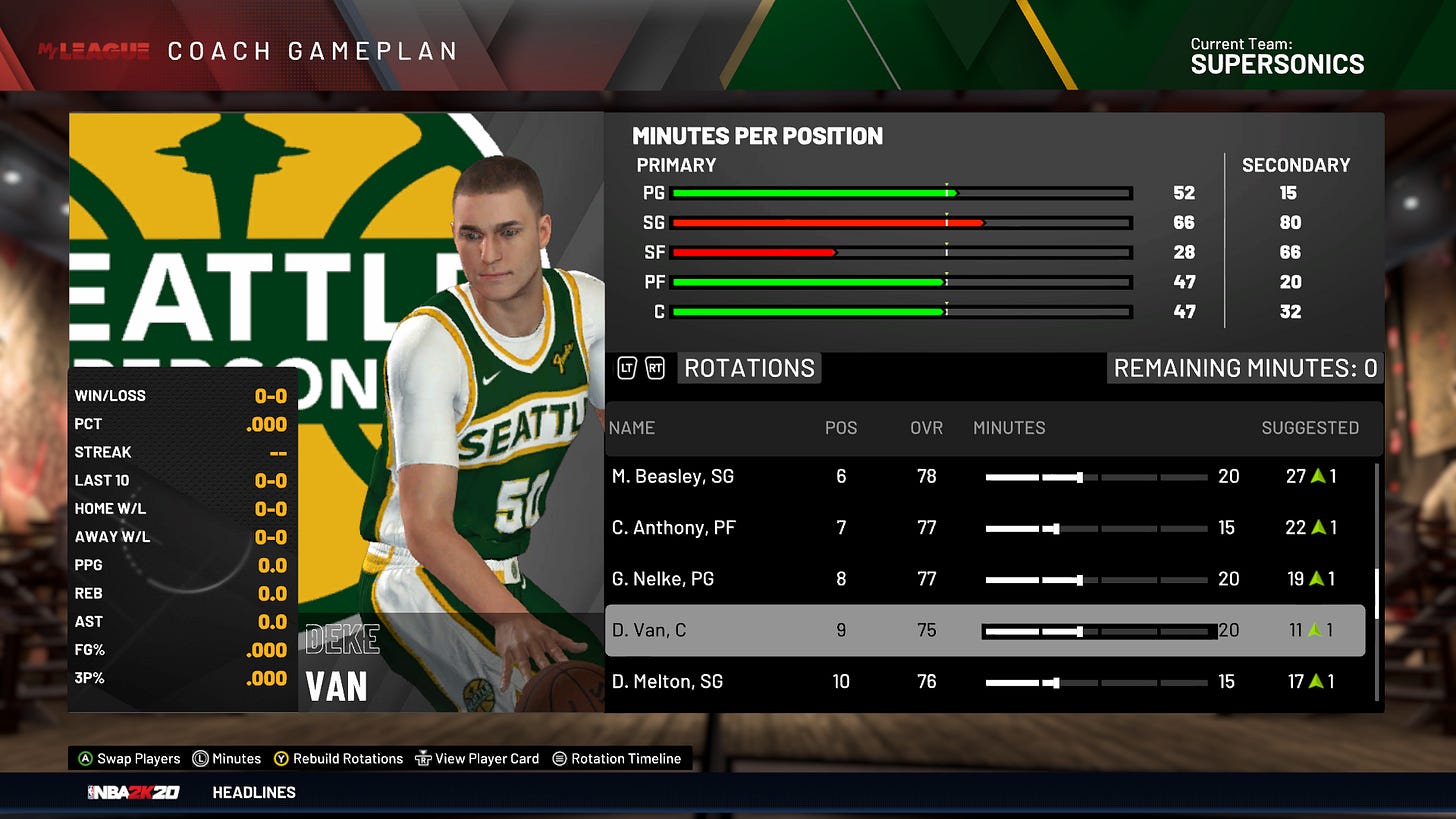 The starters should be very good defensively in the front court, but don't have a ton of scoring punch — Bogdanovic and Graham will have to carry us on offense. The bench is undersized on the perimeter and might be terrible defensively save for Melton, but has a few guys who can give the offense a shot in the arm.
Deke and Gio also get mentors
One cool thing about NBA 2K20: players can be 'mentored' by veterans on their own team who play similar positions to earn three 'skill badges'.
I have a choice with Deke: do I want his mentor to be Dwight or Melo? With Dwight, Deke would be gaining pick-and-roll, rim protector, and intimidator badges. With Melo, Deke could pick up volume shooter, difficult shots, and quick first step.
Both good options — but c'mon, I'm going with Melo.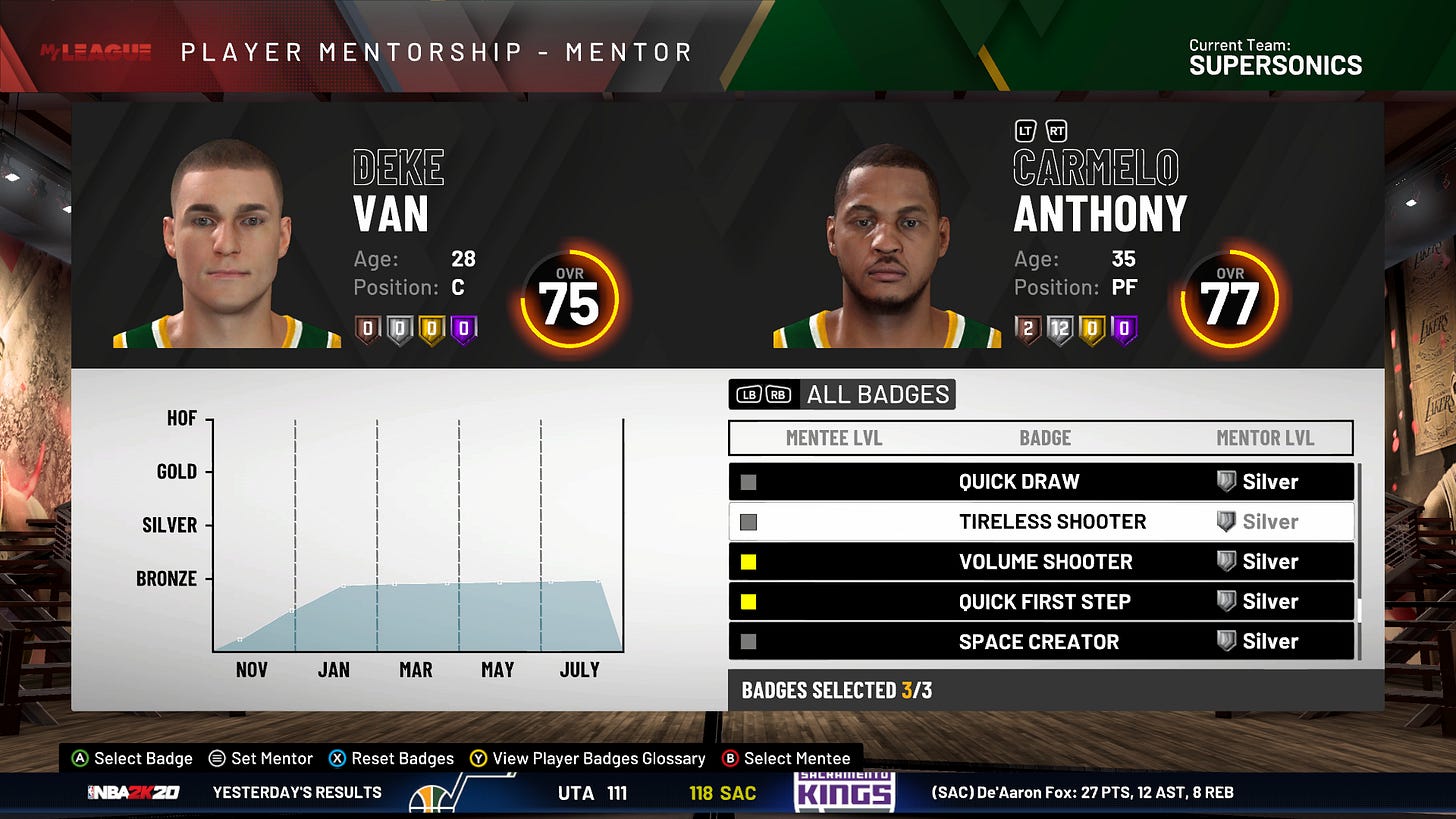 I choose Bogdanovic to mentor Nelke (in hindsight, Conley would have been great at this). Nelke is going for badges difficult shots, catch-and-shoot, and deadeye.
Here's a look at the schedule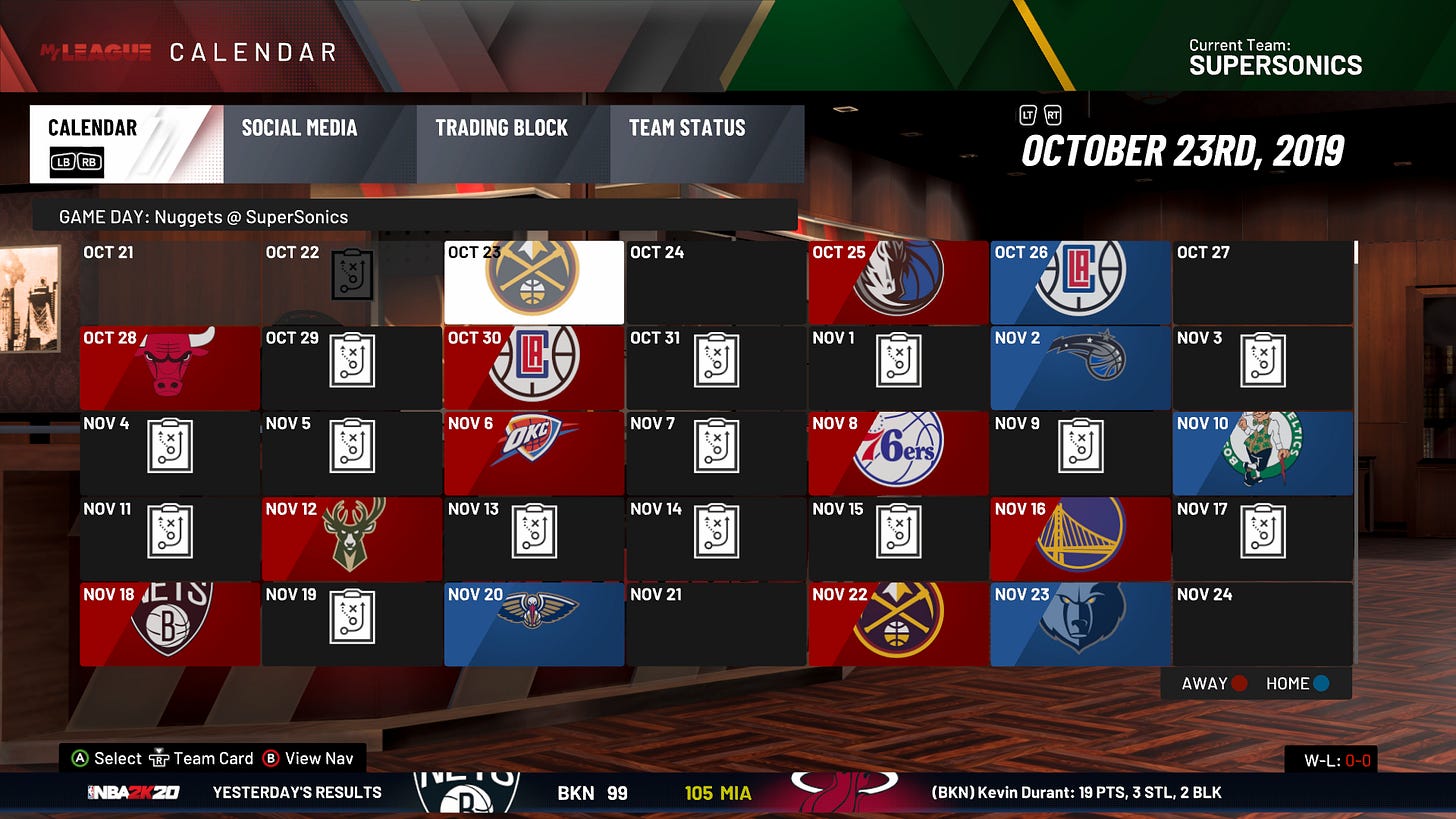 We're going to sim through the first month of the season.
Our first week: vs. the Nuggets, then a back-to-back @ Dallas and vs. the Clippers.
Win vs. Nuggets, 101-94. Monster game from Dwight (21 points, 11 rebounds), double-doubles for Graham and Millsap, and ridiculous per-minute production from Melton (13 points, five assists, and three rebounds in 16 minutes). Deke in his first game: seven points and five rebounds in 17 minutes. He even hit a three!

Loss vs. Mavericks, 126-119. Luka goes off for 30-13-8 on us. Sounds about right. Bogdanovic and Graham each score 21 in the loss. Van: eight points, two rebounds on 3-of-4 shooting. Nelke: 11 points and two steals on 5-of-6 shooting.

Win vs. Clippers, 111-106. WHAT. Oh my, Deke with 21 points on 9-of-11 shooting in his third career game! CAN I GET SOME DEKES IN THE CHAT?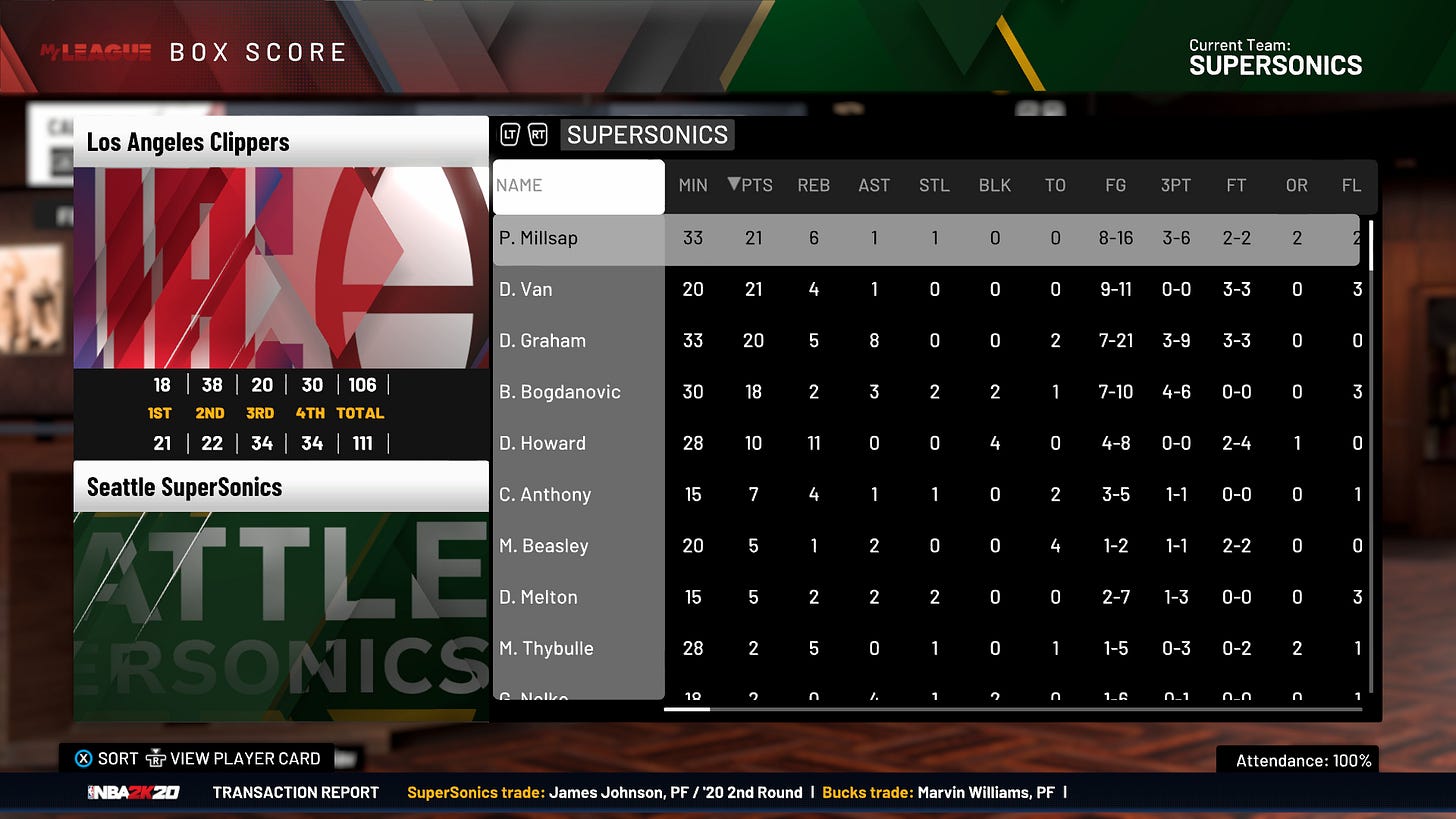 I see that Lubos Hatten has agreed to a deal with the Spurs, and Phil Powell signs with the Grizzlies. I wish them the best. Schedule for this week: @ Bulls, @ Clippers, vs. Magic.
Win vs. Bulls, 97-95. Bogdanovic leads the way with 20 points, Nelke adds 10 points in 17 minutes, Van finishes with one point, six rebounds, and four assists in 20 minutes on 0-of-2 shooting.

Loss vs. Clippers, 112-99. Lou Williams pops off for 30. Graham leads us with 22 points and six assists. Van and Nelke combine for seven points on 2-of-5 shooting.

Loss vs. Magic, 105-103. Millips leads us with 19 points and seven boards in the loss. Nelke has 11 points and Deke finishes with five points and nine rebounds.
This week: @ Thunder, @ 76ers, vs. Celtics.
Loss vs. Thunder, 122-97. Dwight with 23 and 11 but it's not enough.

Win vs. Sixers, 111-97. We had eight players in double-figures in scoring and no one with more than 16. Hell yeah. Nelke drops 10 points, and Deke adds three points and 10 rebounds.

Loss vs. Celtics, 115-108. Kemba torched us for 27. Deke has his best scoring game in a while, finishing with 15 points and four rebounds on 6-of-7 shooting (1-for-1 from three).
This week: @ Bucks, @ Warriors
Loss vs. Bucks, 129-104. Giannis murks us. Nelke: 13 points off the bench.

Loss vs. Warriors, 126-120. The Splash Brothers aren't hurt in this simulation. Bogdanovic leads the way with 24 points, Nelke adds 10 points and six assists.
We get offered Luke Kennard for Thybulle and a second and turn it down. We're 4-7 after our first 11 games. That's the worst record in the West, but to no one's surprise there are six worse teams in the East. Classic.
We're doing a Sonics stream on Saturday
Want to watch Deke Van and the Seattle SuperSonics ball out with me? Join me on a Twitch on Saturday. I'm still undecided on the parameters, but I'm thinking thinking seven-minute quarters. We'll probably stream a few games. The Nets, Pelicans, Nuggets, and Grizzlies are on the schedule.
What: Seattle SuperSonics live stream in NBA 2K20
When: Saturday June 20 at 9 p.m. ET
Where: My Twitch stream
Our Western Illinois series will be back on Sunday.
Year 14 will publish on Sunday. Read the conclusion of Year 13 if you haven't already.
REMEMBER: You can still buy a Deke Van shirt.
This Sonics series is to be continued. I'm thinking we go at a slower pace with this one. Feel free to comment on the site or email me at richardpodonnell@gmail.com with any suggestions or questions.