Welcome back to Western Illinois' chase for greatness in College Hoops 2K8. You can find a full explanation of this project + spoiler-free links to previous seasons at the About page of this website. Share it with a friend!
Here's a recap of everything that happened last season:
---
Here's a look at the roster heading into Year 17:
We return three starters from last year's Elite Eight team, but have to deal with losing one of the best players in program history — center Roberto 'Jorts' Djordjevic — to graduation. This year's team looks massive on the perimeter, deeper on the bench, and possibly a little light on shooting. We're really solid across every position, but don't have a clear-cut star. Will one emerge? My hope is that all five starters will be rated in the 90s by season's end. We'll see.
Let's run through the lineup real quick.
PG Brandin Price, redshirt junior, 87 overall: Returning starter at point guard. Easily the best shooter and passer on the team. Great size at 6'5 but not overpowering physically. Has one of the slowest releases on his jump shot in basketball history. Former No. 50 overall recruit with C- potential.

SG Kim Kone, redshirt senior, 90 overall: Coming from France as our first ever international recruit, Kone entered the program with lowest rating (65 overall) of the Coach Rick era. He showed marked improvement each year with B- potential and became a starter for the first time last season. Now he's tied for our highest rated player as our lone senior. Kone has elite size at 6'7 with A+ speed, and A grades in ball handling and passing. He's also the second best three-point shooter on the team with an 82 rating.

SF Cam Medina, redshirt junior, 86 overall: Medina gets the nod at the three, falling one point as he moves from power forward to start on the wing. He's competent as a ball handler (C+ grade) and passer (B grade) and has the same three-point shooting rating (68) as last year's starting small forward Garik Frye. He should give us another strong rebounder, shot blocker, and interior defender in the lineup. He's also absolutely massive for a wing at 6'9, 257 pounds. Former No. 123 overall recruit.

PF Vernard Fulton, redshirt sophomore, 87 overall: Became the first freshman to start for the Leathernecks in 13 years last season. Active and intelligent defender who showed in ability to force turnovers in the NCAA tournament. Has Graded as an A- in speed and quickness, A in vertical leaping, A- defensive awareness. Has a funky release on his jump shot that has drawn comparisons to Shawn Marion, but he's a good three-point shooter (B+ rating) for a four. Former No. 30 overall recruit with B+ potential.

C Sidney Dupre, redshirt junior, 90 overall: Finished as our third leading scorer last season (9.4 PPG) despite being our sixth man. Fits the profile of a rim protecting/rim running center. Elite shot blocker (A rating) with no shooting range on offense. A+ grade in strength, A grade in dunking, A- grade in speed. Much better at offensive rebounding (A+ grade) than defensive rebounding (B- grade). Former No. 144 overall recruit with C potential.
We're going to play four guys off the bench for a nine-man rotation. Junior small forward Renardo Verdejo (nicknamed 'Vino' by the Twitch chat), sophomore point guard Angel Keita, and sophomore center Timon Suotamo (whose A- potential is tied for the highest in program history) will each get 15 minutes per game. Freshman Wilky Henry will get six minutes per game after moving from small forward to shooting guard.
We also welcomed four new freshmen to the team this year. All of them are redshirting.
PF Allan Cunningham, 77 overall, C+ potential: Elite size for a power forward at 6'11, 264 pounds, and also has three-point shooting ability. I can't wait to unleash him a year or two from now. He should be a stud.

C Pat Giddens, 76 overall, A- potential: Powerful 6'9, 270 pound center who becomes the third player in program history to have A- potential.

PG Tron Whaley, 72 overall, C potential: TRON WHALEY

SG Vitor Andrisevic, 67 overall, C- potential: Another disappointing international recruit, but he does go up two points as we move him from point guard to the two.
We played through this season on Twitch on Sunday night. Thanks to everyone who came out. You can watch the stream on YouTube here.
Recruiting
We have one scholarship to recruit for this season. I want the best player available but I need a small forward. We decide to use our two visits on point guard Dominic Cleland, the No. 1 overall recruit out of Schaumburg, IL, and small forward Chas Southall, the No. 58 overall recruit (No. 12 small forward) out of Norman, Oklahoma.
Getting Cleland would bring in two coaching points — for getting the top-ranked player in the class, and for getting my first All-American — so it's worth the risk. Go big or go home, right? Southall also looks really good as a 6'7 wing who averaged 16.7 points, 3.5 assists, 2.1 steals, and 1.5 blocks per game while shooting 44 percent on three-pointers on the AAU circuit. I offer Cleland our only scholarship.
We also need to create a recruit for the first time this year for the winner of our bracket contest. Reader Matt won the contest. He informs me he's the guy who gave Armien Amous (the point guard of our Final Four team in Year 11) the nickname "Moose", which I love deeply. Here's what he told me on the character:
If you want to make me as a recruit I'll be a 6'9" (nice) power forward or center. Defense first...maybe a Zach Randolph type. White dude. Dark hair and beard. Give me a nice sweatband on the left arm, why not.
This is what I came up with:
I've decided we're not going to recruit the characters we create so we can preserve the integrity of the game. Still, we'll follow Matt's recruitment and his college career, and we'll schedule whatever team he eventually commits to. Boswell comes out as a five-star recruit. Congrats to Matt and welcome to the Leathernecks Cinematic Universe.
We're running another bracket contest this season, but you have to read to the end of the post for details on that.
We're rated as a 96 overall to begin the year. Let's get this season started.
First game: @ Vanderbilt
The Commodores went to the national championship game last year, but start this season unranked in the polls. It looks like they lost most of their key players to the draft. This is still a stiff test for a season opener.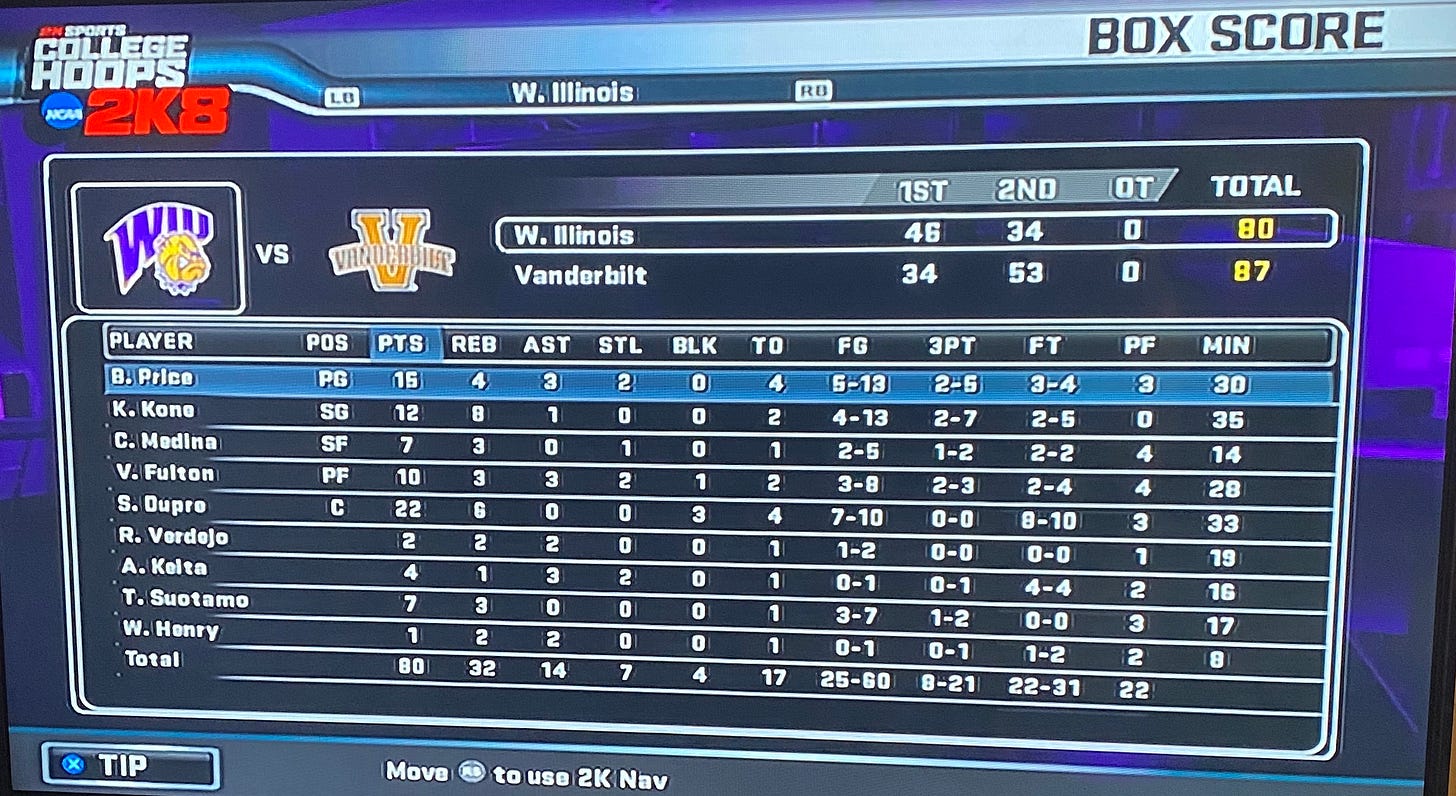 Loss, 87-80. Damn. Sid the Kid drops with 22 and 6 in his first game as starting center, Price packs the box score at point guard, Medina struggles with foul trouble, and we fall on the road. Next game: Georgetown. The Hoyas are rated as a 94 overall.
Woof, 94-74 loss. We shot the ball great (10-of-20 from three) and were still run off the floor. The Hoyas hit 12-of-19 shots from three, which isn't going to cut it. We just couldn't get a stop in the second half.
We have one more game this week: @ No. 1 Georgia Tech. Sheesh. The Jackets went to the Final Four last year and return another killer team this season with five different players tracking to be rated in the 90s by year's end. Is the curse of playing No. 1 ranked teams over now that we finally beat one of them a few years ago?
WIN, 96-79! Cam Medina went wild: 21 points, seven rebounds, and six stocks (steals+blocks). He even went 2-for-3 from deep! Kim Kone's line might be even more impressive: 17 points, nine assists, eight rebounds, four steals. As a team, we finished with 12 steals and eight blocks. That is how you respond to a 0-2 start. I'm hyped.
On the recruiting front, both Cleland and Southall get offers elsewhere, so we have to move on. I extend a scholarship to small forward A.J. Schwartz out of Bloomington, IL, ranked No. 28 overall and No. 3 at his position.
Next up: a road date with No. 21 Michigan State.
Win, 79-78 in overtime! Dupre was huge: 20 and 10 with four blocks. He's off to a really strong start this year. Another good game for Medina (15 points, three stocks). Once again, our defense was flexing in this one, with 13 steals and eight blocks. We finish the week with a game at Arizona State.
Win, 76-60. Dupre with 17 points, nine rebounds, and six blocks. What a monster. Also a nice game from Price, with 14 points, six assists, and three steals.
We have our two weird early conference games next — vs. IUPUI and Southern Utah. We win both easily. Dupre scores 50 combined points across the two games.
As the signing period ends, we have some news: MATT BOSWELL COMMITS TO DAYTON. We'll be sure to get the Flyers on the schedule next year. Schwartz hasn't committed, but he does get an offer from Charlotte that he likes better than ours, so we have to drop him. Bummer. This one scholarship is getting pretty damn hard to fill. After scouring what's left on the recruit trail, we offer small forward Cary Dixon out of Dearborn Heights, Michigan, the No. 27 overall prospect and No. 2 player at his position.
Now we have Hawaii and Southern Illinois. We beat Hawaii 79-73. My players hate me for making that one a home game. Price goes off for 21 points in the win, Vino drops 15 and 7 off the bench. Also Kim Kone with six steals!
Next game is Southern Illinois, which we watched together on Twitch. This is our first time ever seeing the home court — and spoiler alert, it rules. The Salukis are rated a 77 overall coming into the game. The game will start when press play on the video:
***
***
***
Win, 104-68. Kone was amazing, dropping 24 points in 27 minutes on 9-of-13 shooting. Brings a tear to my eye to watch his development since his freshman year. Dupre was also dominant again (25 points and 17 rebounds); it felt like he was grabbing an offensive rebound over SIU anytime we missed a shot. We also got our first looks at Timon Suotamo and Wilky Henry, who both played well. Henry was 2-of-2 from three-point range to finish with nine points. I'm jacked up for his future as our starting small forward.
Our final non-con game comes against Kentucky, who are rated one point better than us at 98 overall. The Wildcats currently sit at No. 8 in the polls.
Loss, 75-58. Shit. Dupre finishes with 22 points, 10 rebounds, and four blocks, but he does it on 6-of-24 shooting. No one else reaches double figures. The loss breaks our seven-game winning streak. We'll enter the conference slate at 7-3 on the season.
Can we run the table in conference after our first Summit League loss in six years last season? Nope. After winning our first 11 games in conference, we drop one to North Dakota State. Ugh. We win out the rest of the regular season to finish 17-1 in conference and 22-4 overall.
Here's a look at our end-of-season stats:
Dupre did a killer job filling in for Jorts — and as a projected second round pick, we're hopeful he'll return for his senior year. I also love the production out of our guards, not to mention both Kone and Price were amazing from three-point range (43.5 percent and 47.2 percent, respectively). Medina also shot the ball super well (45 percent) from three on low volume.
Summit League tournament
First game is against UMKC.
Win, 93-53. All five starters in double figures + Suotamo drops 16 points off the bench. Next game is vs. Oakland.
Win, 101-56. Dupre with 31 points, nine rebounds, and three blocks. Fulton had a nice game for Fulton, too, stuffing the box score with 14 points, four rebounds, two assists, three steals, and two blocks. We face Southern Utah (the team that beat us last year in the regular season) in the title game. We held a poll on the Twitch stream about whether we should watch or sim this game. Sim won out by a narrow margin.
Win, 79-76. Holy shit that was close. Kone with 22 points, five rebounds, and four assists to close out the victory. I wish I could view the play-by-play log to see how we won.
We're going dancing once again, if just barely. What seed will we get? You can watch the full Selection Sunday show here.
NCAA tournament
We're a No. 9 seed facing No. 8 seed Pepperdine in the first round. The winner plays No. 1 seed Ohio State in the round of 32. Jeez, that is a tough draw. Yes, we beat the Buckeyes in the Sweet 16 last year, but it looks like they've brought back everyone and are even more loaded this season.
Here's a look at our roster heading into the tournament: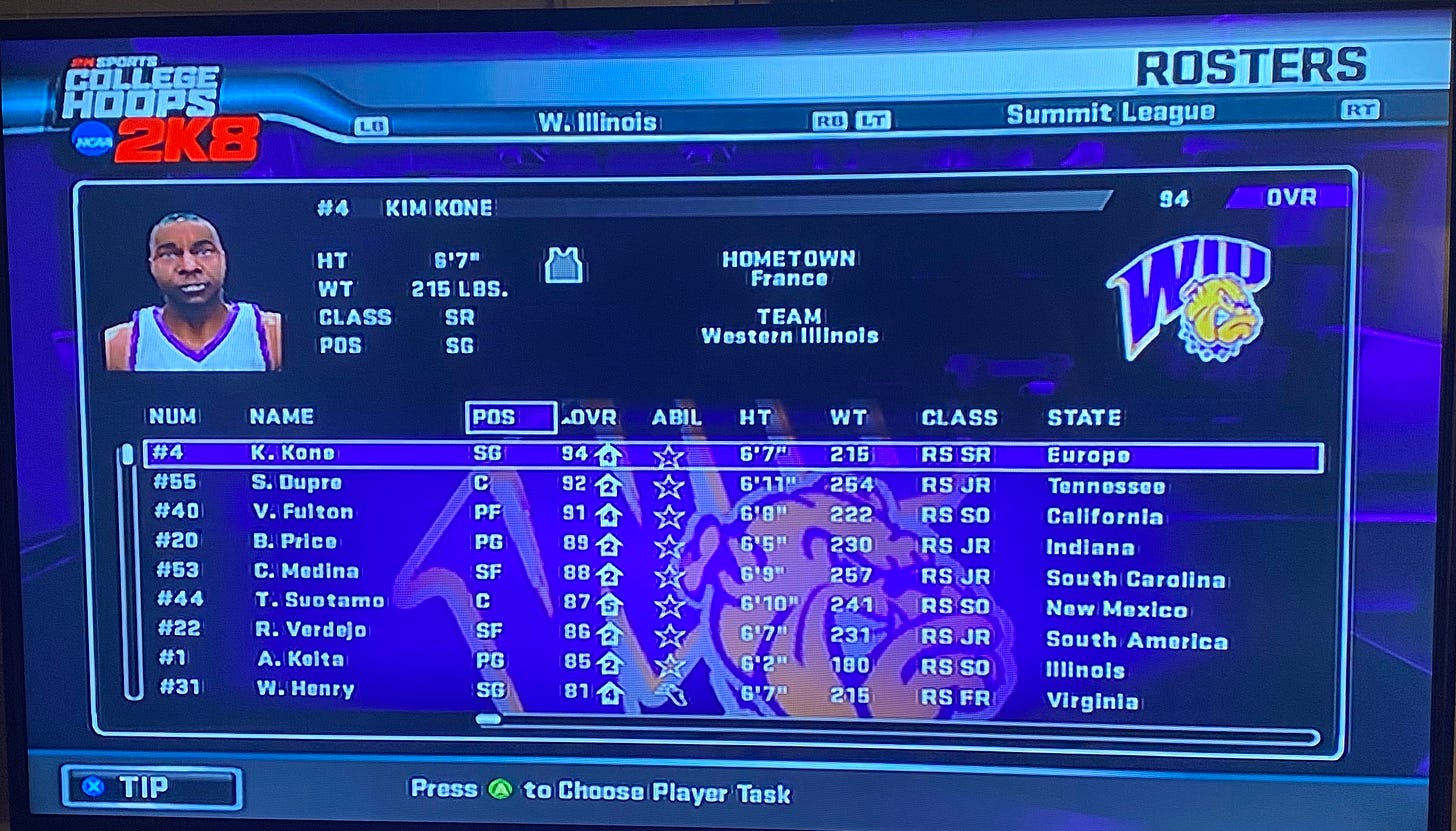 I love that this has become Kim Kone's team. What a story. I'm also super into the improvement out of Fulton (up four points to a 91 overall) and Suotamo (up five points to 87 overall). The dream of having all five starters ranked in the 90s didn't happen, but I feel comfortable saying we have no weak links in the lineup and a really solid four-man group off the bench.
We're a rated as a 99 overall entering the tournament. Pepperdine is a 92 overall. We'll stream the game on Thursday at 8:30 p.m. ET on Twitch. More info on that in a second. But first: let's do another bracket contest.
The bracket contest is happening again
Aw yeah, we're doing a bracket contest with the help of Sean Vinsel from Hoops Insight. Here's what you need to know:
Click on Sean's "app" — which works on both desktop and mobile. You don't have to download anything if you do the former.

Check out the rosters for every tournament team. The West and East Regionals are here. The Midwest and South Regionals are here.

Click on 'Make my picks' to … make your picks

Profit
Here's a look at the bracket:
The rosters linked above should be in order of the teams facing each other.
The prize will once again be the ability to create yourself (or a character) in the game as a recruit for next season + pick an opponent we'll play in the non-conference schedule. It said we had 135 entries last time, which ruled. Sean's app is great and super easy to use. If you have any questions or trouble with this, just respond to this email and hit me up.
No. 8 Western Illinois vs. No. 9 Pepperdine, first round, 2024 NCAA tournament
Here's how the watch the game:
Game: Western Illinois vs. Pepperdine, 2024 NCAA tournament, opening round
How to watch: My Twitch channel
Date: Thursday, July 16
Tip-off time: 8:30 p.m. ET // 7:30 p.m. CT. The stream will start a little earlier.
If we win: Round of 32 game vs. the winner of No. 1 Ohio State vs. No. 16 Hartford will happen immediately after.
I'll leave you with a few links
1) I'll see you Thursday night on Twitch.
3) Go 'Necks.