Welcome back to Western Illinois' chase for greatness in College Hoops 2K8. You can find a full explanation of this project + spoiler-free links to previous seasons at the About page of this website. Share it with a friend!
This post will pick up with our Leathernecks in the Sweet 16 of the 2024 NCAA tournament. Here's a recap of everything that has happened this season so far:
We returned three starters from last year's Elite Eight team to begin the season rated as a 96 overall. After an 0-2 start, we defeated No. 1 Georgia Tech to begin a seven-game winning streak that included a home victory over Southern Illinois that we streamed on Twitch.

We lost a conference game for the second season in a row, this time to North Dakota State. We ended the year 17-1 in the Summit League and then won the conference tournament championship. We earned a No. 9 seed in the NCAA tournament, entering at 25-4 on the season.

The start to our NCAA tournament run was unforgettable. We beat No. 8 seed Pepperdine, 101-98, on a game-winning three-pointer from Kim Kone (34 points on the night). In the round of 32, we beat No. 1 seed Ohio State 88-67 to advance to the Sweet 16.

We recruited for one scholarship and … we're not close to signing anyone yet.

---
Here's a look at our roster heading into the Sweet 16:
Our opponent in the Sweet 16 is No. 4 seed Seton Hall. Here's a look at their roster. This is how the two teams matchup: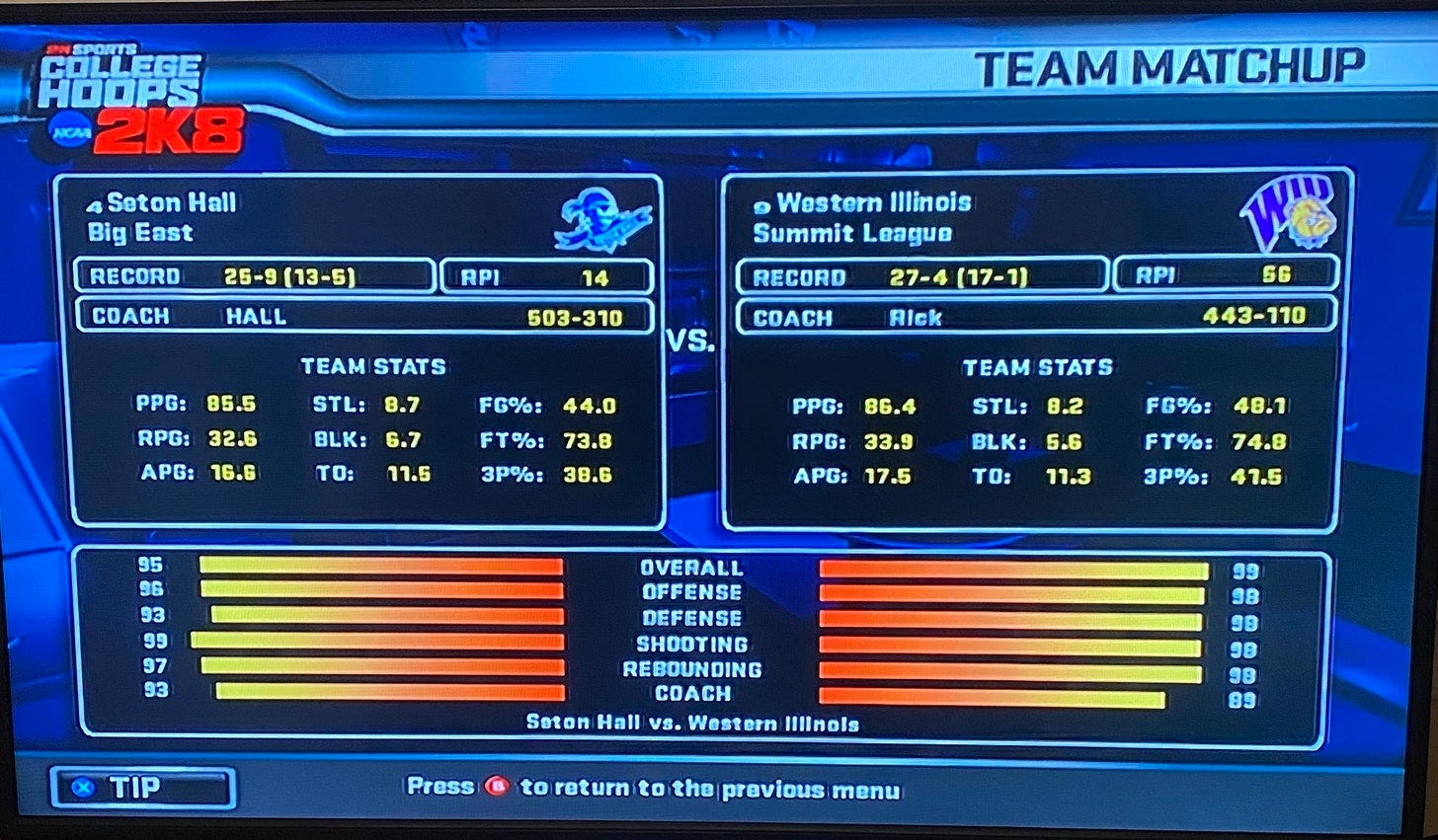 Waiting for the winner is whoever advances in the game between No. 2 seed Houston vs. No. 3 seed Alabama game on the other side of the region.
This is Western Illinois' third straight trip to the second weekend of the NCAA tournament. I'm starting to think this team might have destiny on its side. We needed the heroics of Kim Kone to win in round one vs. Pepperdine — check out his game-winner here — and we followed it out by dominating a top-seeded Ohio State team that was by far the most popular national championship pick in the bracket pool.
Can we book back-to-back appearances in the Elite Eight? It's going to take a full team effort to do it.
We streamed this game on Twitch on Saturday night. As always, we're watching a simulated game; I'm not playing any of the actual games in this series. The game should begin when you press play, but if not go to the 18-minute mark:
***
***
***
***
***
***
***
Win, 83-72. Oh my, we're going to the Elite Eight once again! Here are the tempo-free team stats from @akulawolf:
I honestly can't believe we pulled that out — and I'm not sure we deserved to. We were down 19 points with two minutes left in the first half. Our perimeter players couldn't hit a shot all night. We kept having stupid turnovers. This has been the script for most of our NCAA tournament losses in the past, but somehow this group clawed back and grinded out a Sweet 16 win even during an off night. Unreal.
I thought the end of the first half was the biggest stretch of the game, with a 9-0 run capped by a three-pointer from backup point guard Angel Keita just before the halftime buzzer trimming the deficit to 10. The second half was some straight up bully ball: we were finally able to get a few stops on defense, and our offense was essentially grabbing two offensive rebounds each possession before we mercifully got a bucket.
On a night when Kim Kone was ice cold (six points on 2-8 shooting) and Cam Medina was struggling, our front court picked us up. This felt like the coming out party for sophomore stud Vernard Fulton. We've long thought of Fulton as a future star, and this is the first time he really rose to that level. He finished with 18 points and 16 rebounds on the night, hitting several of his signature screwball jumpers and repeatedly keeping possessions alive on the glass. He also had a nasty windmill dunk.
For as good as Fulton was, our junior center Sidney Dupre was even better. Dude seriously dropped 21 points and 20 rebounds in a Sweet 16 game on a night when his guards were imploding. Just a heroic effort. There's no flash to Dupre's game and his offensive skill set is unquestionably limited, but the man is a classic hard-hat-and-lunchpail type of big whose old school work in the paint keyed our victory. For all the great bigs we've had here, has anyone ever put up a 20-20 game in the tournament? This felt like Dupre writing his legacy in real time.
Here are some highlights from Abby:
That set up a game against No. 3 seed Alabama in the Elite Eight.
No. 9 Western Illinois vs. No. 3 Alabama, Elite Eight, 2024 NCAA tournament
We're back at the doorstep of the Final Four, one year after getting blown out in this same round vs. No. 1 seed Kansas. It's pretty remarkable we're back, especially after losing Jorts (one of our best players ever) to graduation and then getting a tough draw in the tournament. I'm thrilled we've grown into a program that can consistently compete for the Final Four.
While Alabama doesn't have the same pedigree as Kansas a year ago, there's no doubt this Tide roster is really good. They have a lot of capable shooters/scorers + experience at almost every position. 'Bama enters the game rated as a 98 overall, one point lower than us.
We also streamed this game on Twitch. It should start when you press play, but if not go to the 1:13:00 mark. Final Four on the line. Someone hit the button — let's go!!!!
***
***
***
***
***
***
***
Loss, 88-84. Fuck, man. Another Final Four shot slips through our fingers.
I really thought we might have had a miracle in us at the end. Down five with just under two minutes left, Cam Medina launched a deep three that was nothing but net. After a 'Bama bucket, we needed another big shot and Fulton delivered, canning another super deep three in transition to make it a one-point game with 18 seconds remaining. We had one more chance after the Tide sank their free throws, but Kim Kone missed a game-tying three and our NCAA tournament run was over.
Even in defeat, Kim Kone's last stand was incredible. He carried us on his shoulders all night, splashing deep jumpers and matching the Alabama offense shot for shot. Dude was 7-for-7 from three-point range until he missed the game-tying shot and a meaningless heave at the buzzer. He ran out of gas a little bit at the end, but it was still a gutsy performance (28 points on 10-of-14 shooting) that capped a remarkable career. Kim Kone forever.
Positive signs for next year: Fulton was awesome again, finishing with 16 points, 10 rebounds, six assists, and even hitting two threes. I'm ready for him to takeover in Year 18. Dupre was also solid and should return for his senior year as a projected second round pick. Not a great sign for next year: our guards other than Kone were brutal. Price and Keita combined to go 1-of-10. This does not help my quest to convince the Twitch chat Price doesn't suck.
It's crushing to lose this game when we were so close to a Final Four appearance, but this was a really fun night and a pretty great season overall. Thanks to everyone who came out to the Twitch chat, we had nearly 1,400 unique viewers and at one point hit 500 concurrents on the stream.
Onward to next season. We should be returning everyone but Kone. Final Four or bust, baby.
Bracket contest
But first: we must crown a winner in the bracket contest. The tournament played out like this: Alabama was joined in the Final Four by UCLA, UConn, and West Virginia. UCLA beat West Virginia in the title game.
Our winner is: Ben Remis. Ben nailed three Final Four teams, the title game matchup, and the national champion. That's damn impressive.
Ben gets to create a five-star recruit and pick a future opponent. I actually announced the wrong winner on the stream because I didn't realize it took a minute for the scores to update. The person I originally announced as the winner was Steve Frye, who was the only other entrant to predict the correct champion. Steve was on the stream last night and emailed me after I announced him as the winner, so as a way to thank Steve and incentivize people to join the streams, I decided we're going to make Steve as a three-star recruit in the game.
You can find the full standings on Sean's bracket app. Thanks to everyone who participated.
Offseason
You can watch me play through the full offseason on the YouTube export of the Twitch stream. Let's get to it:
UCLA wins the title.

Sidney Dupre wins Summit League Player of the Year

Kone gets drafted. He was a projected first rounder. Everyone else returns. A lot of pressure next year, no doubt.

Here's a look at Coach Rick's career stats up to this point — three straight deep runs in the tournament. We want titles, but you still love to see it:
NC State, Michigan, Colorado all offer me their head coaching jobs. No thanks. We're running it back.

I lost an assistant coach and hired Coach LT, who I'm assuming is the former head coach of Louisiana Tech. His ratings are really good: B in offense, B-in defense, A- in teaching, B-in discipline. I also chose to fire Bron Randle, and replaced him with assistant coach Channing Couisnard, who is rated as an A+ in defense, B+ in teaching, and B in scouting. Coach Rudolpho Butt was unfortunately not on the market.
Recruiting
We only have one scholarship this season and it's still available. We offered small forward Cary Dixon (No. 27 overall, No. 2 at his position) out of Michigan midway through the season and continue to visit him through the first week.
Dixon gets an offer from Michigan State on the second weekend of spring recruiting. We are left with two options: small forwards Nicchaeus Logie (No. 112 overall, No. 23 at his position) and Wilbur Ager (No. 110 overall, No. 21 at his position). After weighing both options, I decided to offer Ager. He committed a couple weeks later:
Some positive signs for Ager: he hit 45.4 percent of his threes on the AAU circuit, he knows how to force turnovers on defense, and he's from Chicago. I'm hyped.
Now it's time to schedule for next season. This is what our non-conference slate looks like: @ Illinois, @ Oregon, @ Dayton (Matt Boswell game!), @ Alabama, vs. Little Rock, @ Wisconsin, vs. Stanford, @ Saint Louis.
What game should we watch in our full season stream? Vote now.
Year 18
Here's a first look at our roster:
Price is moving to shooting guard for his senior year, where he goes up two points.
Western Illinois Year 18 live stream info
Game: Western Illinois, Year 18, 2024-2025. We'll sim and watch one regular season game and then play through the season up to the NCAA tournament.
How to watch: My Twitch channel
Date: Monday, July 27
Tip-off time: 8:30 p.m. ET // 7:30 p.m. CT.
Vote on the game you want to watch.
Here's the rest of the original post:
Man, next year is going to be a huge year. In addition to having arguably our best team since the national title run in 2020, we also have four scholarships to recruit for. Before we get to all that pressure, I think we need a palette cleanser.
I'm thinking the next update is going to be on Deke Van and the Seattle Sonics. Look for that update in your inbox later this week. We'll announce the date of the full season stream for Year 18 in that post.
Thanks for reading. Go 'Necks.