Western Illinois' Sweet 16 run in Year 18, continued
Welcome back to Western Illinois' chase for greatness in College Hoops 2K8. You can find a full explanation of this project + spoiler-free links to previous seasons at the About page of this website. Share it with a friend!
We pick up with our Leathernecks in the Sweet 16 of the 2025 NCAA tournament. Here's a recap of everything that has happened this season so far:
We started the year ranked No. 18 in the preseason polls and rated as a 99 overall with four returning starters. We dropped only one game — to No. 5 Stanford — during the regular season and then won the Summit League tournament once again.

We earned a No. 4 seed to the NCAA tournament —our second highest seed ever — and blew out No. 13 seed Florida Atlantic in the opening round, and No. 5 seed San Diego State in the round of 32. Read the recap here.

We recruited for four scholarships and failed to land anyone in the early signing period.
---
Here's a look at our roster heading into the Sweet 16: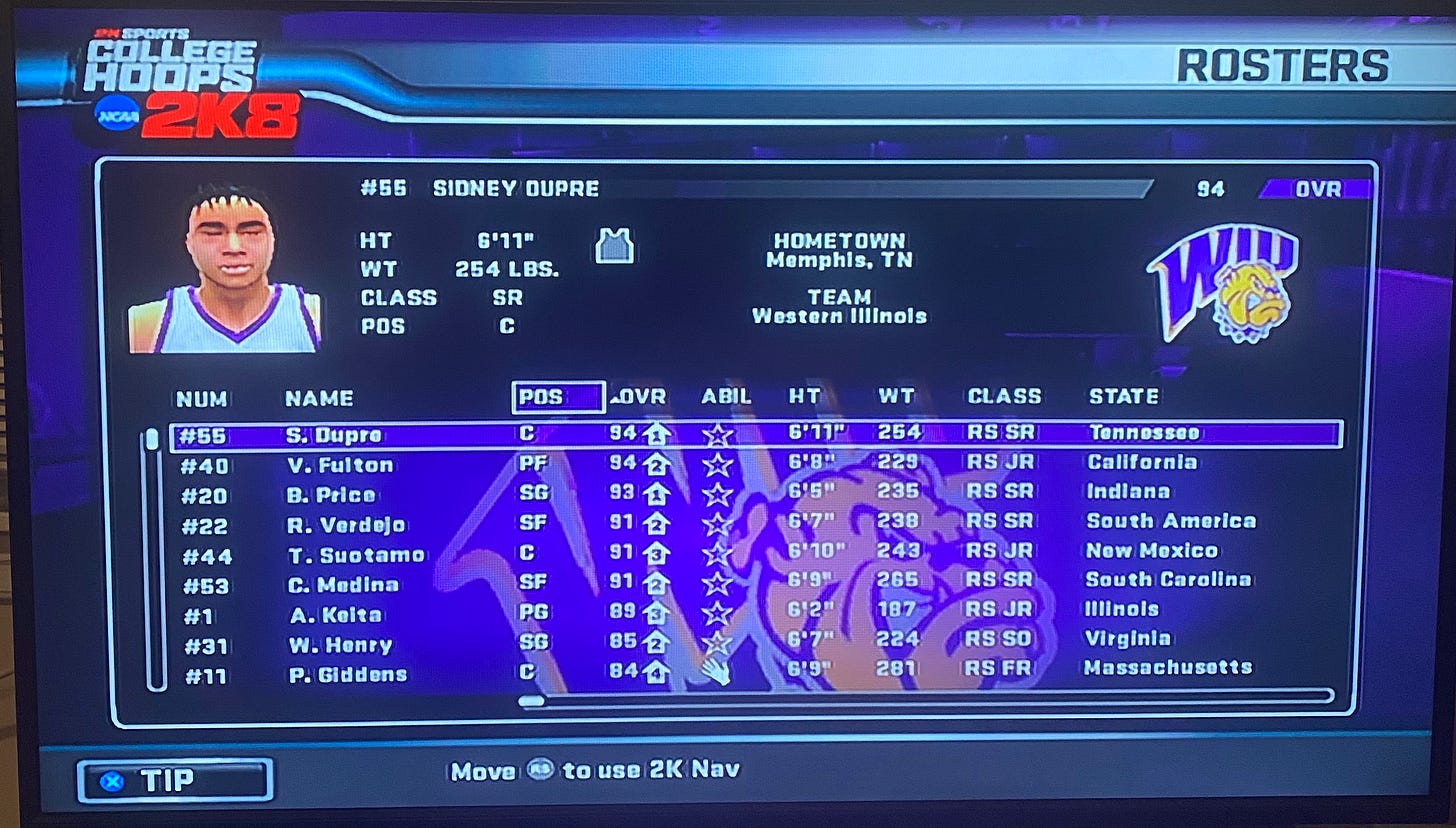 Our opponent in the Sweet 16 is No. 8 seed Louisville, who upset top-seeded Gonzaga in the round of 32 to get here. This is how the two teams matchup: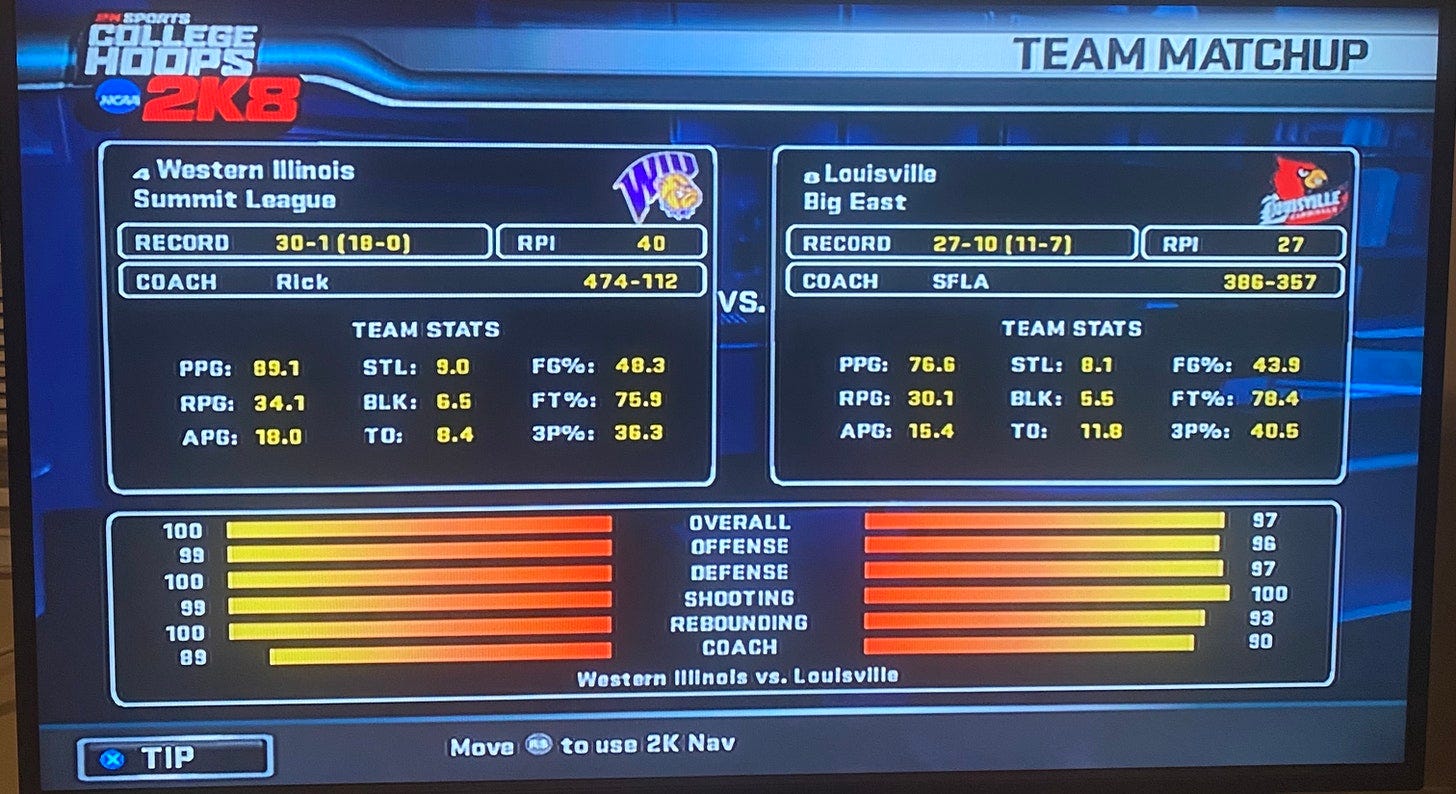 Let's just be real: there's a ton of pressure on us to make a run this year. We have four seniors in the rotation and a great team unity rating. Of the 130 people that entered the bracket contest this year, 59 of them picked Western Illinois to win it all. We came up tantalizingly short each of the last two years by seeing our season end in the Elite Eight. It's possible the top six players off this team are gone next year because of graduation and early entries to the draft.
Five years after our last national championship and 10 years after our first, the Leathernecks entered the second weekend of the NCAA tournament knowing their season would ultimately be judged by championship-or-bust expectations.
On top of that, we know we have a super tough draw in front of us after cakewalking through the first two rounds. We might have dodged a bullet with Louisville upsetting Gonzaga, but the Cards still enter the game with four players rated in the 90s. If we win, we will face whoever advances in the UConn/Florida matchup. There's talk that those are arguably the two most talented teams in the country.
We streamed this game on Twitch on Saturday night. As always, we're watching a computer simulation. I'm not actually playing any of the games in this series, I only do the recruiting and set the coaching strategies.
The game should start when you press play, but if not go to the 20-minute mark of the video. Let's go!
***
***
***
***
***
***
***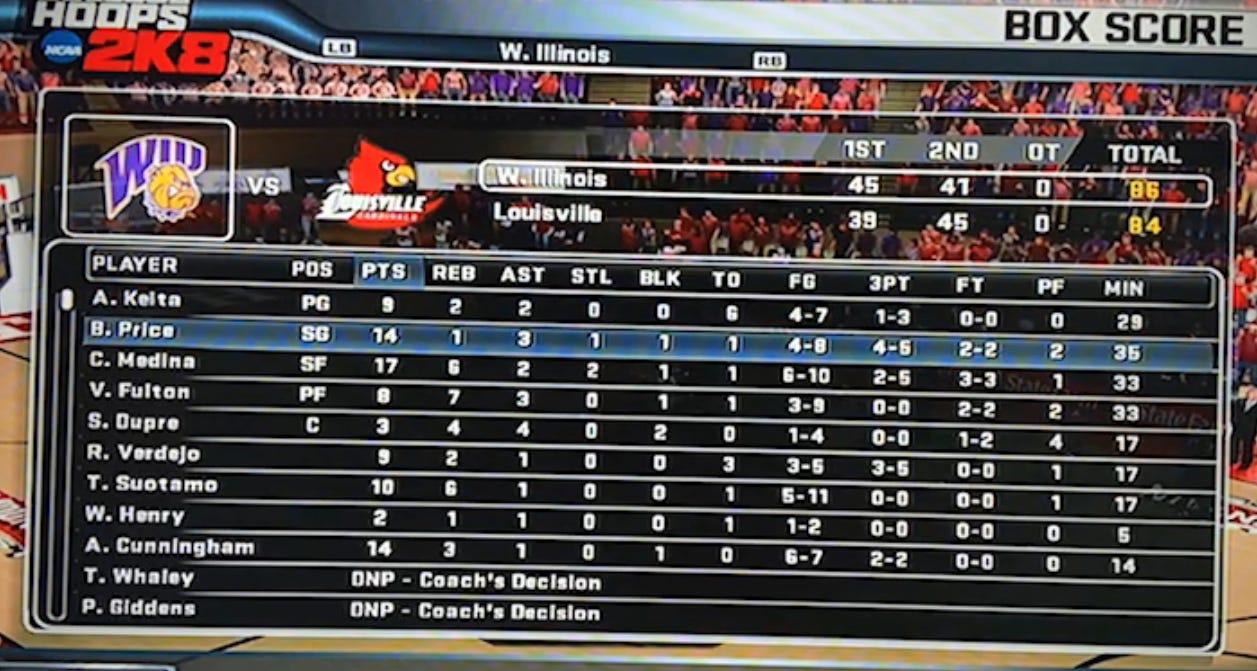 WIN, 86-84. AHHHHH. THE SHOT MISSED. THE SHOT MISSED. WE'RE GOING BACK TO THE ELITE EIGHT FOR THE THIRD STRAIGHT SEASON.
Oh my, I really thought we were going to blow that. Louisville's press rocked us throughout the game. Junior point guard Angel Keita looked totally overwhelmed at times, finishing with six turnovers on the night. Those last two minutes were incredibly tense — here's the timestamp on the video. Sidney Dupre — who barely played all night because of foul trouble — got his only basket of the game on a tip-in with 1:38 left to put us up four. Louisville would add two points at the foul line, then steal the inbounds pass. But our defense held strong and kept us up two.
There was about five seconds separating the shot clock from the game clock on our final possession. As I was screaming at the TV to burn the clock until the very end unless we had a great look, Dupre launched and air balled a long two with 21 seconds remaining. It was totally nonsensical and brought back memories of Deke Van's junior year against NC State in the tournament. Louisville had a chance to win or tie at the end, and I thought they had several good looks at the basket during their possession. They got off a clean look at what appeared to be a three for the win at the buzzer, but it rimmed out and the Leathernecks advanced.
Jesus. On one hand, we're going to crushed in the next round against a better team if we play that sloppy again. On the other, it feels pretty good to win in the Sweet 16 when we didn't have anything close to our A-game.
Honestly, I'm just happy to survive. In a lot of ways, I think we owe this win to our three-point shooting. We finished 12-of-20 as a team from behind the arc. It never felt all that easy, though. Brandin Price, our star senior guard, popped off for 14 points in the first half … and then didn't score the rest of the game. Renardo 'Vino' Verdejo hit two very huge threes in the second half. Even with our deep shots dropping at an unusually high rate, we still had to sweat out the final seconds.
Two guys who deserve shout-outs: Cam Medina and Allan Cunningham. Medina was our most consistent scorer the enter night, hitting threes, getting to the foul line, and just finding ways to put the ball in the basket. He also had an absolutely incredible dunk (thanks to reader Abby for the clip). And Cunningham, man. What a performance. With Dupre in foul trouble, Cunningham went 6-of-7 from the field and hit two threes. I never expected him to end this game as our second leading scorer. The dude is just so comically large — 6'11, 275 pounds — but yet still so skilled. It's crazy he's just a freshman.
A lot of great clips from reader Abby. Watch them here and here.
The win over Louisville sets up an Elite Eight matchup with No. 3 seed UConn, who outlasted a stacked Florida team.
No. 4 seed Western Illinois vs. No. 3 seed UConn, Elite Eight, 2025 NCAA tournament
This is our third straight trip to the Elite Eight. Two years back, Roberto 'Jorts' Jordjevic led a team that got blown out by top-seeded Kansas. Last year's Kim Kone-led squad were edged by Alabama.
I wanted nothing more than to breakthrough to the Final Four again after coming so close the last two seasons. I was also very aware how big of a challenge lied in front of us.
UConn didn't just enter the game rated as a 100 overall — they also happened in have perfect ratings in every category but coaching, where they were a 95. Here's a look at the Huskies' roster: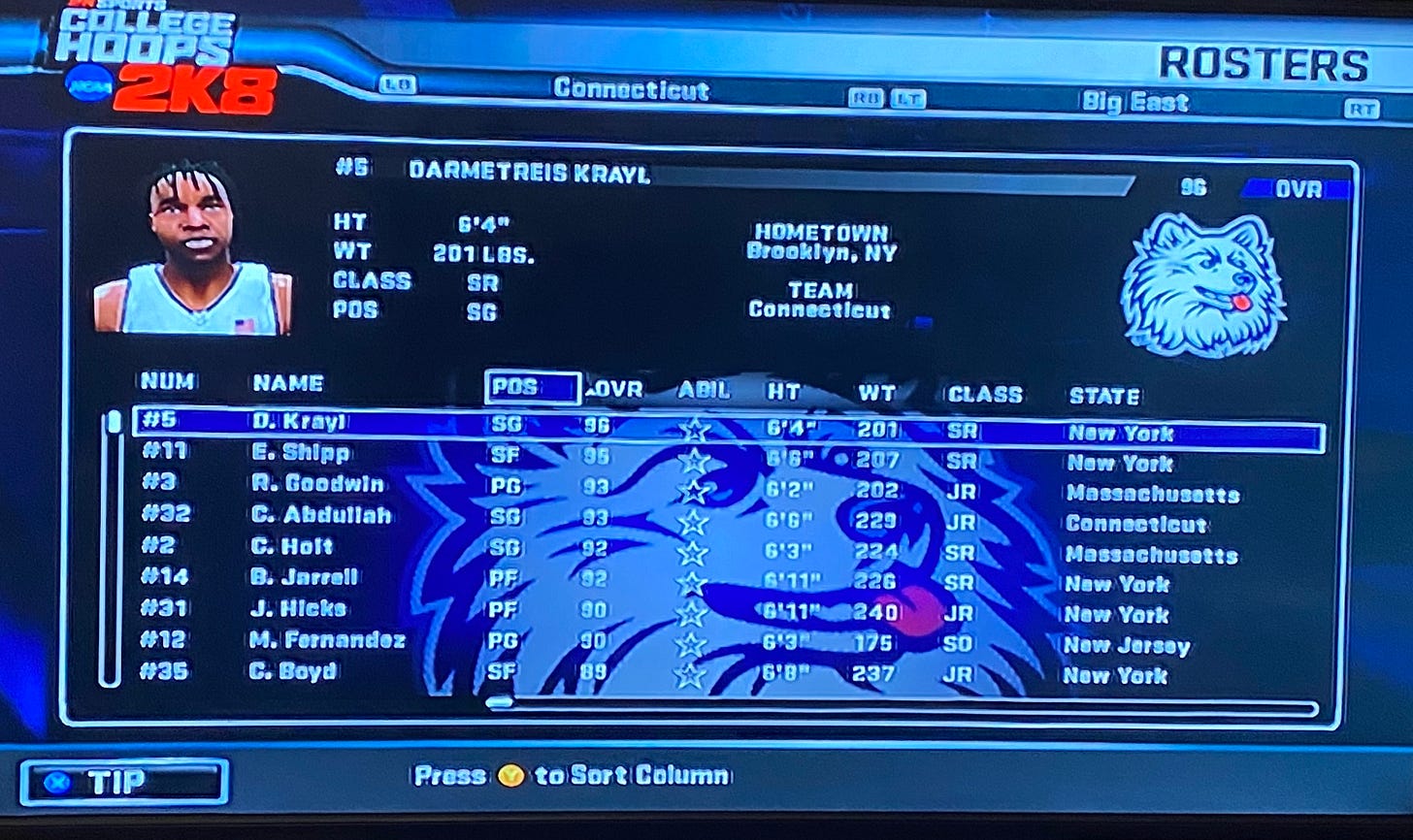 That's the most 90s I've ever seen on one roster. If we can beat this team, every game after it is going to be seem so much easier. At least that's what I keep telling myself.
We streamed this game on Twitch. It should start when you press play. Final Four on the line. Let's go!!
***
***
***
***
***
***
***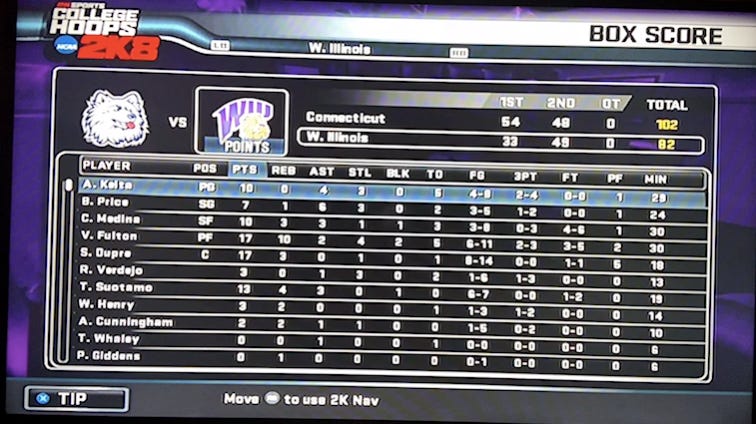 Loss, 102-82. Honestly, it didn't even feel that close. Our season ends in the Elite Eight for the third straight year.
We were hanging tough at first — down 22-20 with 12 minutes left in the first half. But much like the Louisville game, UConn's press started to give us fits. This time we couldn't weather the storm. The Huskies went on a 27-4 run that blew the game wide open. It would have taken a miracle to come back from that type of deficit, and we just didn't get it.
There were times when I thought it might happen. I pulled a rare move and changed my coaching strategies mid-game with us a down big late the first half: I decided to switch to a full court trap defense on every possession. We got a few steals out of it and at one point had the deficit trimmed to 12 points midway through the second half. Yet every time it felt like we might make a run, our offense stalled, our defense couldn't get a stop, and the Huskies pulled away.
The turnovers just killed us. According to Leathernecks statistical historian reader Jonathan, our 20 turnovers is the most we've ever had in a tournament game, blowing out the previous record of 16. It's also worth noting we had 14 turnovers against Louisville. Here's a look at the final team stats against UConn — you can see they outclassed us in pretty much every area.
This loss hurts. It hurts because this was one of my most talented teams ever. It hurts because we've now fallen in the Elite Eight three straight years. It hurts because I don't know when we'll be back to this level again if one or both of Timon Suotamo and Vernard Fulton turn pro. Ultimately, though, I think this UConn team might have been the best squad I've ever seen in this game. I don't think you'll be surprised by how this tournament ends.
Bracket contest results
Yes, we did a bracket contest again and this is how the NCAA tournament played out. The Final Four was No. 3 seed UConn vs. No. 3 seed Seton Hall, and No. 1 seed Notre Dame vs. No. 1 seed Stanford.
UConn met Notre Dame in the national championship game. And UConn won.
You can find the full results of the bracket contest on Sean's app — which works on both desktop and mobile and requires no download for the former. The winner is Sean Garland, who correctly picked the title game and national champion. Here's a look at the top of the leaderboard: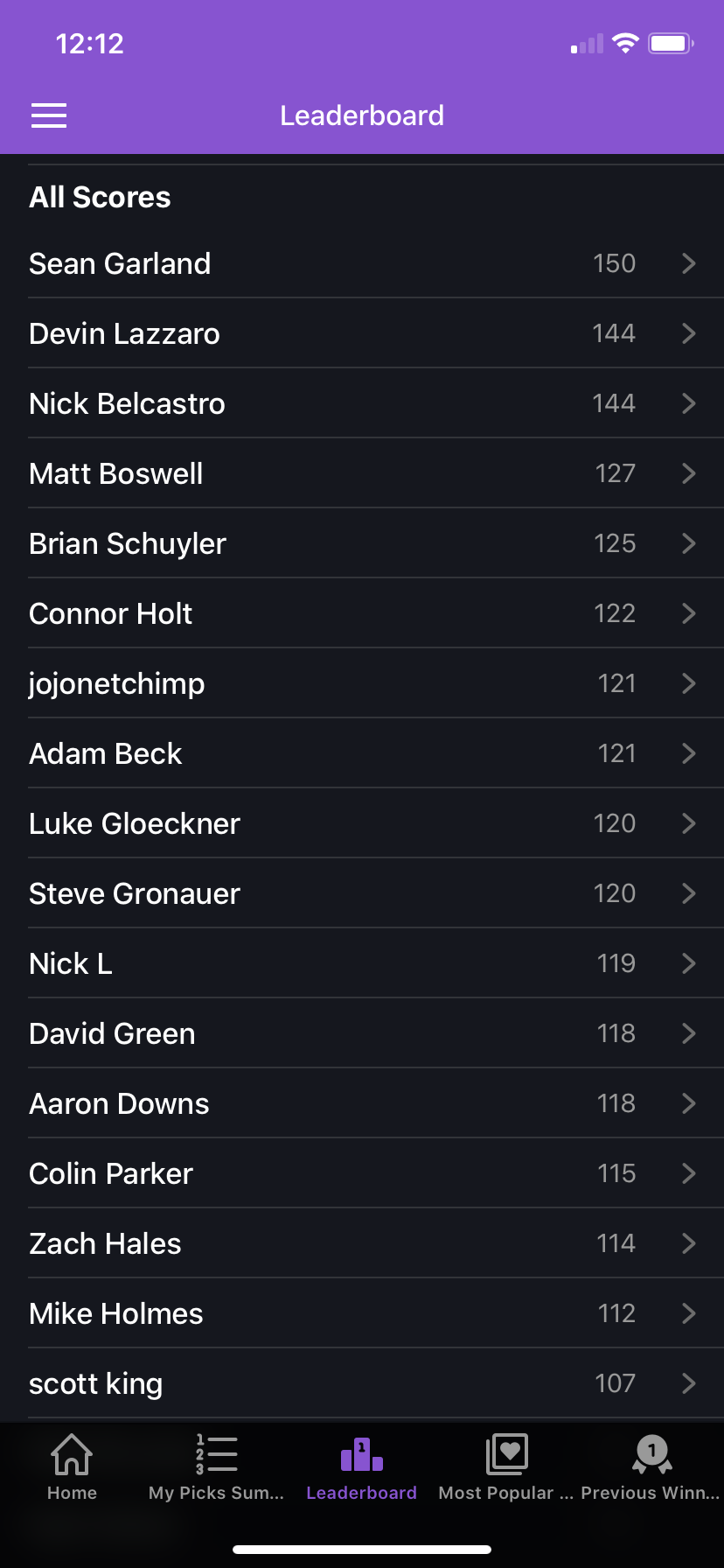 Congrats to Sean, who gets to create a five-star recruit ahead of the next season.
UConn was the second most popular pick in the bracket pool to win it all, with 17 people correctly predicting the Huskies would cut down the nets.
I honestly think that UConn team had the most talented roster we've seen in our simulation so far. Makes me feel a little better about our loss. I mean, we end the year at 31-2 overall with our only losses coming to the national champion and a Final Four team (Stanford in the regular season).
It's still a bummer, but this was definitely one of our best teams ever. Now let's hit the offseason, try to lock down a four-man recruiting class, and ensure that our future is as bright as our present.
Offseason
You can watch me play through the offseason on Twitch starting here. Let's run down what happened:
UConn wins the title. GOAT team.

Matt Boswell wins national freshman of the year at Dayton! Wow. Boswell won our first bracket contest and saw his created player join the Flyers. He's a 78 overall with A- potential and he just averaged 14.3 points and 4.6 rebounds per game in his first season. We'll continue to follow Matt's career in the game, as well as all of the characters we've created.

Sidney Dupre does not win conference player of the year for the second straight season. Next is the moment of truth for our chances next year: will one or both of Fulton (a projected first rounder) and Suotamo (who stock has fallen from first rounder to dark horse) turn pro?

WOW, FULTON AND SUOTAMO ARE BACK. Holy shit, that's huge. We're going to have a chance to compete for a 'ship next year. Of my four seniors — Dupre, Price, Medina, and Verdejo — only Dupre gets drafted. He was a projected first rounder. Dupre ends his career with 1,698 total points. Great career for all four of these guys. Salute!

Kentucky, USC, and Notre Dame are among the schools who offer me a job. I turn them down. We're running it back.

As we advance to the assistant coaching screen, we see our old friend Rudolpho Butt is available. The Twitch chat revolted when we didn't hire Butt a couple years ago, and I vowed to make things right this time. I fire my assistant Couisnard and go to hire Butt ... only to see he's been scooped up by another program. What the hell. I end up signing assistant coach Crumbley, who is slightly worse in teaching (B+) but has A- grades in scouting and discipline, which is a big upgrade in both categories. Until next time, Butt.
Spring recruiting
We have four scholarships to recruit for and signed no one in the early signing period. That changes on the first day of spring recruiting: center Kevin Brazzle out of Houston, ranked No. 127 overall and No. 6 at his position, becomes our first pledge.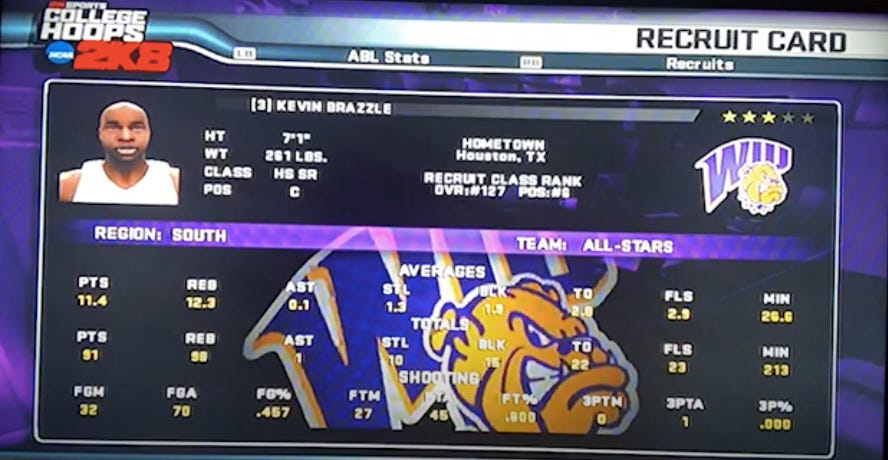 Brazzle is already massive at 7'1 and averaged a double-double on the recruiting trail. Will he get even taller??? I'm thrilled about this signing. According to reader Evan's Leathernecks Recruiting Database, Brazzle is the highest rated center by position ranking we've ever had. In fact, his position rating is tied with Bert Draughan for the second best in program history only behind Fulton (who was the No. 3 power forward in his class). I think he gives us some excellent insurance if Cunningham or Pat Giddens ends up turning pro early.
Three more scholarships left. Unfortunately, our power forward target Majak Barrett gets an offer from George Washington he likes more than ours, so we drop him. We still have some big fish left out there, though.
We land our second recruit when four-star point guard Jamie Burke out of Dallas gives us his commitment: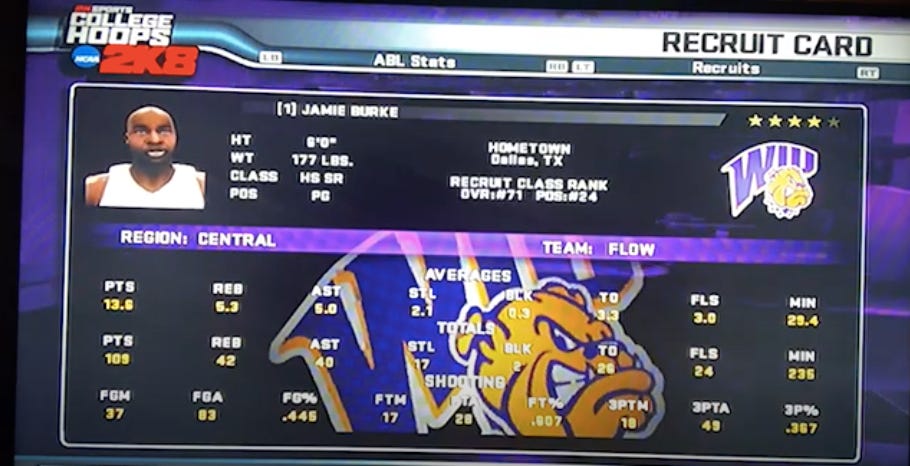 Burke is rated as the No. 71 overall player in the class (tied for ninth best all-time, per Evan's database) and No. 24 at his position. I'm happy about this one. He's a little short, but he looks like a complete guard. I'm hoping he's a better passer than Keita (whose C+ passing rating perhaps contributed to his many turnovers) and also comes in with higher potential.
We land our biggest target one week later: four-star shooting guard Mathew Alloway is a Leatherneck.
Alloway is ranked No. 31 overall and No. 10 at his position — which means he has the fourth-best overall ranking in program history. He didn't play AAU so he doesn't have any stats, but this is a gigantic pull. Alloway was Mr. Basketball in Minnesota (out of Bloomington) and has nice measurables for a two-guard recruit at 6'4, 186 pounds. He's going to be a stud.
We finish out our class with power forward L.F. Neal out of North Little Rock, Arkansas. He's rated No. 137 overall and No. 21 at his position. Neal is 6'9, 195 pounds and also didn't play AAU.
What a sick four-man class. As I advance to the next screen, I see that our group is the No. 9 recruiting class in the country!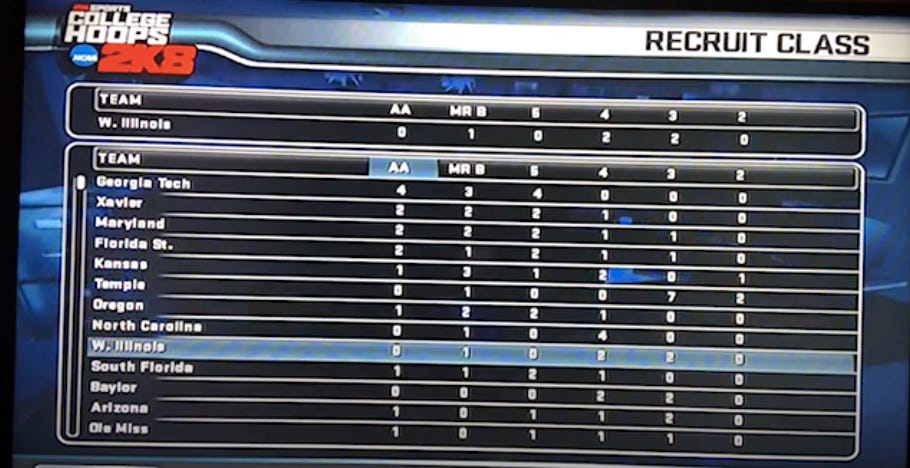 Hell yes. I think that's the highest rated class we've ever had?? I probably should have been keeping track of this throughout the series. Might as well start now.
It's time to make our schedule for next year. Here's what we end up with:
@ Illinois, @ Arkansas, @ Seton Hall, vs. Dayton, vs. Duke, @ Miami (FL), @ UConn, @ Notre Dame, @ Stanford, @ Charlotte, @ LSU
Year 19
Here's a first look at our roster: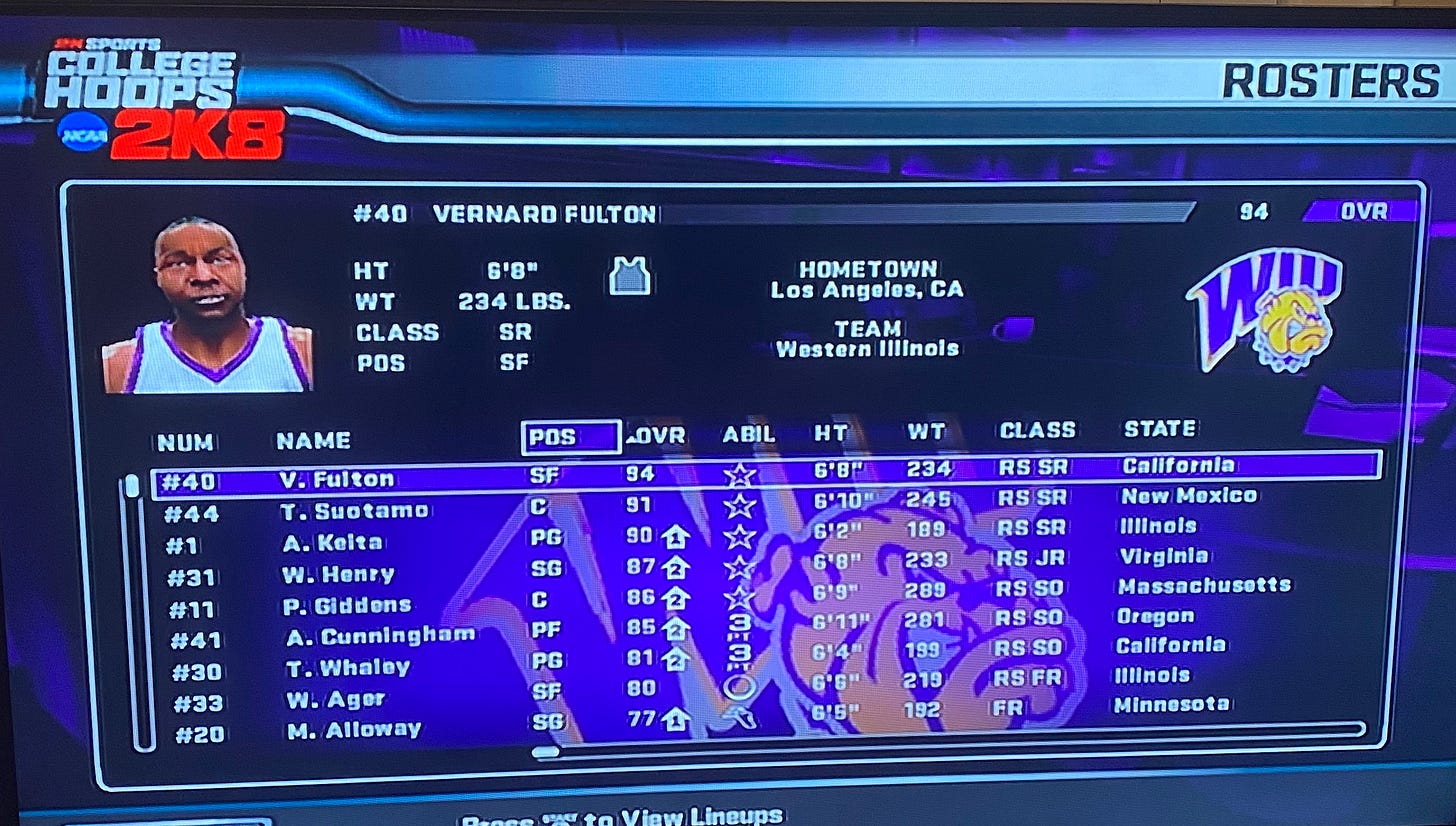 We move Fulton to small forward, where he falls one point to 94 overall. We need Henry at shooting guard, where he's one point worse than he is at small forward at an 87 overall. Now we get to start Cunningham at the four, which I'm very excited about.
We might as well reveal the freshman ratings, too. Brazzle is a 76 overall with B potential. Neal is a 77 overall with C+ potential. Alloway is a 77 overall with B- potential. Burke is a 71 overall with B potential. Monster class. I'm so excited for next year.
To be continued.
We're going to do the full season play through on Twitch on Wednesday, Aug. 5. Here are the details:
Game: Western Illinois, Year 19, 2025-2026. I'm thinking about watching the first two tournament games on this game, assuming we get that far. That would mean no bracket contest this year. It remains a fluid situation though so we'll figure it out.
How to watch: My Twitch channel
Date: Wednesday, August 5
Tip-off time: 8:30 p.m. ET // 7:30 p.m. CT.
We have three more scholarships to recruit for and go through the entire regular season if nothing else on the stream.
A few more notes
I'm going back to SB Nation starting tomorrow. I'm happy but I'm going to miss all of my talented friends who aren't coming back. I plan to continue this series, probably on this newsletter but maybe occasionally on SB Nation. I'm planning to keep this project going either way. The game lets you coach for 40 years and I plan to play it out. Thank you all so much for the support during my furlough.

We apparently have a beat writer now: Matthew Morrow. Read Matt's first piece, published before the Sweet 16 games in Year 18. I love this so much.

Thank you to everyone who entered for subscriptions to Mike Prada and Matt Ellentuck's newsletters. I'll be getting back to the winners shortly.

My friends Richard Johnson, Alex Kirshner, Jason Kirk, Spencer Hall, and Tyson Whiting have released their incredible SINFUL SEVEN: SCI-WESTERN LEGENDS OF THE NCAA as an e-book. I'll be giving away five copies of the book. Reply to this email with your favorite college football player of all-time and why if you want one.

Finally: friend of the program Michael Levin interviewed Joel Embiid in a Deke Van shirt. Hero.
Watch the interview with Joel at the Rights To Ricky Sanchez Podcast here.
Let's all hang out Wednesday night on Twitch. Go 'Necks.