What's happening? No. 7 seed Western Illinois is facing No. 6 seed Memphis in the Sweet 16 of the 2020 NCAA tournament in our 'College Hoops 2K8' sim. We're going to watch the simulated game and live stream it on Twitch tonight at 8:30 p.m. ET.
Where can I watch? My Twitch channel
Do I need to sign up for anything? No. You only have to create a free Twitch account if you want to comment in the live chat feature, which is always super poppin'.
IF WE WIN: We face the winner of No. 1 seed Kansas vs. No. 5 seed St. Joe's in the Elite Eight tonight. We will sim and watch the Elite Eight game shortly after the buzzer in the Sweet 16 should we defeat Memphis.
So no one is controlling the teams? That's correct. I only do the recruiting and set the coaching strategies for Western Illinois. We are watching a simulated game.
I'll be doing a pre-game press conference as soon as you get this email, so come hang out with me on Twitch.
---
For the third time in program history, the Western Illinois Leathernecks are in the Sweet 16. Our first trip eventually resulted in a national championship. Our second trip saw us take an undefeated record into the Final Four before losing to Michigan State.
This year's team has a case to be the most talented in program history. We enter the Sweet 16 at 31-2 overall with our only losses coming to Northwestern and two-time defending champion Louisville. We again swept the Summit League, and now have 84 consecutive conference wins according to reader Evan.
Our Leathernecks were No. 1 in the country in points per game, and well as points allowed per game. We have six players rated in the 90s, led by the dynamic wing combination of Ime Terrell and Bert Draughan in addition to breakout junior point guard Billy Terrell. All three players are projected as NBA lottery picks.
Here's a look at our roster heading into the Sweet 16:
The opponent in the Sweet 16 is Memphis. Coached by the legend John Calipari, the Tigers enter at 26-6 on the year and are rated as a 92 overall. Here's how the two teams stack up: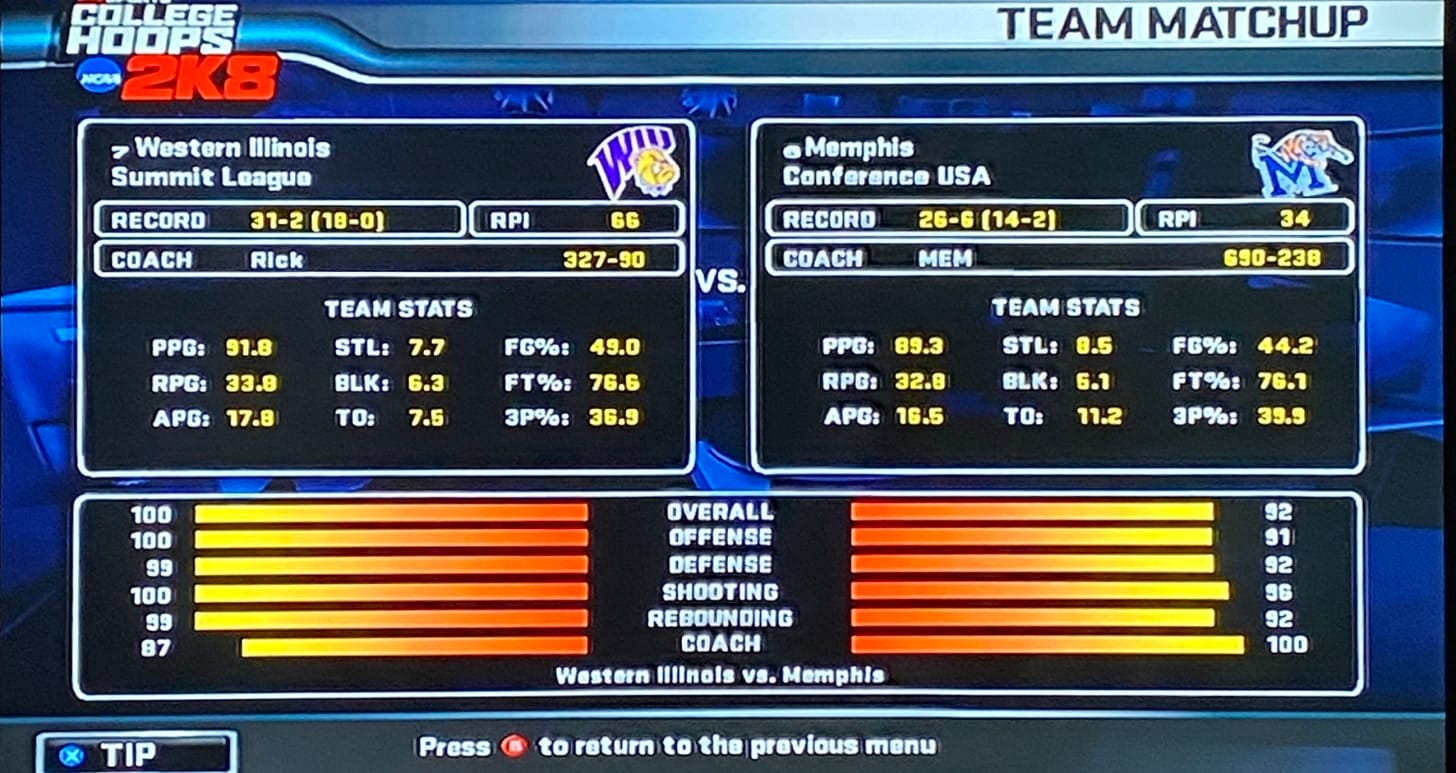 The Leathernecks are favored by nine points, according to David Fucillo of DK Nation.
It's already been a wild NCAA tournament. The opening weekend saw No. 16 Radford shock top-seeded NC State, 68-66. Another top seed, Oregon, fell to No. 9 seed Ohio State in the second round.
Here's a full look at the Sweet 16
No. 9 Ohio State vs. No. 5 Indiana
No. 11 Texas Tech vs. No. 10 Auburn
No. 8 Minnesota vs. No. 5 BYU
No. 3 Florida vs. No. 2 UNLV
No. 1 UCLA vs. No. 5 Michigan State
No. 11 Maryland vs. No. 2 Louisville
No. 1 Kansas vs. No. 5 St. Joseph's
No. 6 Memphis vs. No. 7 Western Illinois
---
If we win in the Sweet 16 and Elite Eight tonight, the Final Four live stream will happen on Saturday, June 13 at 8:30 p.m. ET.
I'm hanging out on Twitch now so come say hi. Let's get another natty.
And read new Thanh!
Here's the latest from Thanh's book on the Leathernecks, "Simulating Success"